The Store has new artwork by Rachel Wolf on view in tandem with the Frye Art Museum's exhibition, Kelly Akashi: Formations (June 17–September 3, 2023). We reached out to Rachel to learn more about her practice and process.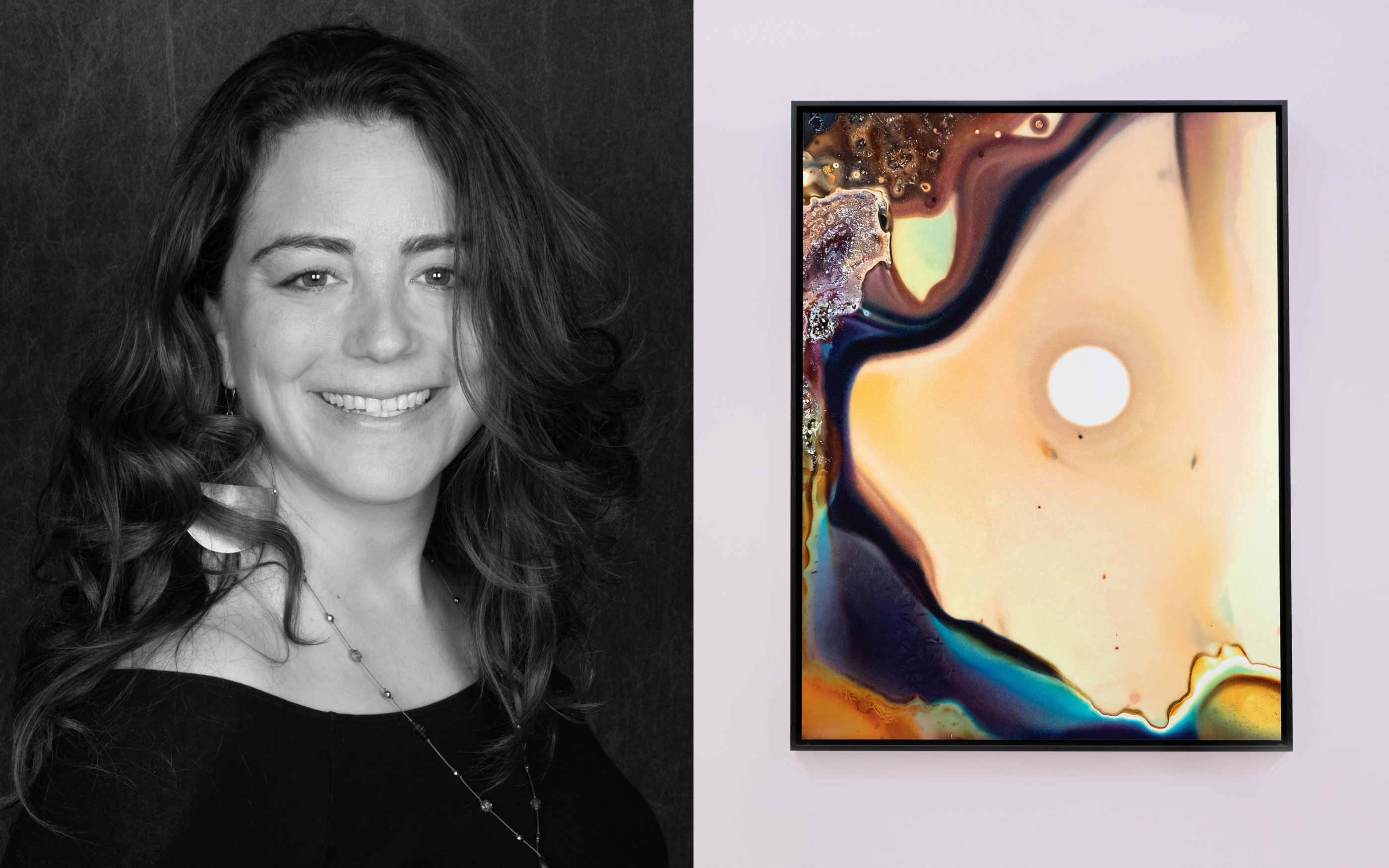 Each of your pieces are so unique! Tell us about the camera-less photographic processes you used to create Alchemy 27? What does it look like to create a large-scale work like this?
In my artistic practice I transcend the use of the camera to explore the essence of the photographic process itself. I call my approach liminagraphy—a traversing of the threshold where light and alchemy transform into tangible matter.
Creating work like Alchemy 27 is a process that unfolds within my darkroom. I love the endless possibilities in exposing photographic materials–paper and film–to an array of chemical agents, light sources, and objects. Freed from the constraints of traditional photography I engage in an intimate connection with the materials and the photographic process itself.
Alchemy 27 came into being through an interplay of chemicals and light reactions on color photographic paper. To achieve my desired effect I utilized color, black and white chemistry along with a few household chemicals. This intermingling of elements manifests as an otherworldly fusion of colors, textures, and patterns. This piece took several days of meticulously applying chemistry to create the composition and colors.
My process is a practice in patience. Sometimes a work takes hours, while other times it spans days or even weeks to complete. Time, temperature, light, order, and duration all influence the colors and textures I achieve. Despite the knowledge I have acquired over the years, there is always something new to discover—even a serendipitous accident can lead me in an entirely new artistic direction! I listen to the work and allow it to guide me as well, as it becomes a collaborative process between me and the materials.
Regardless of the size of the piece, working in my darkroom is a physically engaging process. I am doing many things at once while making an image and have created various systems and tools to assist in my process. For example, one of my most valuable instruments is a foot switch which allows me to trigger lights with my feet, freeing my hands to orchestrate objects, paper, and lighting setups. Depending on the piece I may be working in almost complete darkness or with minimal lighting.
Alchemy 27 is still evolving. With my more chemical-based images I have been embracing the transformative principles of alchemy. Instead of fixing the image, I allow it to continuously evolve and respond to the environment like a living being. Over time the colors change and crystals may grow, adding new dynamic elements. I also integrate digital technology by scanning the images to preserve moments in their ever-evolving nature. This interplay between impermanence and preservation invites contemplation of the fluidity of existence and the beauty that can be found in the transient.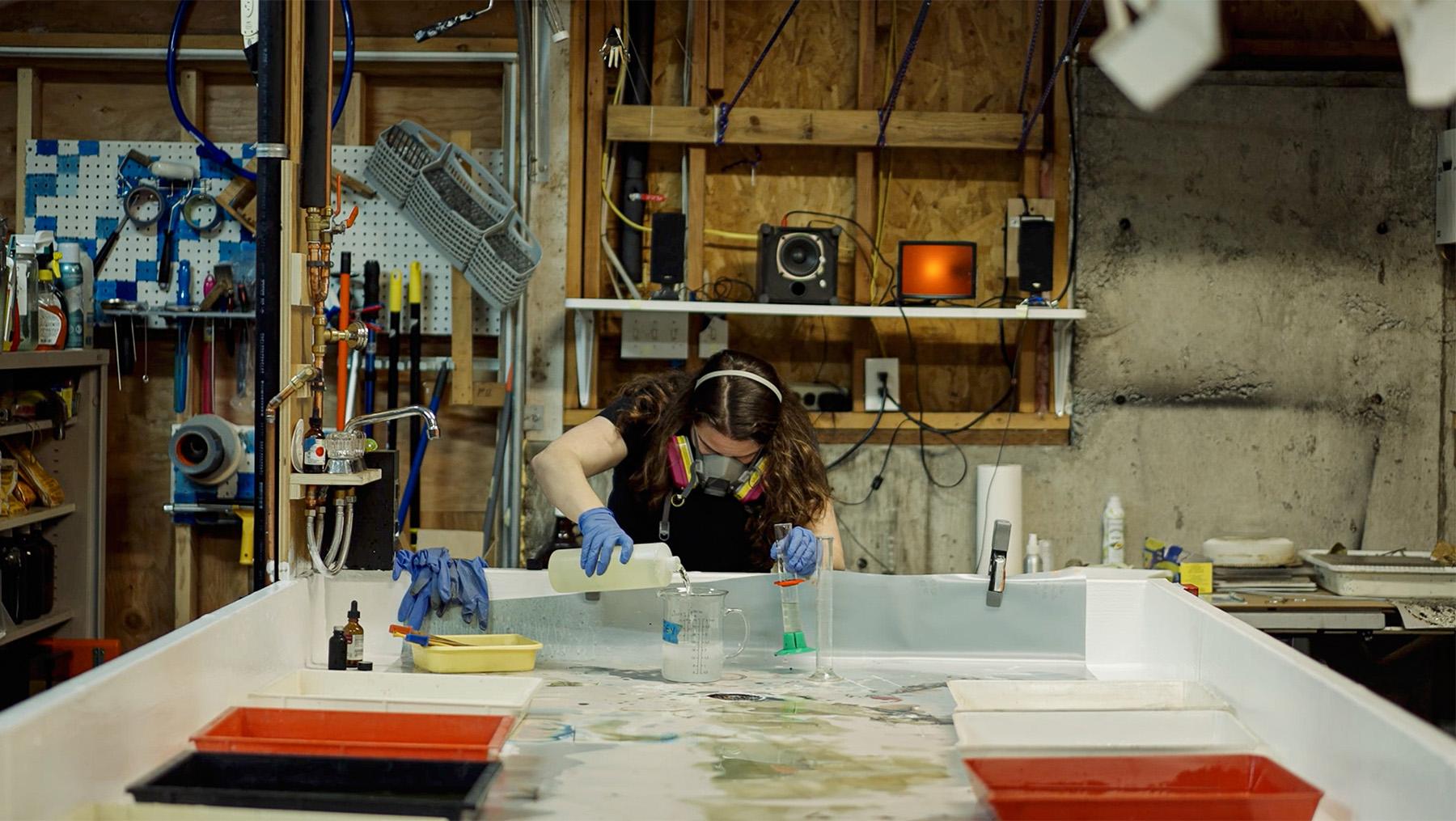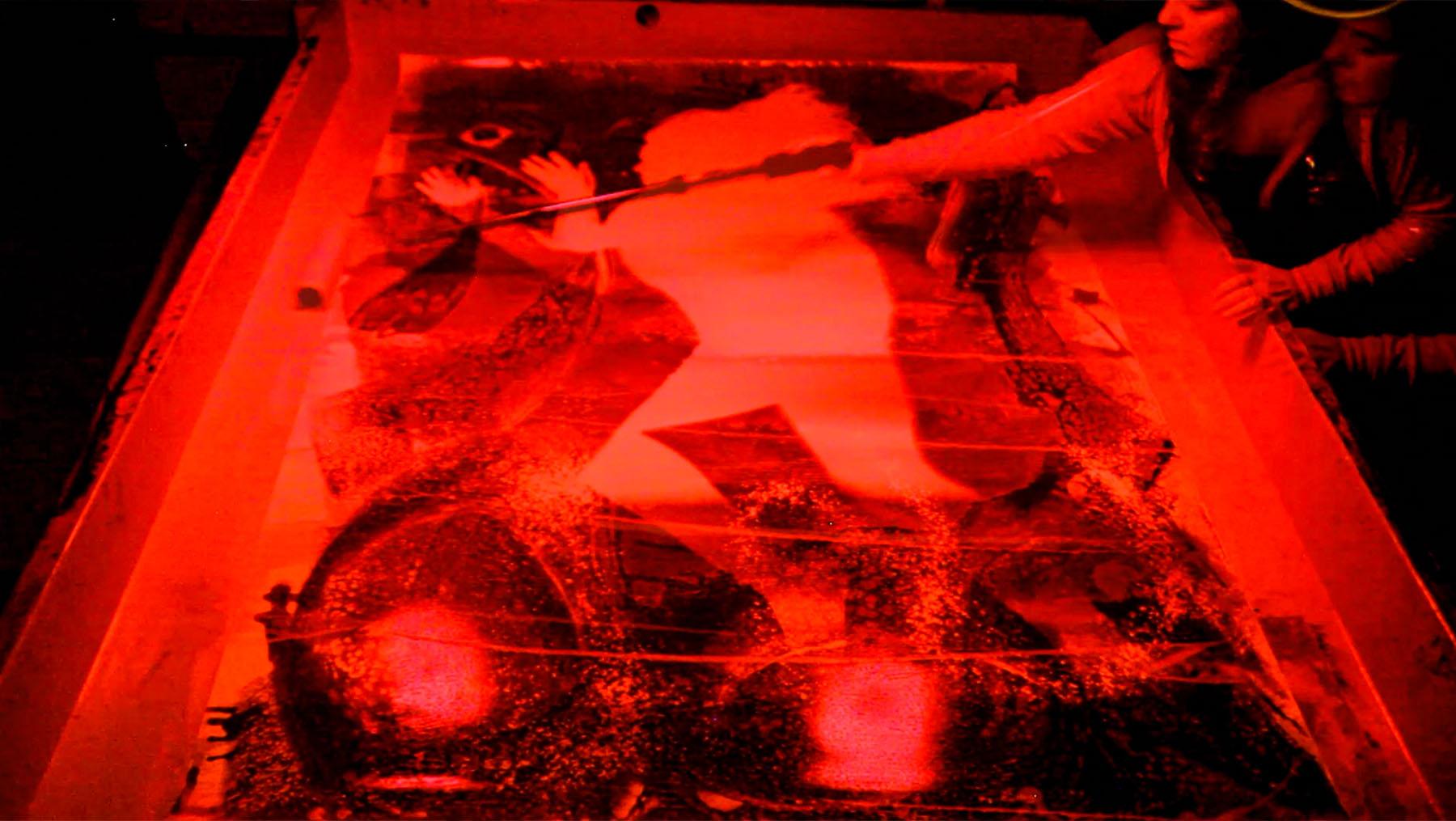 You mention in your bio that you grew up in Alaska, where "the presence and absence of light" really had an effect on your early life. Tell us about this early influence and how it informs your practice now.
Growing up in Alaska, a place characterized by extreme variations in light throughout the year, has profoundly shaped my artistic practice. The presence and absence of light in Alaska have not only influenced my perception of the world but have also become an enduring archetype in my creative approach, serving as a profound means of storytelling.
These dramatic fluctuations in light had a powerful effect on my early life and I became enthralled by how it shapes and imbues meaning into our surroundings, transforming landscapes, objects, and people. The intersection between light and shadow, the depths of darkness, the joy of continuous summer sun, and the dance of the northern lights all became integral components of my visual vocabulary. In my work, I purposefully harness the power of light as a tool for communication, utilizing techniques that emphasize its transformative qualities.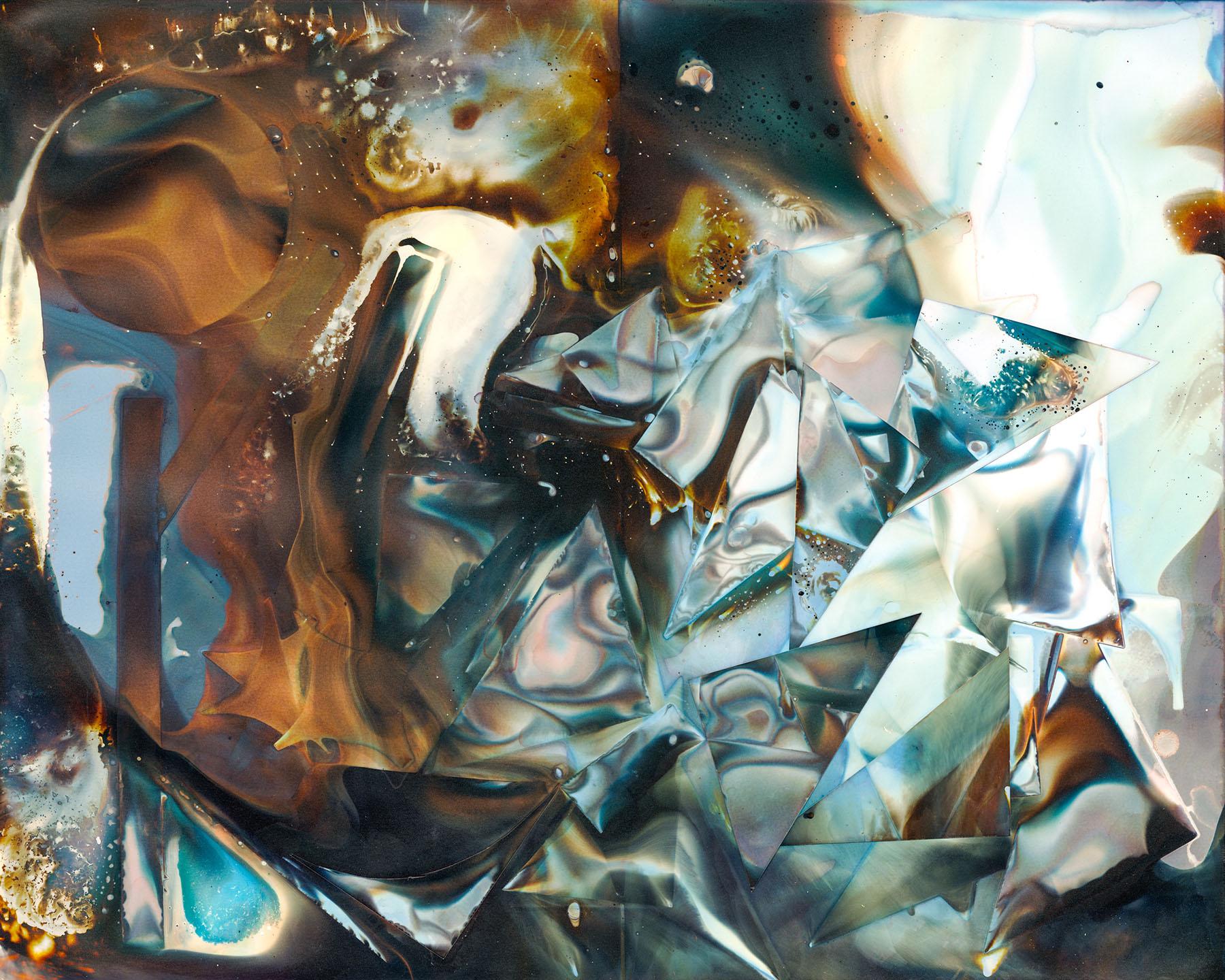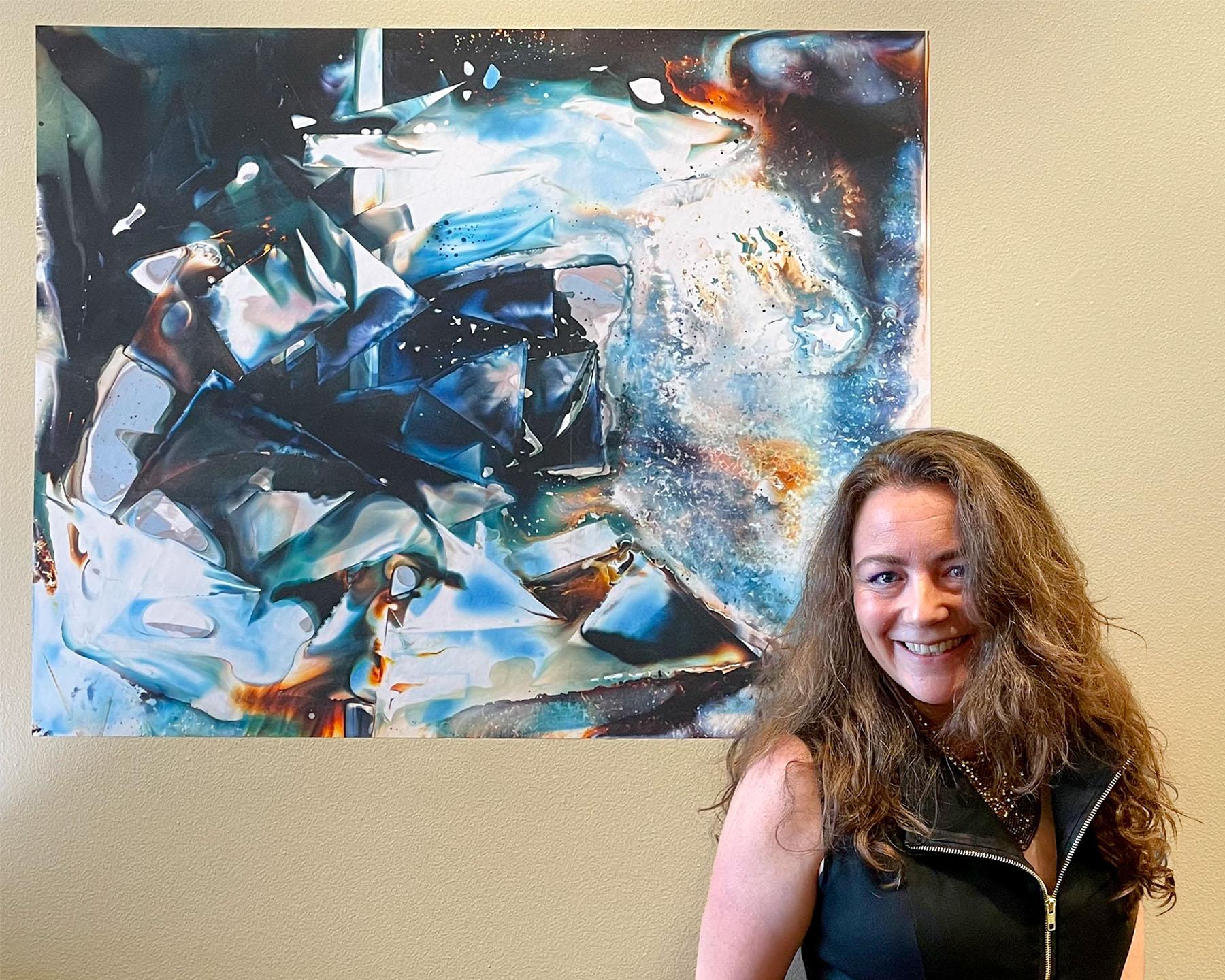 Tell us about The Illuminated Love Oracle, your project with Jessica Rose and Jennifer Dawn. What inspired this collaboration?
Our inspiration for The Illuminated Love Oracle came out of a desire to create a tool that empowers individuals to connect with their inner wisdom so as to gracefully navigate their lives. We envisioned a deck of cards that would combine evocative visual imagery with insightful messages, serving as a conduit for self-reflection, inspiration, and guidance.
As with many of my collaborations this one began as a conversation with people I love. Jessica Rose and I met at college orientation and were immediate friends. We have grown up together and our deep connection and shared interests has fueled our creative fire. Our goal was to create something that was greater than ourselves while including the value, insights, and wisdom gleaned through our own practices and experiences. Our collaboration began as a gradual process and after a few years our dear friend Jennifer Dawn joined us, propelling our collaboration forward and establishing a trinity. The creative process was cyclical and collective. For example, sometimes my images would inform the conception of the card and other times I crafted the image to encapsulate the card's essence. The Illuminated Love Oracle really is both an expression and offering of love, playfulness, and light.
You've also curated a number of exhibitions. How does your own practice inform your curatorial choices?
What truly guides me in curatorial choices is passion—both my passion for the work and the passion that emanates from the artwork. I believe it is passion that makes us ultimately stop and look. I seek out artworks that resonate on a visual and emotional level. I also find I am drawn to artworks that push the boundaries of traditional artistic mediums and challenge established norms. My goal is to create exhibitions that not only showcase artworks with compelling aesthetics, but also resonate and impact a broader audience.
I recognize the importance of embracing diverse perspectives and promoting inclusivity. So I seek artworks that represent a range of artistic styles, cultural backgrounds, and voices. My curatorial practice enables me to support emerging artists, foster their artistic development, and encourage collaborative projects.
What's next for your practice? Are there any new processes or ideas you are diving into?
Currently my focus lies in exploring the materiality of the photograph and the tension between impermanence and preservation.
In my recent work I have been using layers of photographic paper as my canvas. Cutting the paper into various shapes and sizes, I then layer them so as to create larger compositions to then work upon. With each successive layer I am deliberately manipulating the chemicals and light reactions in order to create more depth and complexity. This is new territory, and I am fascinated by the process of exploration and seeing what happens.
Through my camera-less photography I am committed to pushing boundaries, defying expectations, and inviting viewers to reconsider how we define what a photograph is. By inquiring into the tension between impermanence and preservation I am challenging conventional ideas regarding photos as static imagery and embracing the dynamic nature of existence. I hope that my work sparks contemplation and invites a fresh perspective on the possibilities of photography.