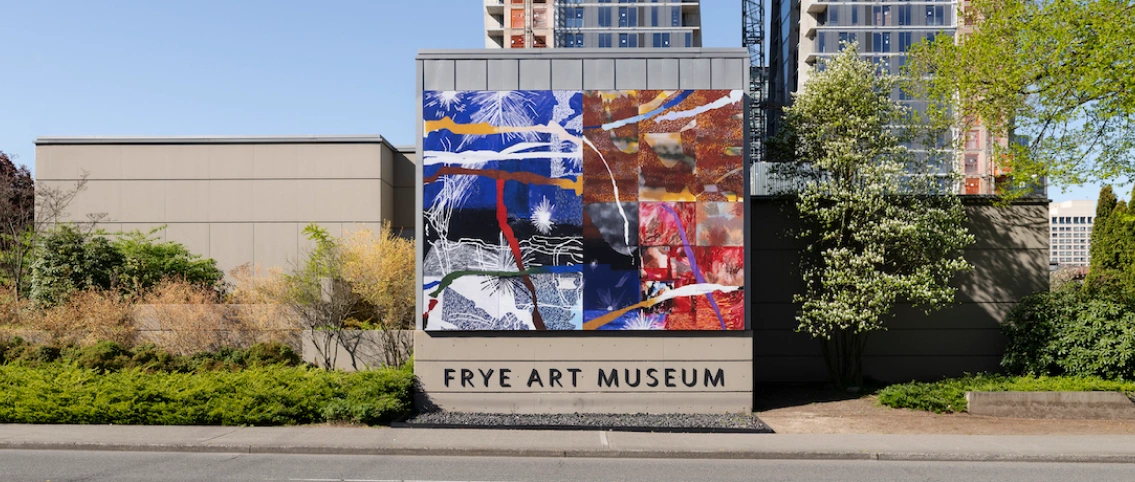 The Frye Art Museum is a living legacy of visionary patronage and civic responsibility, committed to artistic inquiry and a rich visitor experience. A catalyst for our engagement with contemporary art and artists is the Founding Collection of Charles and Emma Frye, access to which shall always be free.
The Charles and Emma Frye Free Public Art Museum is a 501(c)(3) private operating foundation, organized as a charitable non-profit corporation in Washington State. Frye Art Museum tax ID # 91-0659435
Charles Frye (1858–1940) was the son of German immigrants who moved to America in 1846 to farm in Iowa. In 1888 Frye moved to Seattle, where he purchased land and established a successful business. Frye and his wife Emma (1860–1934) became avid collectors and patrons of the arts. A 1930 newspaper article reports that Charles viewed his first oil painting in 1893 at age thirty-five. In 1909 the couple lent a French painting to Seattle's Alaska-Yukon-Pacific Exposition (a World's Fair celebrating the development of the Pacific Northwest), which indicates that they were probably well-known as collectors by this time. The Fryes displayed their paintings in their private quarters and in a purpose-built exhibition space attached to their home. Major philanthropic supporters of music in Seattle, the couple hosted concerts as well as charitable events in their art gallery.
Gifted in perpetuity to the people of Seattle, Charles and Emma Frye's collection became the Founding Collection of the Frye Art Museum, which opened on February 8, 1952. After Charles Frye's death in 1940, the executor of Frye's will, Walser Sly Greathouse, administered the establishment of the museum and became its first director. After Greathouse died in 1966, his widow Ida Kay directed the museum until her retirement in 1993.
In 1994 the Board appointed Richard West, scholar and former director of Bowdoin College Museum of Art, Maine; the Crocker Art Museum, Sacramento; the Newport Art Museum, Rhode Island; and the Santa Barbara Museum of Art. West oversaw the Frye Art Museum's expansion and renovation, which was designed by Rick Sundberg of Olson Sundberg Kundig Allen Architects, Seattle.
After West's retirement in 2003, Midge Bowman, a Yale-trained historian and educator, directed the museum, establishing the museum's archive and initiating important collection research projects. Jo-Anne Birnie Danzker, former director of the Museum Villa Stuck in Munich and the Vancouver Art Gallery, Canada, succeeded Bowman as the museum's director from 2009 to 2016, over which time she strengthened the museum's commitment to local contemporary artists. In October 2016, Joseph Rosa, a noted scholar on architect Albert Frey, assumed the title of Director and CEO, after serving most recently as Director of the University of Michigan Museum of Art. Rosa had previously led curatorial departments at the Art Institute of Chicago, the San Francisco Museum of Modern Art, and the Carnegie Museum of Art in Pittsburgh, PA. In addition to stewarding the museum through the challenging COVID-19 era, Rosa oversaw the Frye's successful reaccreditation by the American Alliance of Museums in 2019, and established critical institutional partnerships that enriched the cultural landscape of Seattle. 
In January 2023, Jamilee Lacy was appointed Executive Director, arriving from the Providence College Galleries, Rhode Island, where she served as Inaugural Director and Chief Curator since 2014.
The museum's Founding Collection of 232 oil paintings reflects the distinctive vision of museum founders Charles and Emma Frye and celebrates late-nineteenth and early-twentieth-century European and American art. The Frye Art Museum continues to strategically build its collection through purchases and gifts, both deepening existing areas of strength and diversifying holdings to reflect the museum's expansive curatorial program and Seattle's globalized present. Acquisitions of the last ten years demonstrate the museum's commitment to growing and contextualizing its distinctive historical collections of late nineteenth- and twentieth-century European and American art while broadening its holdings of contemporary works to embrace previously underrepresented identities, perspectives, and forms of expression. 
704 Terry Avenue
Seattle, Washington 98104
USA
Phone: +1 206 622 9250
Email: info@fryemuseum.org