Meet the Maker is a series of interviews with local designers and makers featured in the Frye Art Museum Store.
---
Studio Tenjung, founded by Tenzin Tsomo, focuses on design services, fabrication, and research. Tsomo's recent line of contemporary hand-knotted rugs were designed in Seattle and produced in small batches in Kathmandu, Nepal with naturally dyed Tibetan highland wool.
The Store recently started carrying some of Studio Tenjung's unique sculptural rugs. We wanted to learn more, so we asked the designer about her process and inspiration.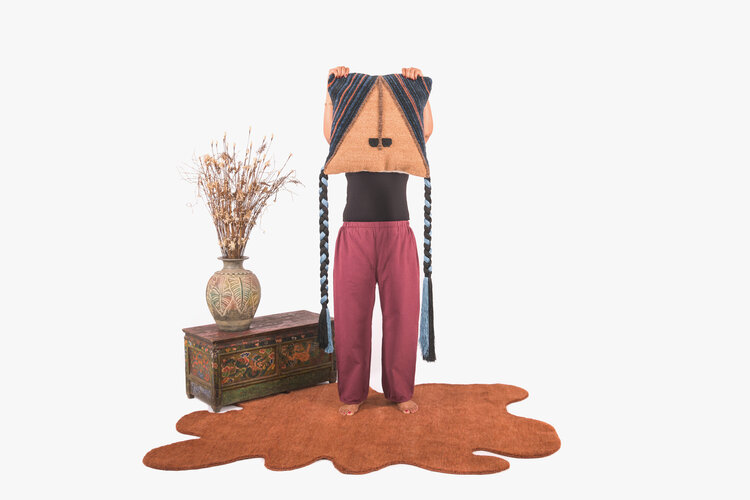 Tell us about your background and how you got started in designing and fabricating rugs.
I am the daughter of Tibetan Refugees and was born and raised in Kathmandu, Nepal. Like many Tibetan families in Nepal, my parents were in the business of fabricating hand-knotted rugs. My mother was also a weaver herself. She learned how to weave when she was in school through workshops led by Tibetan master weavers who were teaching their fellow Tibetans craft skills to make a living. So, rug-weaving became her family's livelihood and an essence of their survival in exile right from the beginning. By the time I was born, my parents started their own workshop, making weaving and dyeing a part of my visual landscape growing up.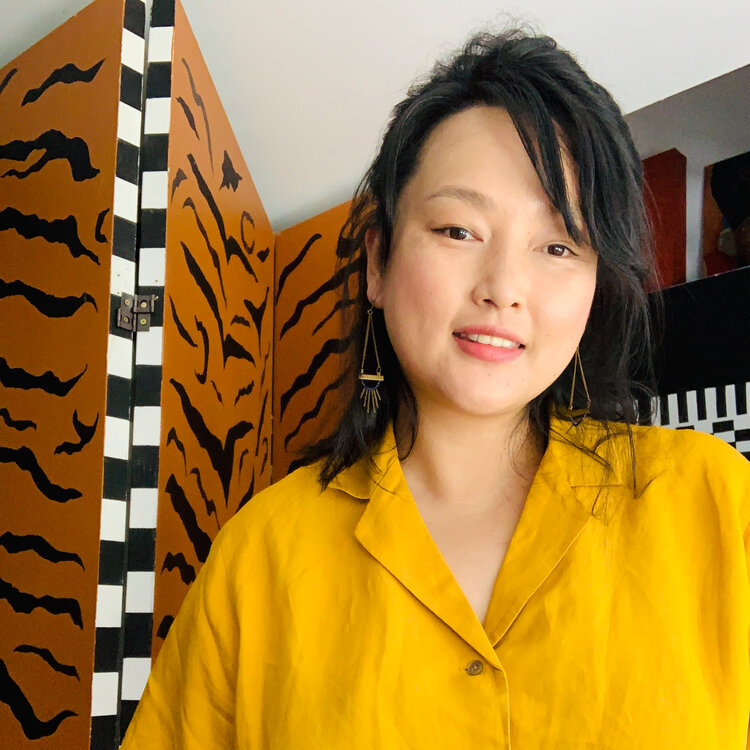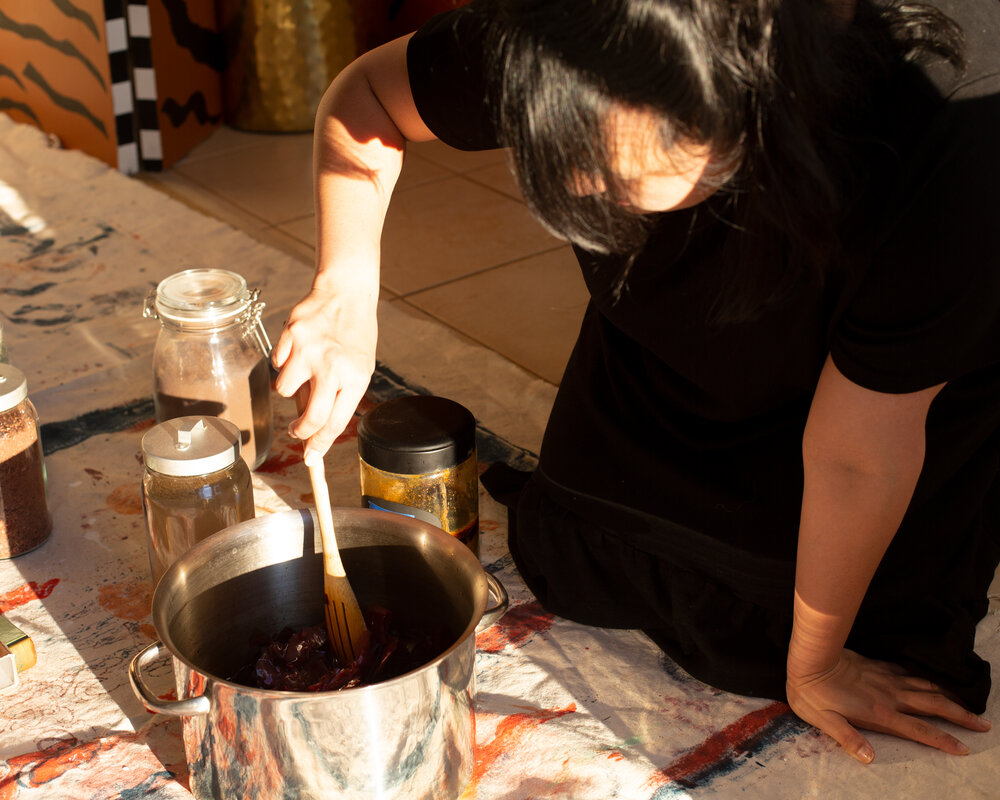 Even though my parents have been a huge influence and the reason I got into designing and fabricating rugs, the main impetus that pushed me into starting my own studio was firstly, my discomfort with the narrow clientele the industry currently serves. The hand-woven carpet industry in Nepal mostly caters to a very high-end market in North America and Europe. It was disheartening to see how we were slowly losing all aesthetic agency in our craft culture that we once brought into exile as refugees.
Secondly, rug-knotting and dyeing techniques have gotten diluted down to cut costs. To revive or re-learn traditional techniques, a huge part of my studio practice has involved research, interviewing elders in our community, and reading books on Tibetan Rugs. To aid my research, during my student days, I saved up to attend a conference on Oriental Rugs in Washington, D.C. hoping to network with a few speakers (all of them, non-Tibetans) who called themselves "experts" on Tibetan Rugs. I was completely bewildered by how dismissive and disinterested these experts were with our intellect and more interested in what we could potentially sell to them for their collection. At that moment, I knew I had to one day start my own studio practice, research, and make a more meaningful contribution to our craft histories as a native Tibetan. Unfortunately, most of the experts leading the conversation on traditional Tibetan knotting (carpets) are antique art dealers who profit from marketing our craft culture as a dying and endangered one so they can add a hefty price tag to their collection. I feel an increased connection to my cultural roots through my work and feel blessed and incredibly grateful for being an artist-designer in that regard.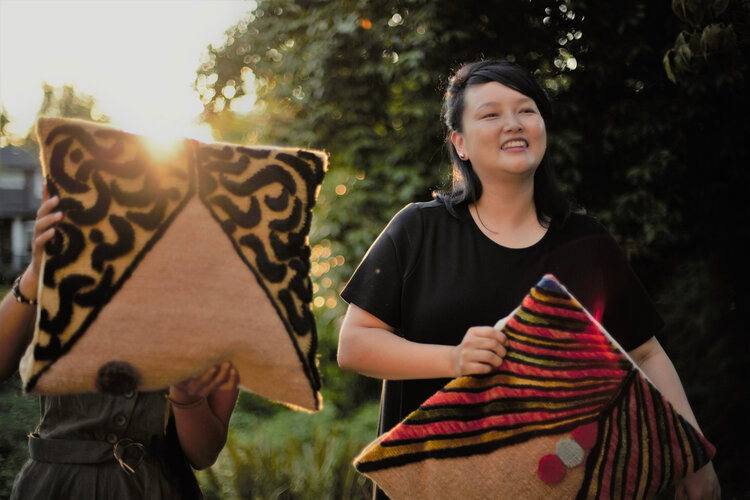 We love your use of natural plant-based dyes and the inventive shapes and textures found in your rugs! What inspires your work?
With warp threads being wound on a loom vertically across the loom, rugs are either a square or a rectangle. As a weaver myself, I was always cutting my own weavings into shapes, breaking from the sharp angles of the square/rectangle. I wanted to indulge myself in celebrating natural dyes for my first collection and was imagining rugs that were fluid and had movement, a Benglis-like spill painting in form. The process of natural dyeing is unpredictable, but magical. And wool, especially Tibetan highland wool, with its rich lanolin content absorbs natural dyes beautifully. Also, from a sustainability point of view, especially in Nepal where streams and rivers can easily be polluted by toxic synthetic dyes, natural dyes are a safer option for both the dyers and the environment.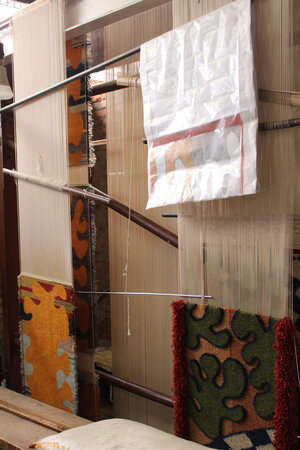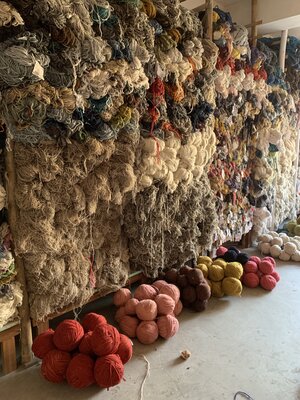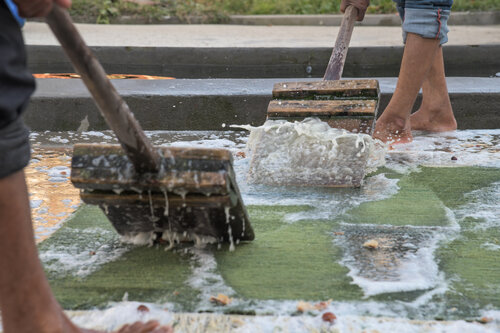 Storytelling also greatly influences my work. My cushion collection is inspired by real grand moms including my own. Photography and films are also a brilliant way to strengthen storytelling. One of my favorite films is Gabbeh by Iranian filmmaker, Mohsen Makhmalbaf. It starts with this old couple washing their rug by the river when Gabbeh, a young woman, appears before them. She is the weaver and the spirit of the rug and tells them her story through the motifs she's woven in the rug. There is another scene in the film where Gabbeh's uncle is giving lessons to kids on how to create secondary colors from primary colors. His hands are dipped in indigo and other plant dyes, alluding to how the wool in the rug is dyed. I always find it so inspiring to watch these visually stunning, poetic films.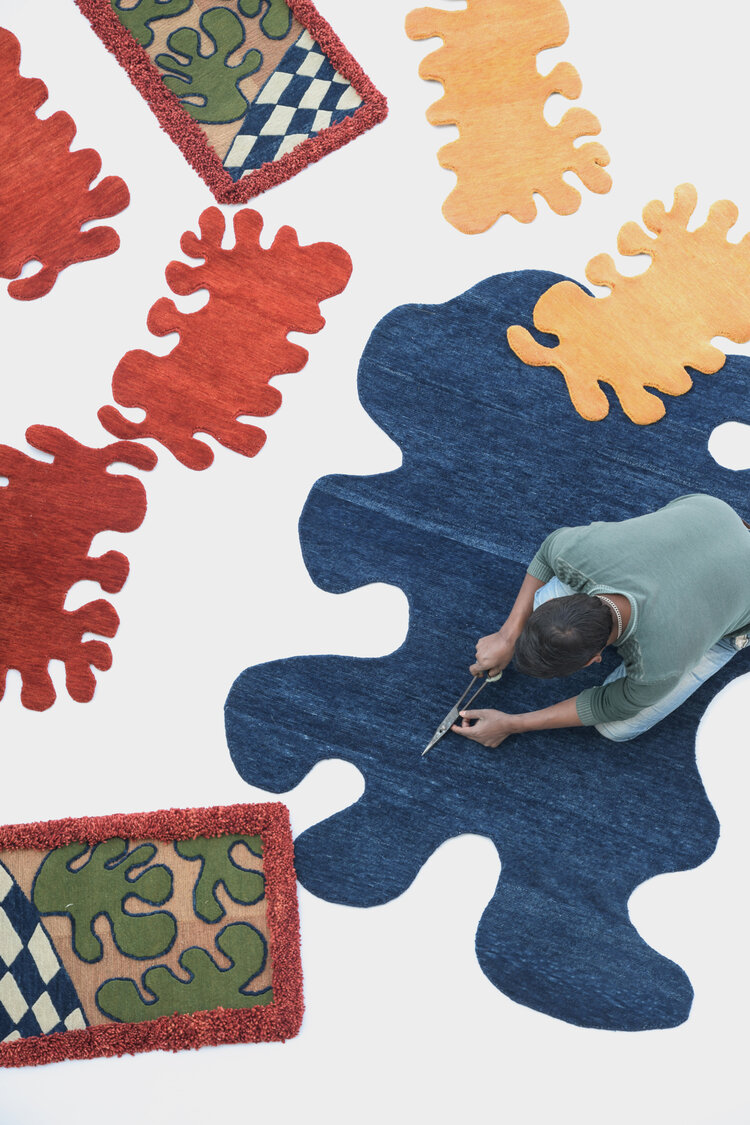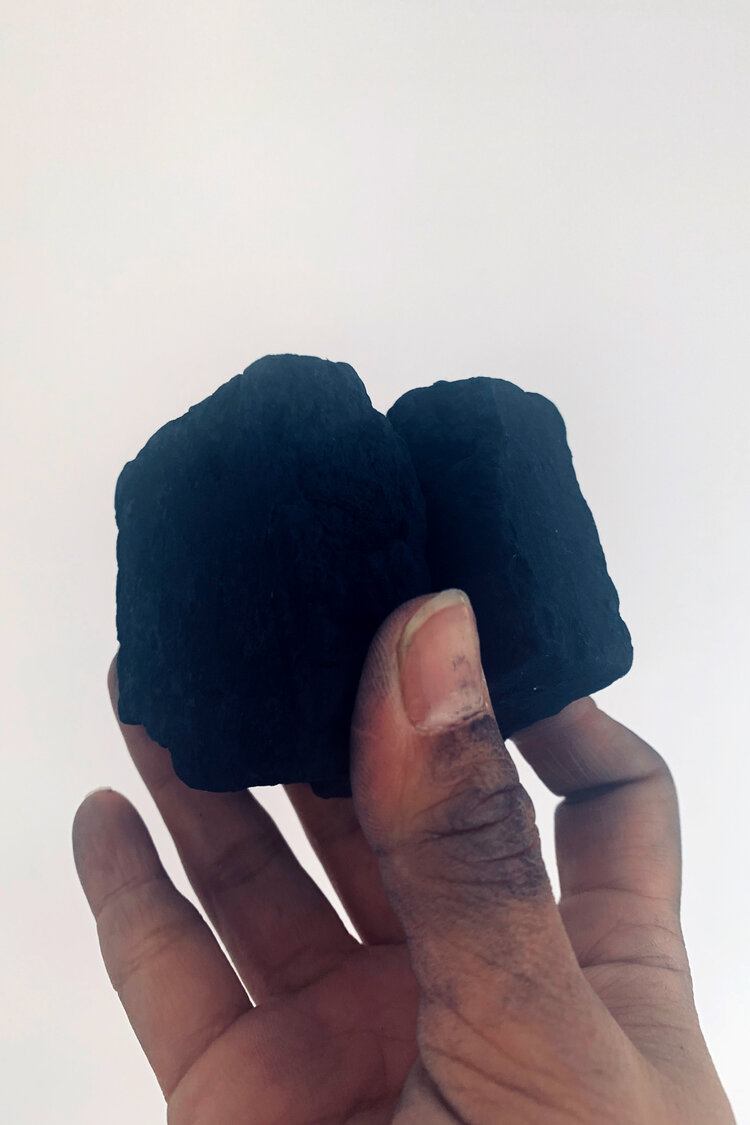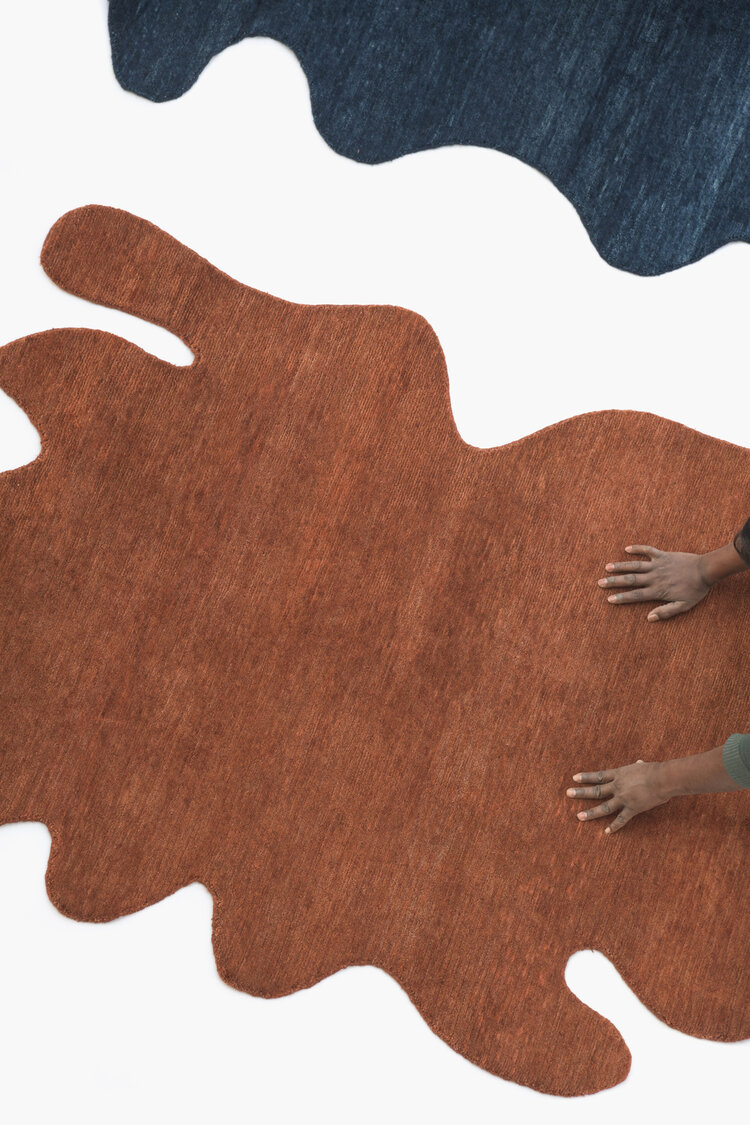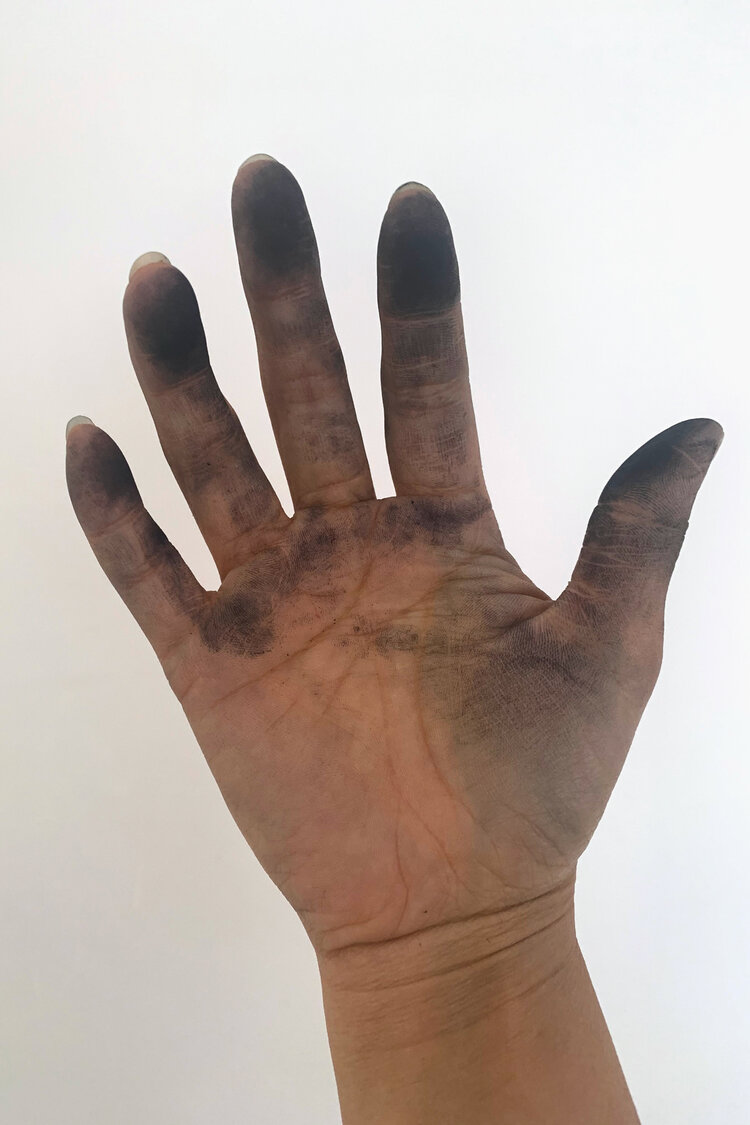 How have things changed since quarantine?
I had just barely started with my new business when the pandemic hit. So, I was rather terrified at the beginning. With the lockdown and limited flights, it was too costly to ship out anything from Nepal. Luckily, at the time, I was already part of a Public Arts project that was funded by the city of Seattle for local AAPI artists for the re-opening of the newly renovated Asian Art Museum. Despite the pandemic, I was able to meet some incredible people through that program. I also got an opportunity to contribute my writing to the Feral Fabric Journal.
Sometime mid-last year, I was able to ship my first collection of rugs. There are still a lot of things that have been difficult to implement without being physically present in Nepal. But the last year since quarantine has been a profound practice in patience and resilience. Even though these are still precarious times, I feel like we have gotten better at adapting and have had the time to re-imagine new kinds of futures for ourselves in all aspects of our being and existence moving forward. But I am so looking forward to a time when we can gather and travel safely. Hopefully, the worst is behind us!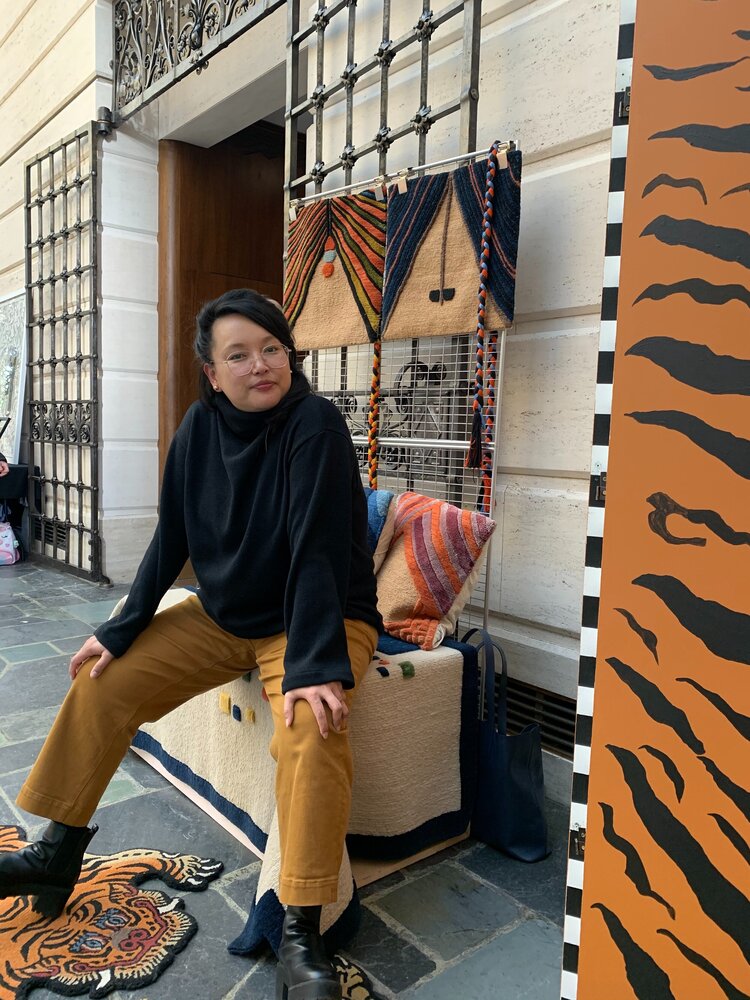 What's a normal day in the "studio" like for you and what's next for Studio Tenjung? 
We moved to a new place earlier this year and because we are still in the process of renovating parts of our new home, my studio has been seeping into every corner of my home. I am also pregnant and expecting my baby in the fall. So currently, I am attempting miserably at finishing a few projects like building a new website and designing a new collection before I take some time off. Depending on my energy, some days I'm glued to my computer screen or playing around with color poms and yarns. When I'm not thinking about work, I love cooking, listening to podcasts and going out for walks. We're so blessed to be surrounded by lush greenery in the Pacific Northwest— it's easy to forget that we're living in the city!