By Angie Kennedy, Gallery Guide
Get in the mood for spooky season with a Halloween edition of our online tour! As one of Frye's newest Gallery Guides, I'm thrilled to be writing about two artworks from our permanent collection. Interested in more art discussions? Join one of our Frye in Focus tours on Saturdays and Sundays at 1 pm or view the calendar for upcoming events and programs.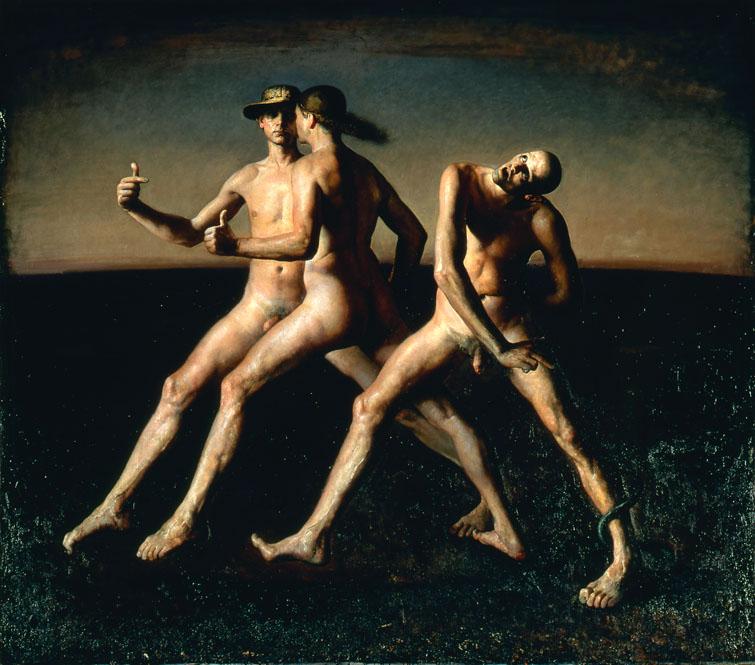 Take a moment to notice what is going on with this work.
Here we see three well-lit male figures against a darkened background, captured loping across a barren landscape. The fronts of their bodies are illuminated, giving us a view of their facial expressions. The two figures on the left are depicted in an effortless pose, running and engaged in seemingly mutual admiration. Despite the second figure's face being partially obscured, we can see he is mirroring his partner's stance and posture. The third figure in the foreground is different. Bent over and bitten by a snake, his face is twisted in surprise and pain. Why is the bitten man depicted in such a way?
We can decipher that this is clearly a snake wrapped around the bitten man's ankle, but why is the snake in such darkness? Why did Nerdrum choose to illuminate only the running figures? In the Judeo-Christian tradition, the snake is most commonly associated with the biblical story of the Fall of Man and considered both a symbol of sin and representation of evil. However, in Greek mythology, snakes were often symbols of healing. If the snake is emerging as such an integral part of the story being presented in this artwork, why does it remain in shadow? Are we meant to focus on the bitten man's face because it is illuminated and central to the artwork? Is his pain the agony of self-realization?
How does the use of light in this artwork give us clues to its meaning? The bitten man is painted in a starkly naturalistic manner, which is at odds with the smooth perfection of the other two runners. The bitten man is ugly; they are beautiful. He is awkward; they are graceful. He is in pain; they are serenely indifferent. Is this Nerdrum's version of redemption? Has the bitten man been "humanized," turned into a living, breathing being and brought into our world through the bite of a snake? Has he been gifted—albeit unwittingly—with a new version of himself and his world?
The paintings of Odd Nerdrum are compelling images of isolation, transformation, and revelation. Using a virtuoso painting technique that evokes the manner of seventeenth-century Dutch and Flemish painters such as Rembrandt or Hieronymus Bosch, Nerdrum illuminates contemporary moral issues and existential dilemmas by setting lonely figures in sparse, apocalyptic landscapes. However you wish to interpret the images, the artist presents us with a fascinating puzzle.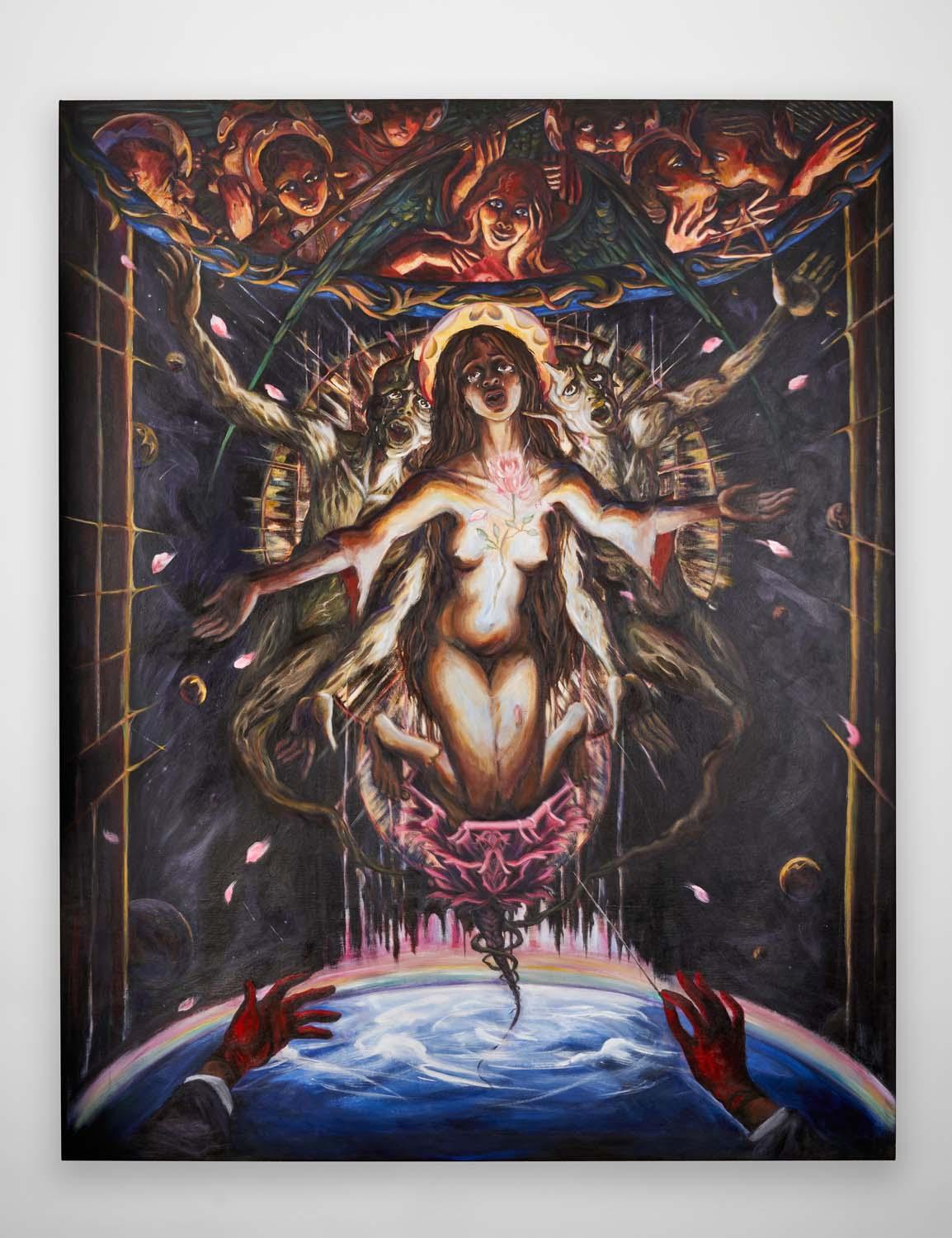 As you take some time to observe these artworks, you might notice a variety of elements that are repeated in each, such as the presence of human forms, the dark, moody color palettes of black, indigo and crimson, or even the partial obscurity of the expressions on the figures' faces. You might have also noticed that in each of these paintings, the artist's use of light might convey a similarly somber mood.
This fantastical painting by Eden Seifu titled Stylite Altarpiece (2022) also uses light in a dramatic way to demand a deeper exploration of the possible meanings in her work. The central female figure appears to be illuminated from within, casting a glow upon the array of angels and demons depicted above her head. The figures, aglow in deep copper, orange and emerald, exhibit a range of emotions, from an erotic kiss to a neutral ambivalence. Two large demon creatures flank the central figure in a sort of embrace, with their arms outstretched and mouths open. These three central figures mirror one another's expressions, part ecstasy and part agony. Beneath them all is a celestial body, perhaps the Earth, giving the impression that these figures are other-worldly in nature. The floating maestro hands in the foreground hold a baton, giving the illusion that this is all being orchestrated by an all-knowing being. How does the use of light influence where we devote our attention? Does this denote importance? Does our focus shift with the presence or absence of light? What do you make of these figures, described by Chief Curator and Director of Exhibitions Amanda Donnan as "representing a desperate, urgent joy and rejoicing in the face of futility, oblivion, evil and fear?"
Seifu places protagonists of color at the center of extravagant dramas inspired by the fundaments of myth, portraying heroes embarking on life-altering journeys. Stylite Altarpiece represents this scene of unification and non-duality. The array of angels and demons, lifted into the planetary atmosphere atop an impossibly tall pillar, raise their voices in rapturous cosmic harmony that joins together the Earth, outer space, and heaven.