The Store has new artwork on view in tandem with the Frye Art Museum's exhibition Romare Bearden: Abstraction (on view June 25–September 18, 2022). We commissioned artist and curator Moses Sun to create a large-scale mixed media work and are so excited to share this stunning result, titled Carolina Conversations with Romare Bearden, with you all. We wanted to learn more about Moses's inspiration and process, so we reached out with some questions. 
Image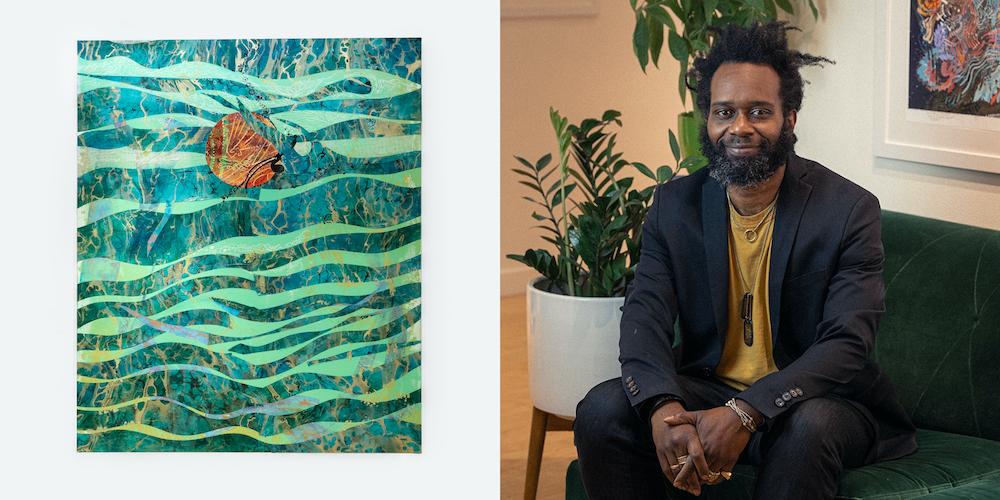 Image: Moses Sun 
Tell us about your connection to Romare Bearden. When did you first learn about his work? 
Romare Bearden was born in Charlotte, NC. I'm originally from North Carolina also. I didn't know of any professional artists from my area until art school. He was one of the first African-American artists that inspired me to experiment in the studio with all sorts of media. The way he depicted life through his collages and paintings resonates deeply with me. 
What was your process to create this large-scale mixed media work? Is this a way you have worked in the past, and do you plan to continue working in this style? 
I wanted to pay homage to Romare Bearden's art and craft. I imagined having conversations with him about his approach to his subject and techniques he developed over time. With that in mind, I was able to utilize canvas, drawing, collage, and painting within the same piece. 
This is the first time I have worked at such a large scale using collage and painting. It was wonderfully challenging to bring collage, painting, and drawing together. I plan on continuing to utilize the techniques I learned while creating this piece. 
Image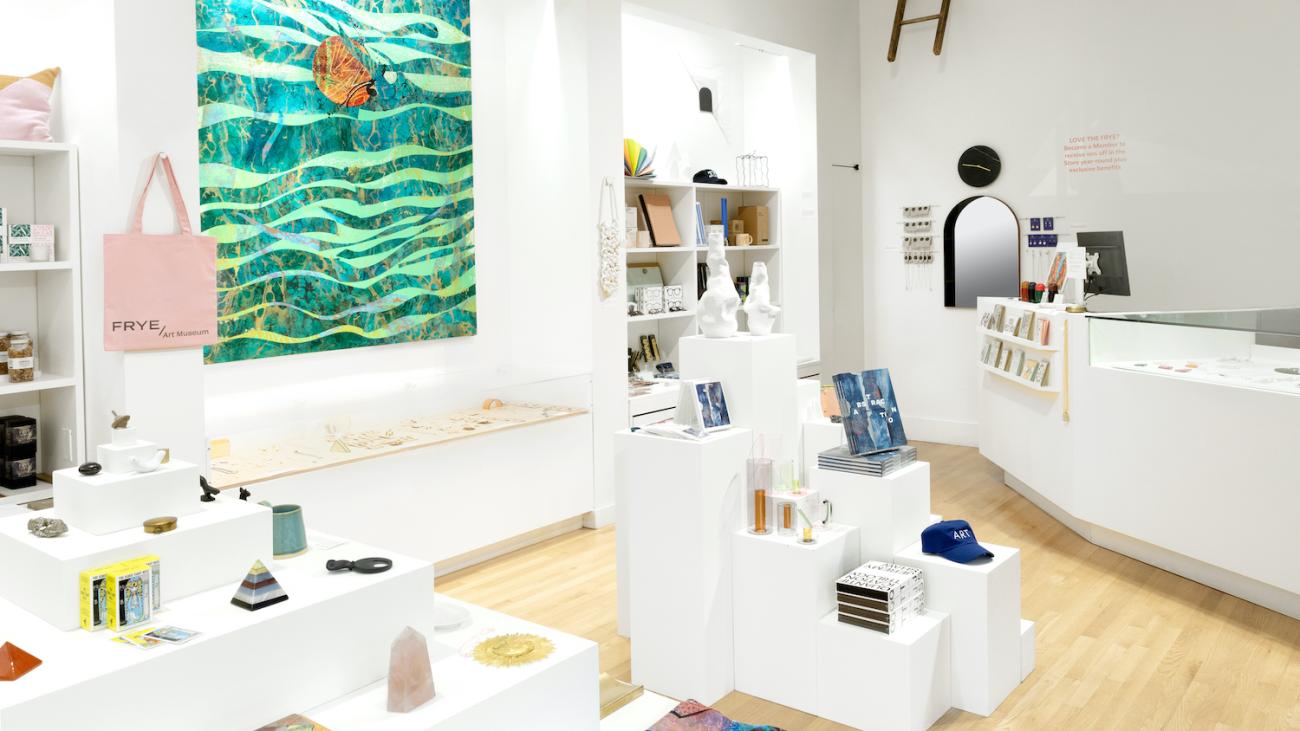 Image: Rachael Lang
What is next for your practice? 
I am looking forward to more experiments in the studio. I'm currently preparing for my solo exhibit at J. Rhinehart Gallery in September where I will be showing new work from my 21 Chambers series. Kinetic sculptures, art installations, and more curation are all on the calendar for the next couple of years.
Image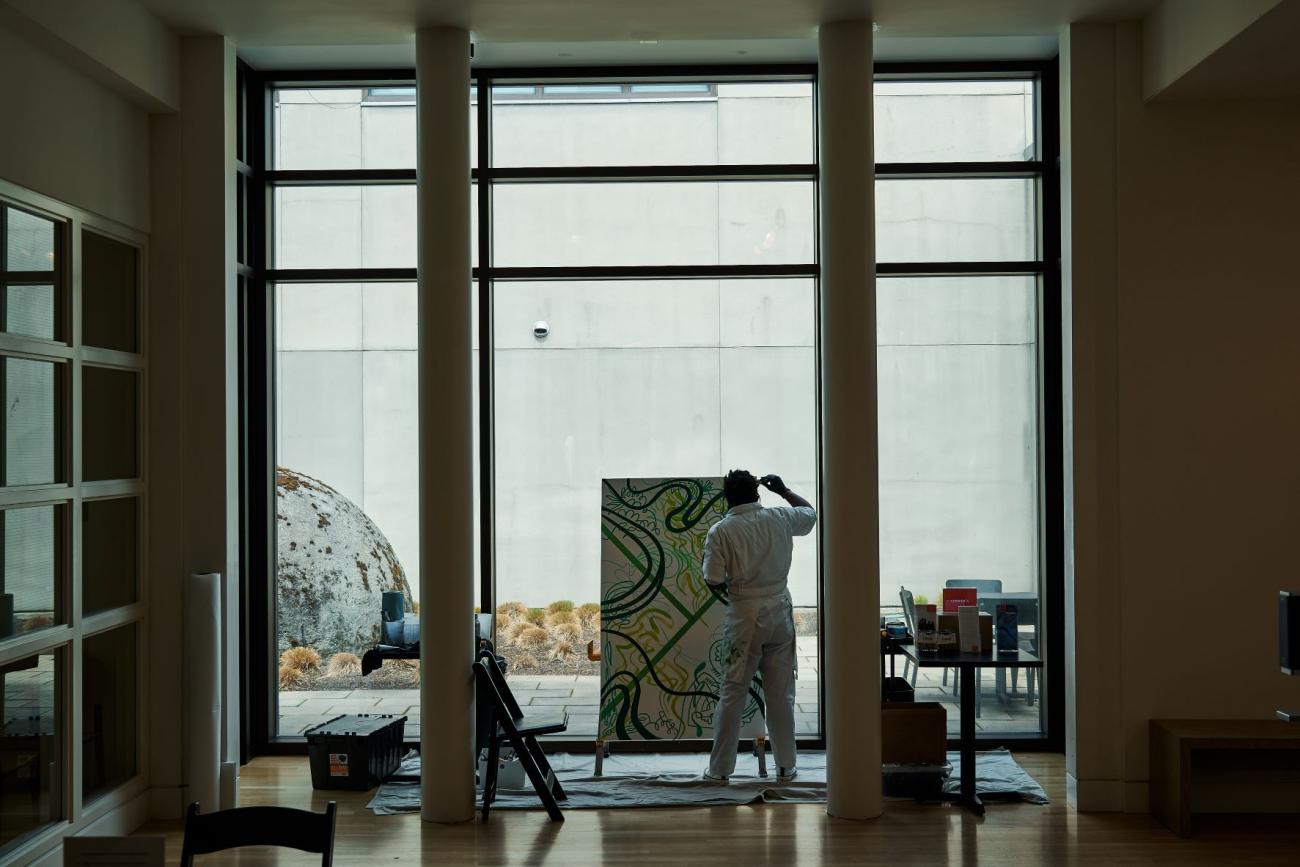 Moses Sun's live painting demonstration at the Frye Art Museum's Spring 2022 Community Day. Photo: Jonathan Vanderweit
---
Seattle-based artist and curator Moses Sun creates analog, digital, and mixed media art. Sun draws much of his inspiration from his southern upbringing along with Black, African, Asian, and Latinx diasporas. He blends these influences into abstract meditative constellations of movement expressed on paper, wood, and large-scale murals. Sun describes his art this way, "My work expresses blackness across multiple media platforms, laying bare my personal history, and humanity. I make drawings on paper and iPad, digital and analogue photographs, sculpture, and installations, then sample them and in the hip-hop ethos of 'grinding' output them as murals, relief sculptures, digital prints, video animations, games, and social media apps. I work intuitively, letting go of pretense so that the story reveals to the viewer an entry point, a beginning but never an end." Sun's work has been shown in both solo and group shows in Toronto, New York, Los Angeles, and Seattle.