On April 2, 2022, the Frye Art Museum participated in Slow Art Day, a global event focused on the art of seeing. Based on the event's mission, our goal for the program was to slow down, look closely, and spend some time with an artwork from the exhibition Christina Quarles. Los Angeles-based artist Christina Quarles paints bodies that are subjected not only to the weight and gravity of the physical world but also to the pleasures and pressures of the social realm. Her evocative scenes feature ambiguous figures whose limbs, torsos, and faces merge with familiar domestic objects made strange through unexpected color choices and experimental painterly gestures. 
Through guided questions and deep discussion, Slow Art Day participants examined the layers—both literally and metaphorically—of Quarles's work. We invite you to join us in exploring this artwork through slow looking.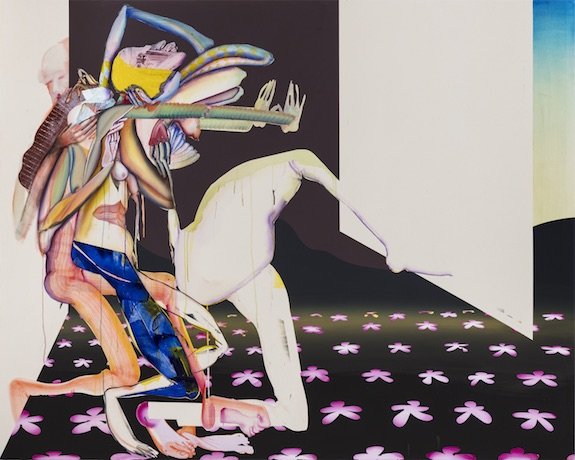 When It'll Dawn on Us, Then Will It Dawn on Us, 2018. Acrylic on canvas. 77 x 96 1/8 x 2in. Whitney Museum of American Art, New York, purchase, with funds from Marcia Dunn and Jonathan Sobel, 2020.10. © Christina Quarles. Courtesy of the artist, Hauser & Wirth, and Pilar Corrias, London
Take a few moments to look closely at this work of art. After your quiet observation, consider the following questions: 
Where does your eye go first? Why? 

What is going on in this work? What do you see that makes you say that? 

Take a look at this work of art from a number of different angles (close up, far away, etc.). How does physical distance change your perception of the work? 

Step away from or turn your back to this work of art. What can you recall most clearly about the work of art? Now look at it again. What else do you notice? 
As you continue to explore this work of art, focus on some of the visual elements that make up the composition, such as line, shape, or color. 
What colors do you see in the artwork? How do they make you feel? Why might the artist have used these colors? 

What kinds of lines do you see?  Are they wavy, straight, or curly lines?

What shapes can you find in the artwork? What might these shapes represent? 

Do you see movement or does the work seem still? What do you see that makes you say that? How might the colors, lines, and shapes contribute to the sense of movement or stillness? 

What types of materials is the artist using? 

How might it feel to touch the artwork?  
A few final questions to consider as you dive deeper into this work of art:
What do you notice about the figures? What is their relationship to the rest of the composition? Are they concerned? At ease?  

Which emotions seem to be expressed in this work? What do you see that makes you say that? 

Consider your own reaction to this artwork. How does it make you feel? Which element of the artwork might be making you feel that way? What more can you find? 

 
Now that you have explored the work on your own, we would like to share more details about the artist and this artwork.
Christina Quarles (American, born 1985, Chicago) earned her MFA in painting and printmaking from Yale University in 2016. Quarles has presented her artwork nationally and internationally, including in solo and group exhibitions at the Hepworth Wakefield Museum in Wakefield, England; the Berkeley Art Museum and Pacific Film Archive; Whitechapel Gallery, London; the Museum of Modern Art, Warsaw; and the New Museum in New York City. Quarles has received an Emerging Artist Grant from the Rema Hort Mann Foundation, New York City, and the Perez Prize from the Perez Art Museum, Miami.
In this work of art, a tangled mass of bodies seems to move in unison, hands pressed on backs, propelled toward a raw canvas on the right-hand side of the painting. On the left, a figure peers at the group from behind the black background. Quarles made this work in a moment when abuses of power were being discussed publicly. Specifically, during the confirmation hearings for Supreme Court Associate Justice Brett Kavanaugh, when Christine Blasey Ford testified that she was sexually assaulted by Kavanaugh. To Quarles, these conversations revealed a collective sense of grief, as well as feelings of isolation. The painting suggests the tension between the singularity of trauma and the possibility of collective action. The large swatch of blank canvas that the figures move toward suggests the uncertainty of what could come next, while the gradient of blue sky shows a glimmer of hope.
Now that you have learned a bit more about the artist's intent for this painting, look at the work again. What more can you find?
Learn more about Quarles's artistic process in an interview from the Museum of Contemporary Art Chicago.
Thank you for spending time with us to look closely at When It'll Dawn on Us, Then Will It Dawn on Us by Christina Quarles. We invite you to continue exploring the art around you using these slow-looking techniques and questions. When you slow down and look closely, you never know what you might find.
Explore more art by visiting our collection online or our exhibitions in person. Christina Quarles is on view at the Frye Art Museum through June 5, 2022.