Welcome to our new series where we highlight working artists currently on staff at the Frye Art Museum. The Frye has a wealth of talented Seattle-based artists working under its roof in many different capacities, each with their own dedicated arts practice outside of their work at the museum. Facilitated and written by Alexis L. Silva, Curatorial Assistant, this series is meant to highlight and celebrate these individuals, showcasing their amazing work and arts practices.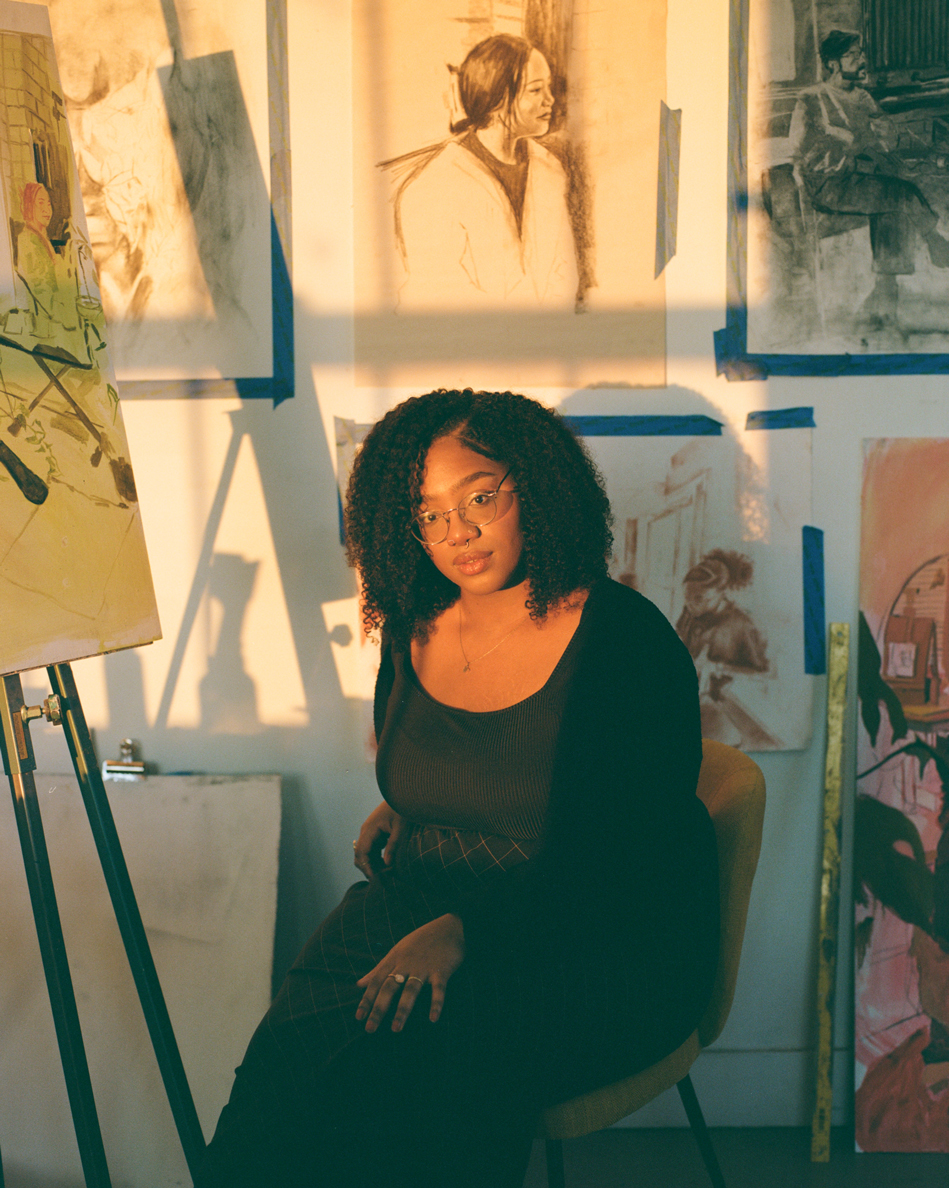 Walking through the Inscape building is something of wonder and curiosity. You can almost feel its history seeping through the walls, unignorable and present. The air is still and quiet but smells of drying paint and sawdust. From INS Building to artist studios, the Inscape building has a history that should not be ignored, and the artists that it houses honor these stories through creative practices and community building. 
One of these artists is Lila Thomas (she/they), a Seattle-based, Black, queer artist from Southern Louisiana. She captures the intimate and familial moments she shares with friends and community members and emphasizes them through lighting and personal symbolism. Her work has been shown at Amen Art Gallery at Nicholls State University, Lilith Pole Studios, Inside Studios, and at a national juried art exhibition at Manifest Gallery in Cincinnati, Ohio, where she won Best in Show. Aside from her practice, she works as a Security Officer at the Frye where she monitors the museum's exhibition galleries to maintain the safety of patrons, staff, and artwork. 
I met with Lila to chat about her practice, her influences, and her vision for the future.  
Thanks for meeting with me Lila! I am so excited to be able to highlight your work on the Frye blog! Can you start by telling us about your background and how you ended up here in Seattle?
I was born and raised in Houma, Louisiana. I grew up in a Black Southern Baptist home with my mother and six of my siblings but I'm the youngest of 16. My mother and father have kinfolk throughout the South, so everywhere I went during my childhood, I was surrounded by family and community. One of my favorite things to do with my siblings was to draw and create scenes for the characters we made. Art was always a tool to express myself and I didn't really see myself doing anything else that wasn't involved with creating. I went to undergrad at Nicholls State University in Thibodaux, Louisiana where I received my BFA in Painting and Drawing. After graduating I wanted to live in a place with more opportunities for growth as an artist. My sister, who has always been my anchor, moved to Seattle in 2017, so I decided to settle here to be closer to her and to build/create my own found family.  
What does a day in the studio look like for you? Walk me through the eyes of Lila! 
First, I start with music. I tend to romanticize my life, so I have a playlist for every moment. When I'm nostalgic, I play Ethiopian Jazz, Soul, Folk, and Highlife music. When I'm yearning, artists like Kelela, Minnie Ripperton, and Mistki always get me through the moment. For instant Black joy, I usually play Black anthems like; "Everybody Loves the Sunshine" by Roy Ayers Ubiquity, "F.U.B.U" and "Cranes In the Sky" by Solange, "Charcoal Baby" and "Family" by Blood Orange. Also hearing interviews from artists and authors I admire: Nina Simone, Bell Hooks, James Baldwin, Toni Morrison, Njideka Akunyili Crosby, Angela Davis, and Eartha Kitt always keep me grounded when creating. I usually prep for larger paintings by doing sketches or smaller studies with different color palettes. I try to have a variety of mediums (like charcoal, conte crayons, gouache, and oil paint) to work on so it can keep me engaged and curious about my art. Painting and drawing can be a never-ending puzzle to solve, so depending on what progress I made throughout the day, it can end with me feeling accomplished or like I've met an insuperable challenge. If I do feel a bit lost with a piece, I can just come back the next day and work it through. 
Image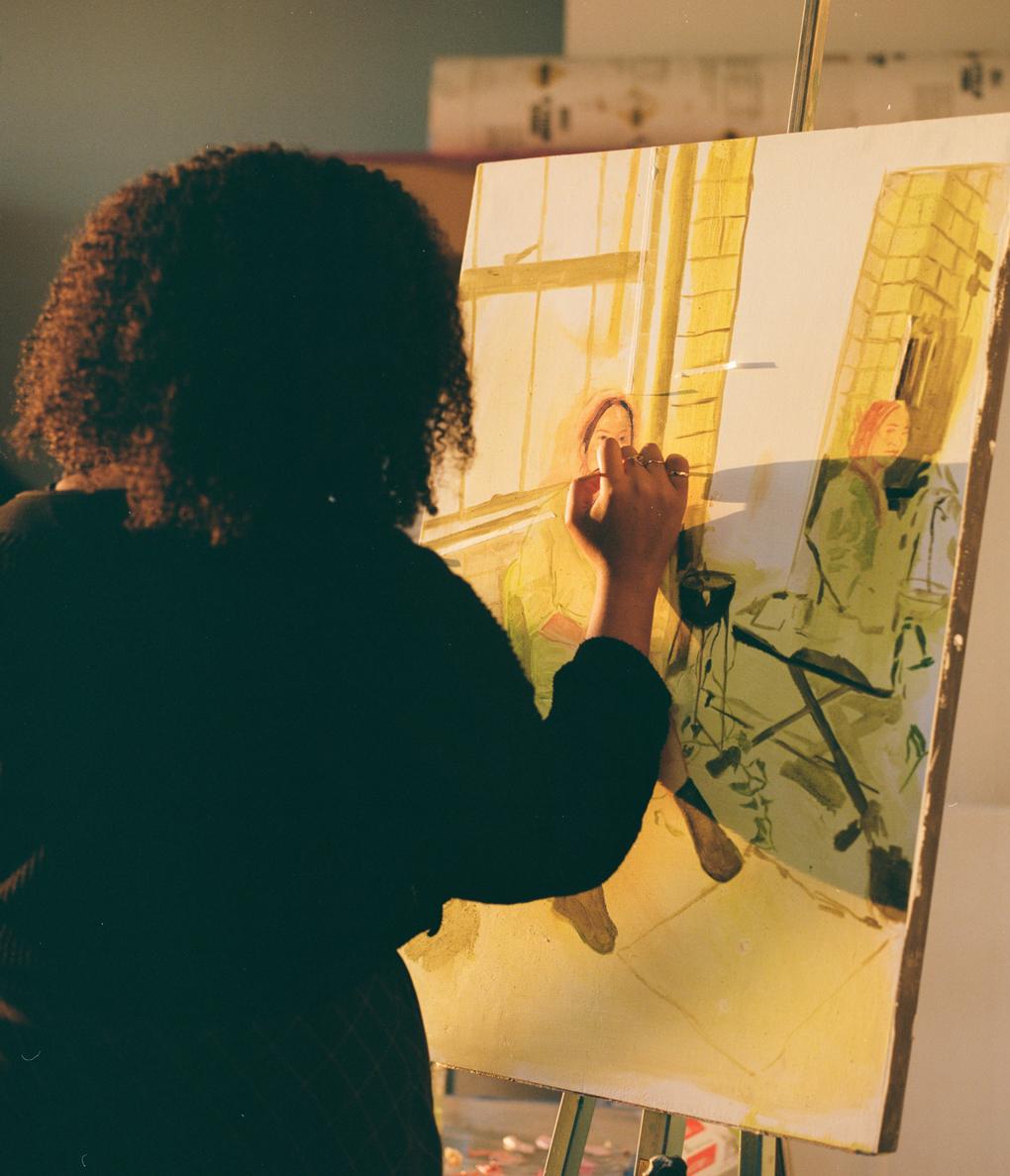 Photo: Bianca Recuenco (She/Her) 
Image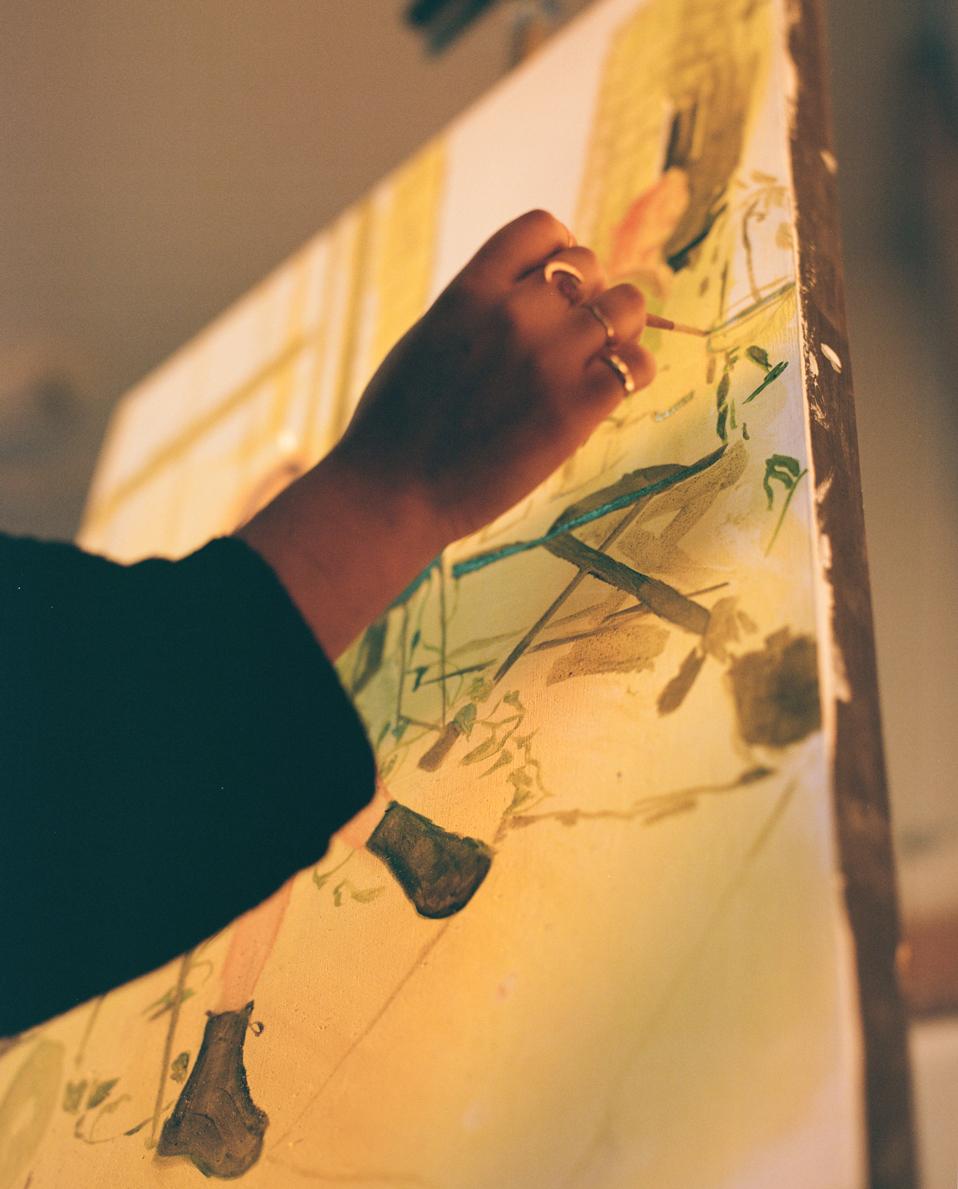 Photo: Bianca Recuenco (She/Her) 
Tell us about your subject choice; how do you decide which familial moments make it in the work and which don't? 
I usually choose moments where the subject is the most at ease. I tend to leave out moments where the subject or space seems contrived or forced. While I'm preparing to draw someone, I always try to start with a conversation to make them comfortable. I always notice the expression and tension relieve once they start to talk about their family, favorite music, food, past loved ones, or friends. Whenever my subjects let me capture them, I feel honored to see them become vulnerable and to catch a glimpse of their past that molded them into their present form. Drawing someone is inherently intimate, so seeing that casual exchange translated into a drawing or painting is always gratifying. I feel like that drives me to create and connect more with the community around me.
Black and queer representation are an important aspect of your practice. How do you hope audiences that are a part of these communities interact with your work? 
I hope that Black and Queer folks can see my work as authentic and beautiful depictions, especially when I'm depicting them. Throughout my time existing in this world, I saw very few representations of people like me being free to exist how we please. I want my work to act as a vessel of escapism for people who have faced generational trauma and societal injustices. I feel like during these times there's a desperate need for art that depicts Black and Queer joy. 
Tell us about your vision for the future of the Seattle arts community.   
My vision for the Seattle arts community is more QT-BIPOC-owned spaces for art. There are spurts of these spaces starting to emerge in Seattle like Inside studio, Wa Na Wari, and Arte Noir, but I would like to see long-term institutional support (funding, mentorship, studio spaces, and resources) for Black artists to grow and flourish. During my residency at Inscape Arts, I was able to meet and connect with so many great artists. I'm just excited to witness and be a part of this QT-BIPOC artistic revival in Seattle! 
Where can we find your work? (Socials, website, upcoming or on-view shows, etc.) 
You can find me on Instagram @soylush and even though the New Beginnings show for my residency at Inscape Arts has ended, you can find documentation on my website www.lilathomas.com. I'll also be teaching beginning figurative painting at Gage Academy starting in January 2023, and in April 2023, I'll be the Artist in Residency at DePauw University in Greencastle, Indiana. If you want to learn more about my process or purchase one of my works, please reach out via my website or Instagram.  
This series is facilitated and written by Alexis L. Silva, Curatorial Assistant.