Los Angeles-based artist Mimi Lauter's work was recently on view at the Frye as part of the group exhibition Door to the Atmosphere. In this post, she reflects on a selection of the themes found within her works.
Image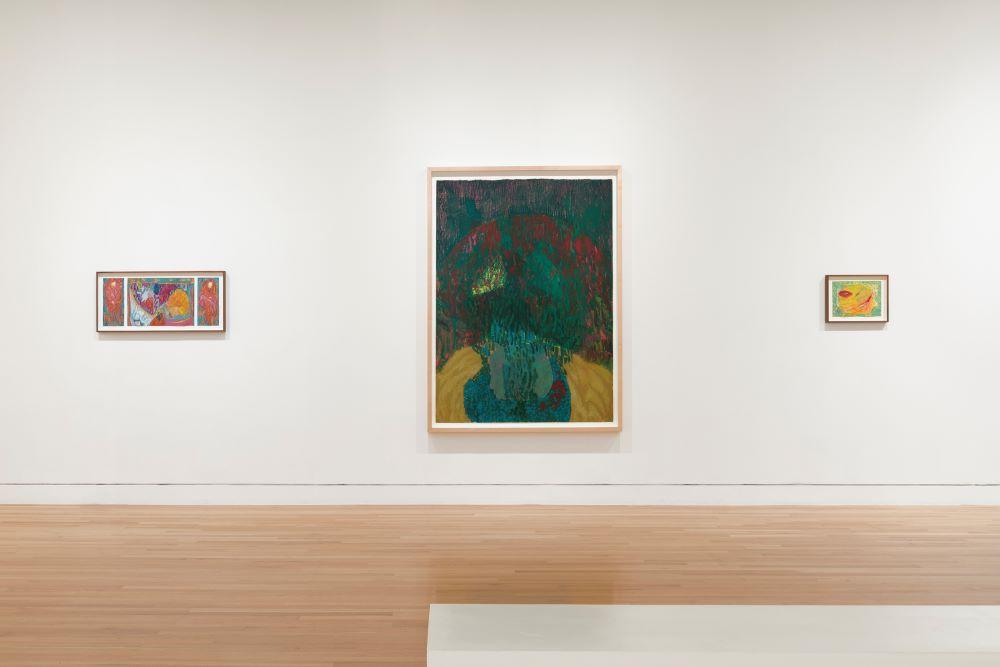 Installation view of works by Mimi Lauter in Door to the Atmosphere, Frye Art Museum, Seattle, October 29, 2022–January 15, 2023. Photo: Jueqian Fang
---
I learned to paint and draw by studying European painting. Much of my knowledge of European history as a young adult was from studying history through the images depicted in paintings. This had a particular effect on how I perceived major events both historically and today—it wasn't just the facts and stories but also the emotional, psychological, and aesthetic impact. In other words, the history of human nature rather than just the history of human events has become my particular lens from which I view politics, the social world, and the personal.
Image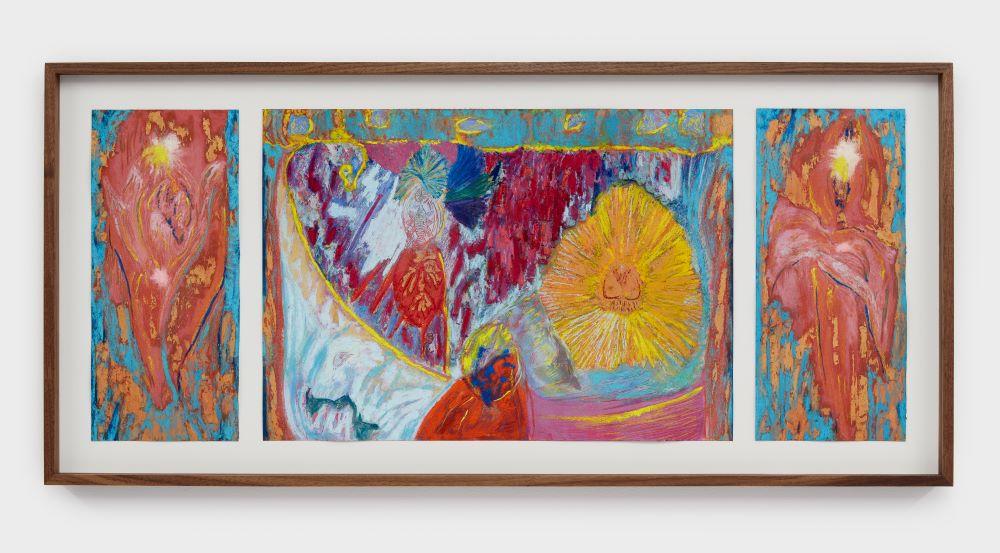 Mimi Lauter. Miniature Since We Gave it Power, Let It Run Cool and Serve as a Tool, 2018. Oil pastel, soft pastel on paper. Three parts, 17 7/8 x 38 3/8 x 1 1/2 in. overall. © Mimi Lauter, Courtesy of the artist and Blum & Poe, Los Angeles/New York/Tokyo. Photo: Heather Rasmussen
---
I've always viewed painting as a theatrical space. Like a stage, it's clear where the audience is; the stage is orchestrated and manipulated, and the boundaries are often clarified through the articulation of a curtain or an abrupt architectural divide. This totally artificial construction, both the theater stage and a painting, is meant to bring the audience deep into another reality in order to better understand our own. Painting has the added difficulty of being completely flat and without sound, however that handicap is also what makes it so powerful. The silence and flatness allow for contemplation and an experience that can ultimately lead to a deeper dive into the human soul more than any other artistic medium.
In 2020, I presented an exhibition that consisted of four rooms. In a pursuit to better understand the various structures and formats of a painting and how our history has attempted to metaphorically categorize them, I divided the exhibition into four types of painting, one for each room: the human body, landscape, still life, and the human soul. I thought of the human body and its relationship to the physical; still life and mortality; and a landscape with its relationship to a journey or a path one takes while moving through life—meandering toward an unknown destination, often seeming without purpose but always with consequence. The human soul was more complicated for me. It was a room and a group of pieces that I ended with, and it was necessary for me to understand these other structures first.
I quickly learned that my failure in isolating these themes into different paintings/drawings or different rooms was inevitable. All of these components existed in every painting simultaneously and in every moment of living. While working on the landscape spaces and using my garden as a starting point, I tried to construct a landscape without the sense of theatricality—one where there was no end point or even purpose, just the drifting through life and moving from one event or place to the next. But it was impossible. There was always a place of arrival (or end?). There was always a sense of destination, or of one path that led and transitioned to the next. The boundary around the piece was clear. In other words, the sense of mortality is carried throughout the entire journey of life.
Image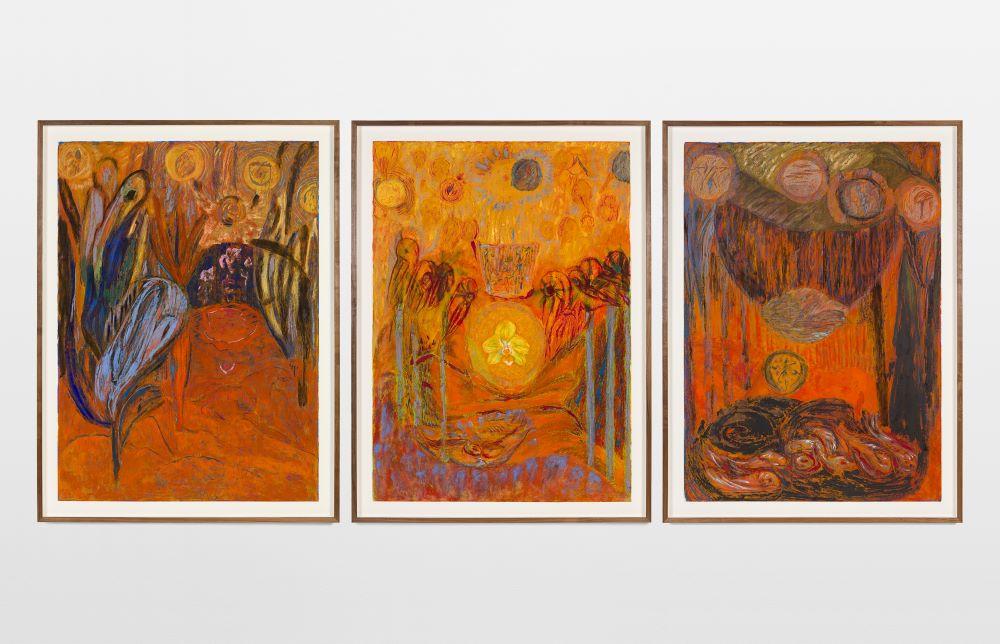 Image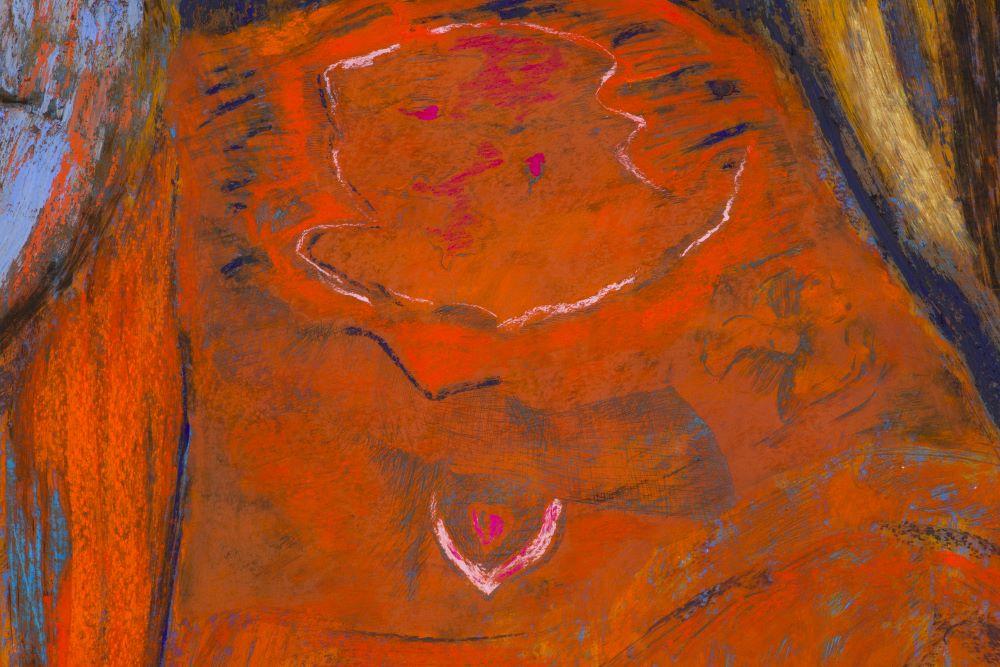 Image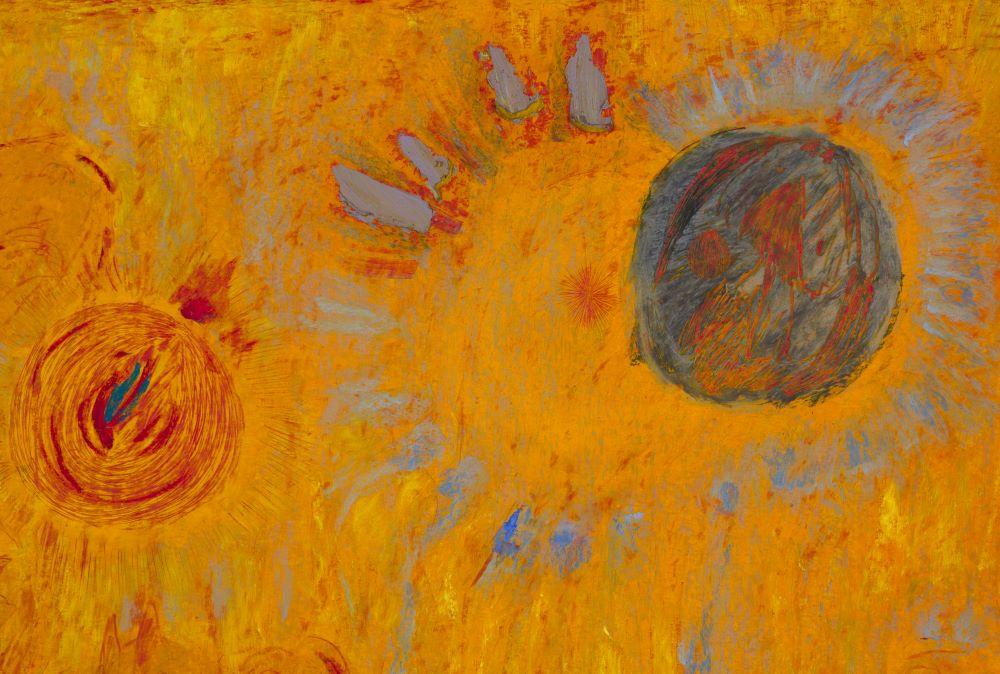 Mimi Lauter. Poco a Poco Crescendo Con Fuoco (full image and details), 2019. Oil pastel, soft pastel on paper. Three parts: 70 3/4 x 50 1/4 in.; 71 x 50 1/4 in.; 71 x 50 1/8 in. Framed Dimensions: 78 1/2 x 57 3/4 x 2 1/2 in. each. © Mimi Lauter, Courtesy of the artist and Blum & Poe, Los Angeles/New York/Tokyo
Photo: Makenzie Goodman
---
In the room that focused on the structure of a still life, while painting my freshly picked bouquets against the backdrop of natural (and moving) light, I was quick to learn that I was in a race against time as my subject changed and morphed into different paintings. And as that happened, my theatrical compositions dissolved into meandering landscapes, another path, another journey to some other space. A painting about mortality had to also be a painting about the journey getting there and eventually dissolving into some infinite space.
As I attempted to address the physicality of the body, the image evolved into a landscape that eventually became a three-part theatrical mural inspired by Max Beckmann's dramatic triptychs of the 1930s and Odilon Redon's colorful pastel dreamscapes, as well as his etchings of his nightmares. The subconscious space and the constructed theatrical space around us seemed to be my only way to depict the body—everything within and around it.
Image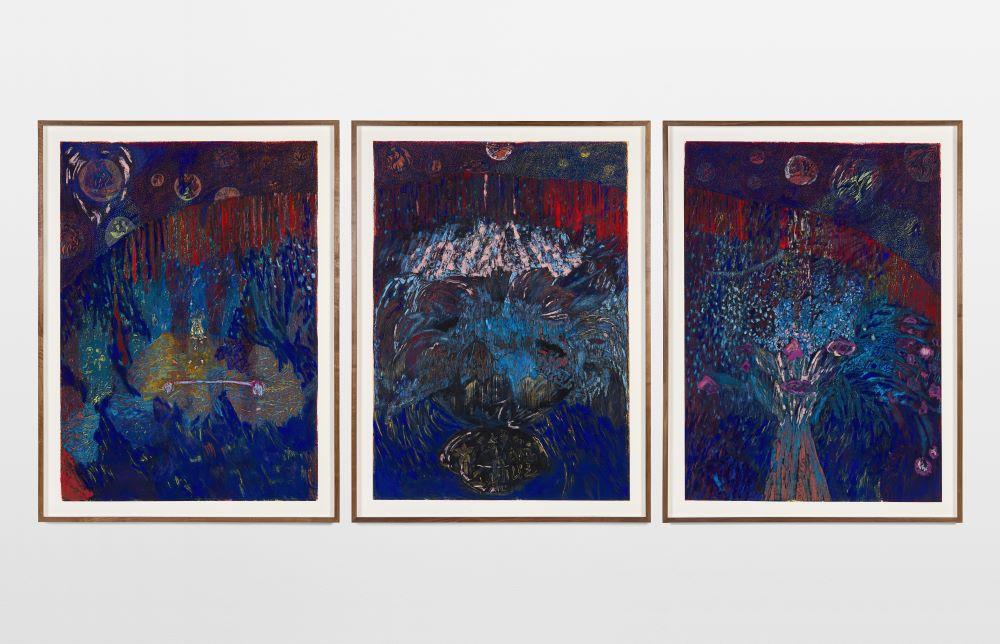 Image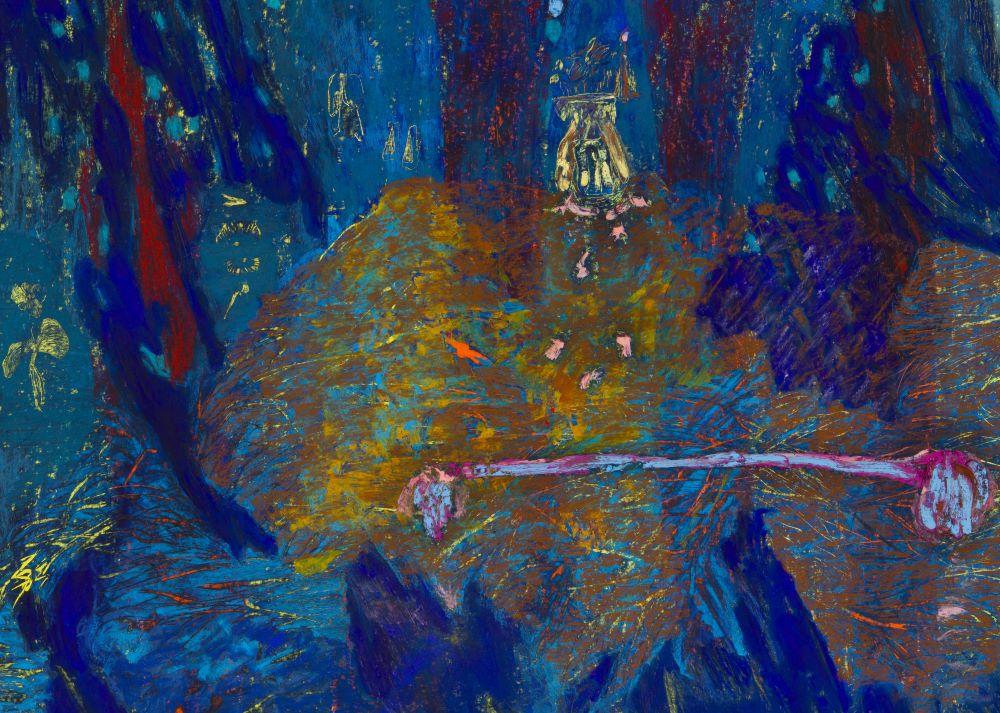 Image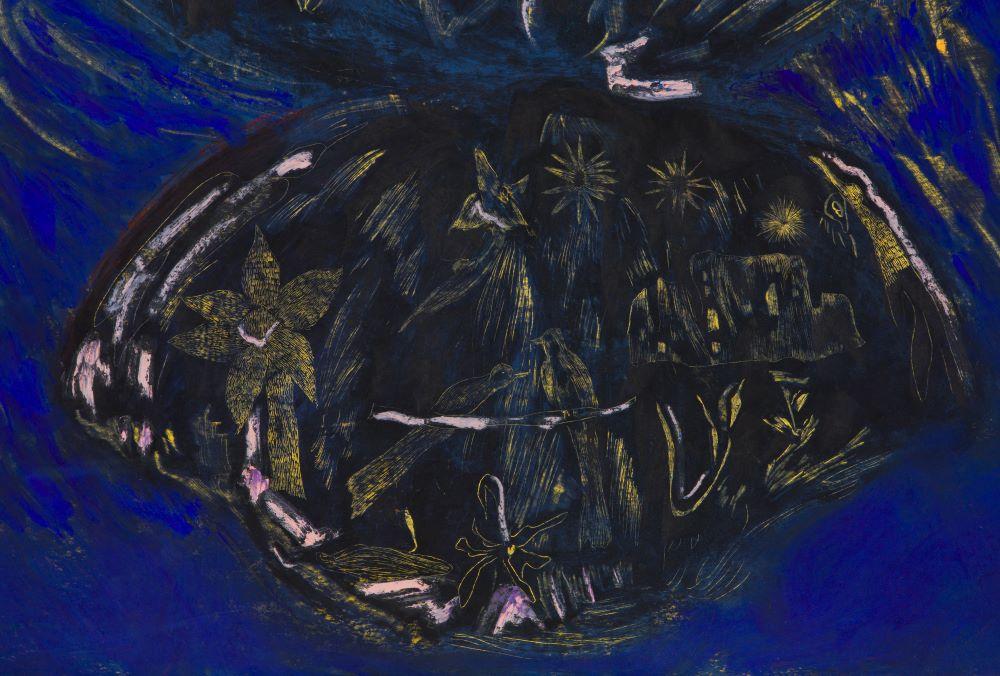 Mimi Lauter. Colossale Allargando Con Spirito (full image and details), 2019. Oil pastel, soft pastel on paper. Three parts; 70 3/4 x 50 3/8 in. each; framed dimensions: 78 1/4 x 58 1/4 x 2 1/2 in. each. © Mimi Lauter, Courtesy of the artist and Blum & Poe, Los Angeles/New York/Tokyo
Photo: Makenzie Goodman
---
This is how I arrived at the attempt to depict the human spirt. An exhibition that I titled Symphony No. 1, these first three groups of pieces were like movements in a symphony repeating the same melody throughout but emphasizing something different with a different mood, ultimately arriving at the chore and power of the melody, exploding with clarity—the human soul. I'm still trying to paint that space; I'm still trying to get there.
Mimi Lauter (born 1982, San Francisco) is a Los Angeles-based artist working in oil and soft-pastel. Channeling the natural world, influenced by painting's rich history, and investigating the human spirit its complexities and inherently elusive nature—Lauter examines the intimate, the existential, and the transcendent. Her practice proposes a secular relationship to spirituality in painting—belief in and devotion to the painting itself. Imagery of flowers, vases, the four elements, and other instances of iconography are meant to conjure the history of painting as well as the temporal. For Lauter, landscapes are a method by which to parse our journey on this planet, the heaviness of existence, and mortality. A number of the artist's works point to the tradition of still-life painting, implicating interior and psychological spaces. Lauter is informed and influenced by artists such as Odilon Redon, Leonora Carrington, Hilma af Klint, Max Ernst, Louise Bourgeois, Florine Stettheimer, as well as members of the Nabis and Post-Impressionists, who impress upon the aesthetic foundation of her work.
Lauter received her BA at the University of California, Los Angeles and her MFA from University of California, Irvine. In 2012, Lauter was included in the first Los Angeles Biennial Made in L.A. 2012 organized by the Hammer Museum in collaboration with LAXART. Recent institutional presentations include the Kasteel Wijlre Estate, Netherlands (2022); Frye Art Museum, Seattle, WA (2022); and participation in Prospect.5, New Orleans, LA (2021). Her work is represented in the collections of the Frederick R. Weisman Art Foundation, Los Angeles, CA; Hammer Museum, Los Angeles, CA; Henry Art Gallery at University of Washington, Seattle, WA; Los Angeles County Museum of Art, Los Angeles, CA; and Marciano Art Foundation, Los Angeles, CA.