October 29, 2022 - January 15, 2023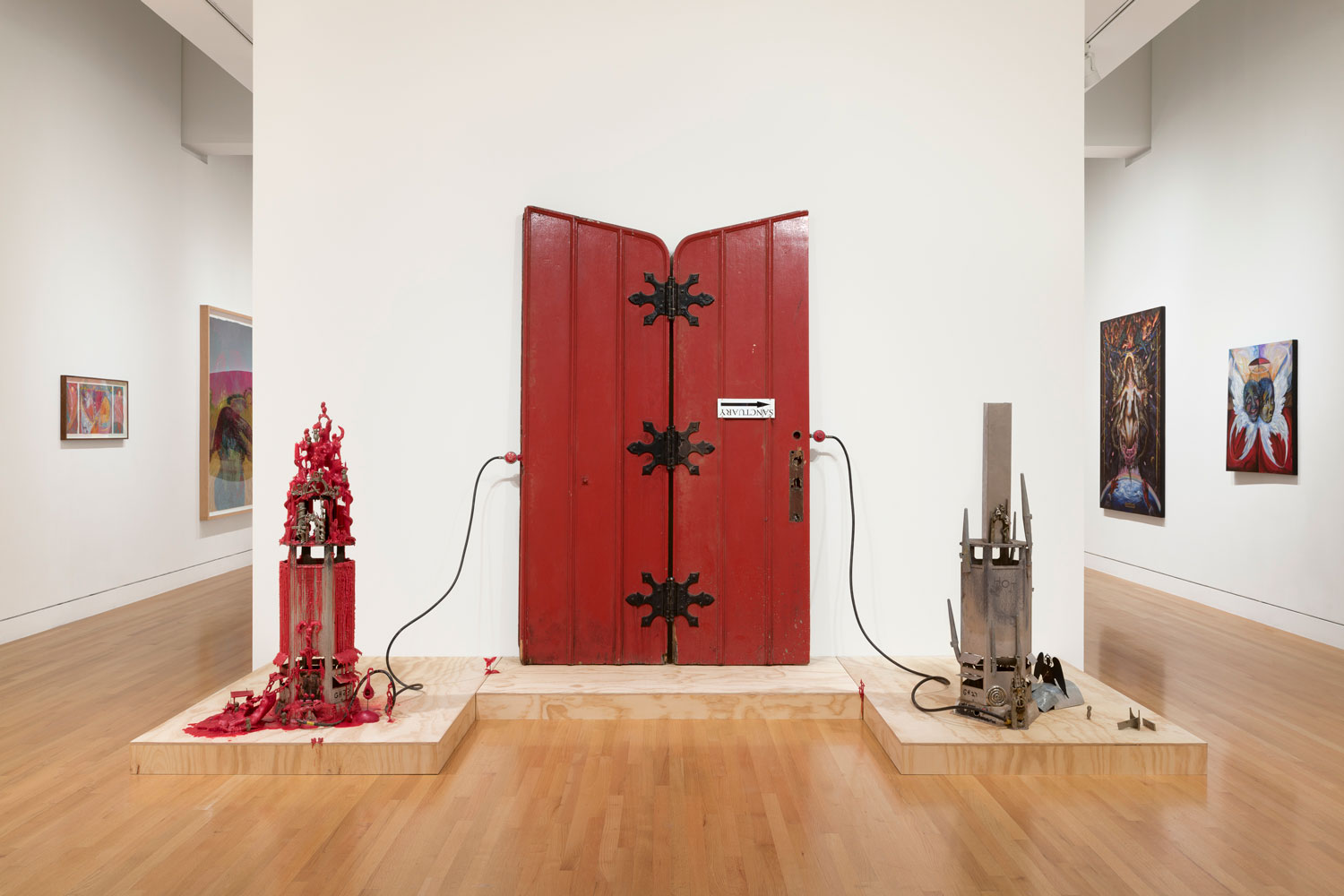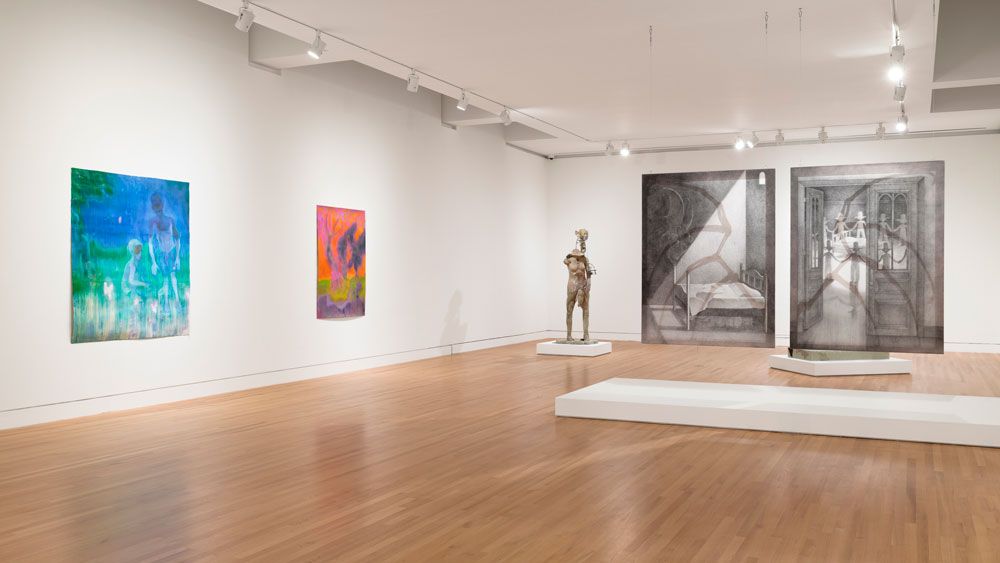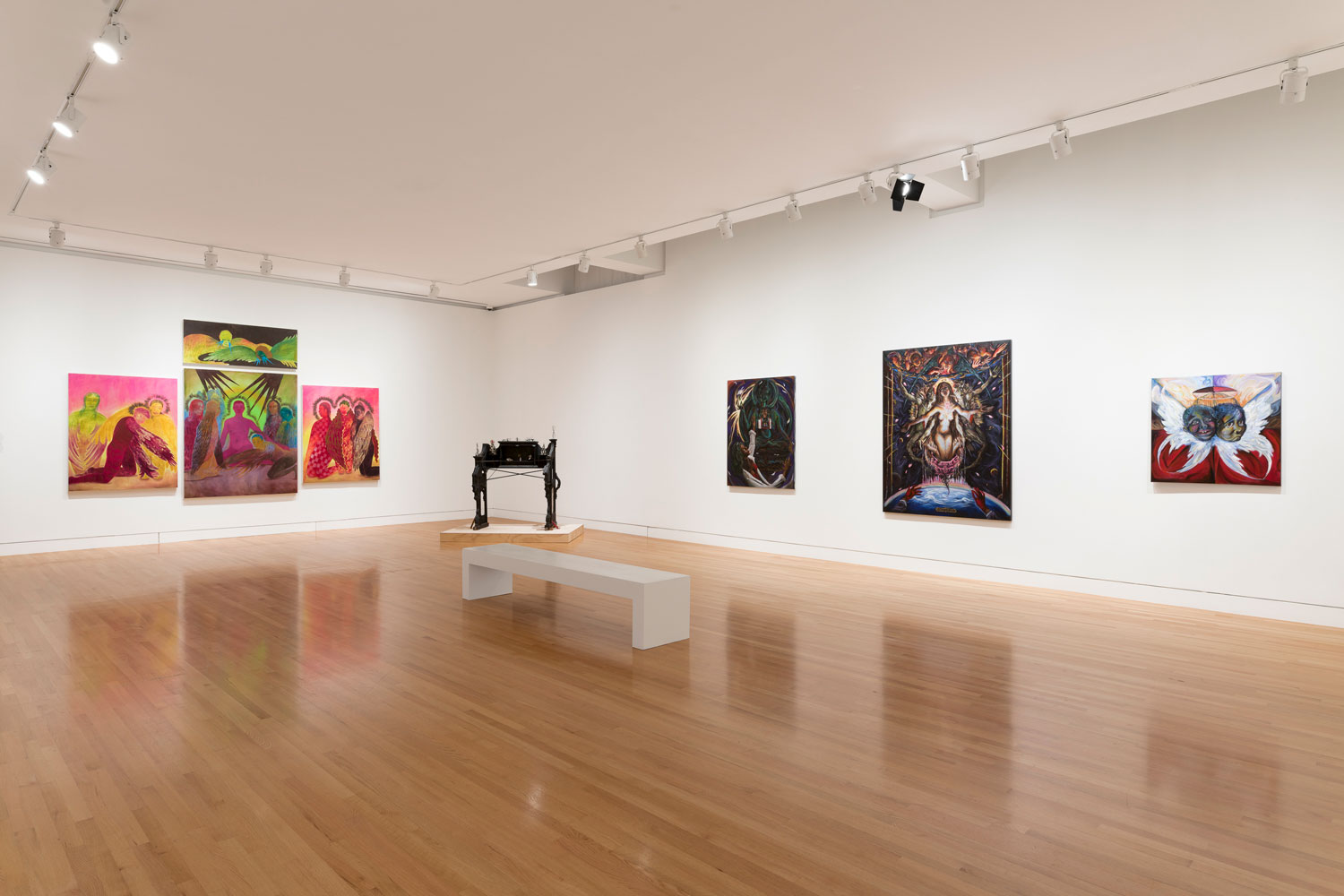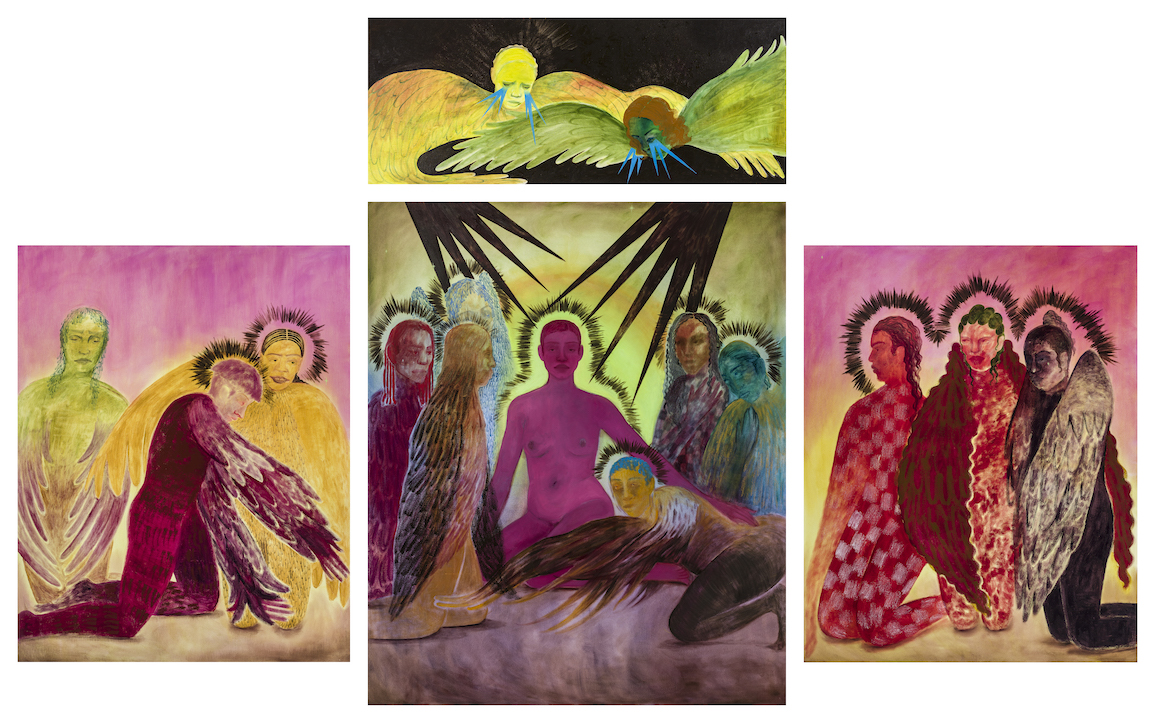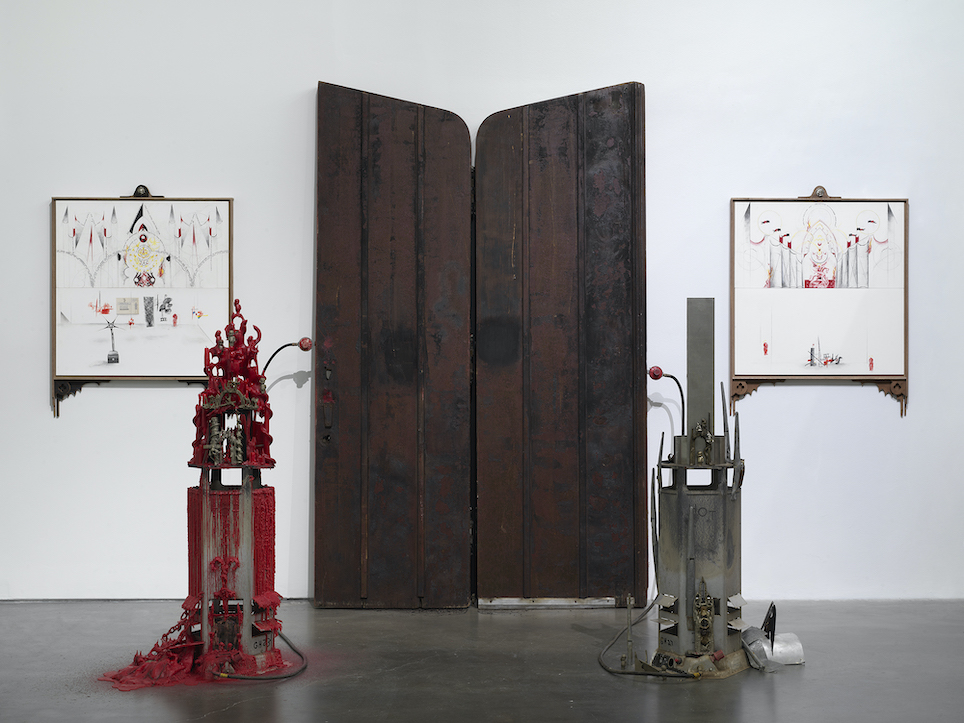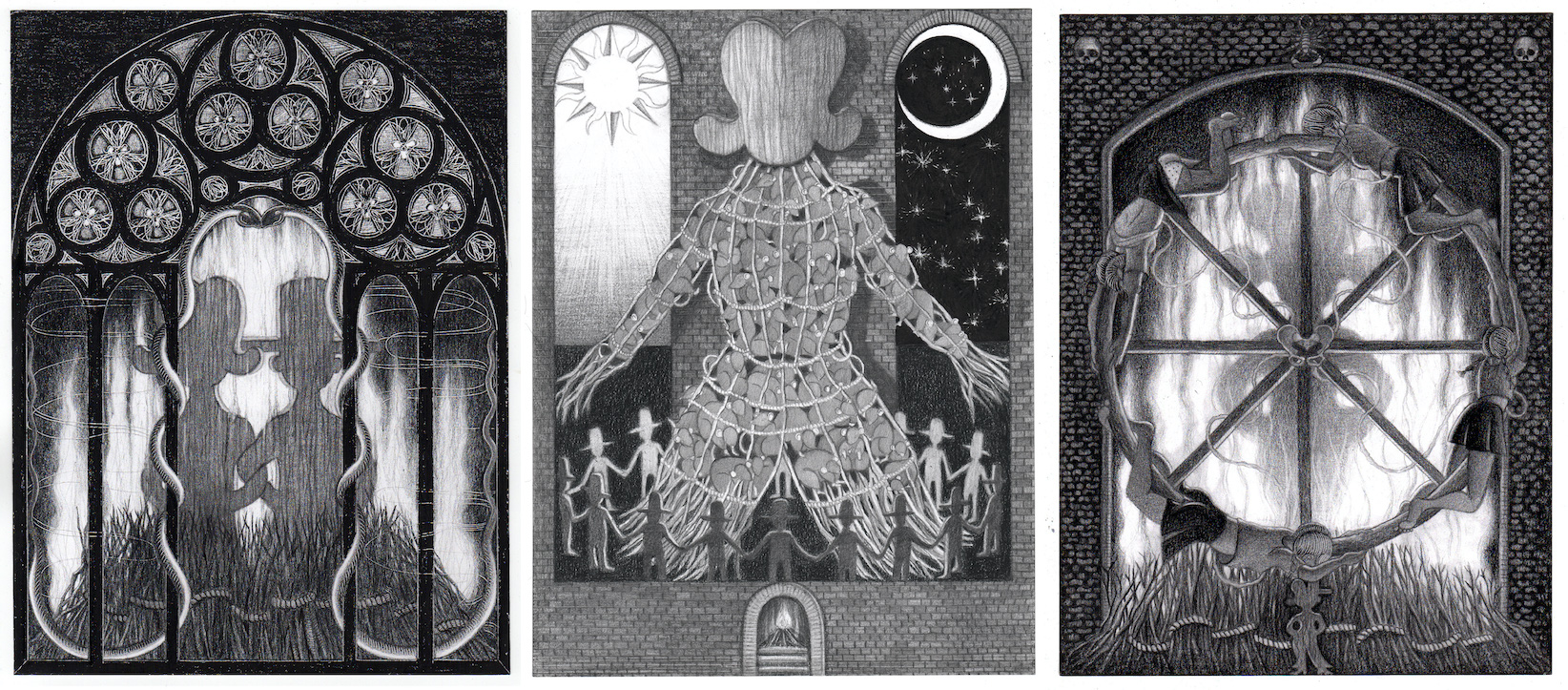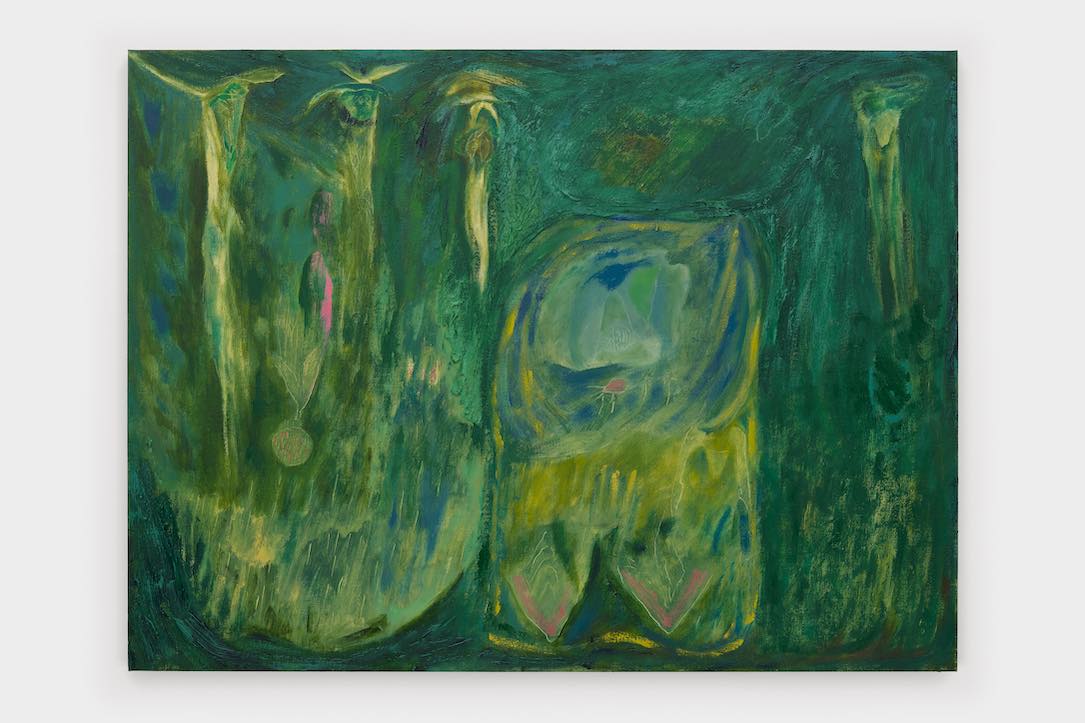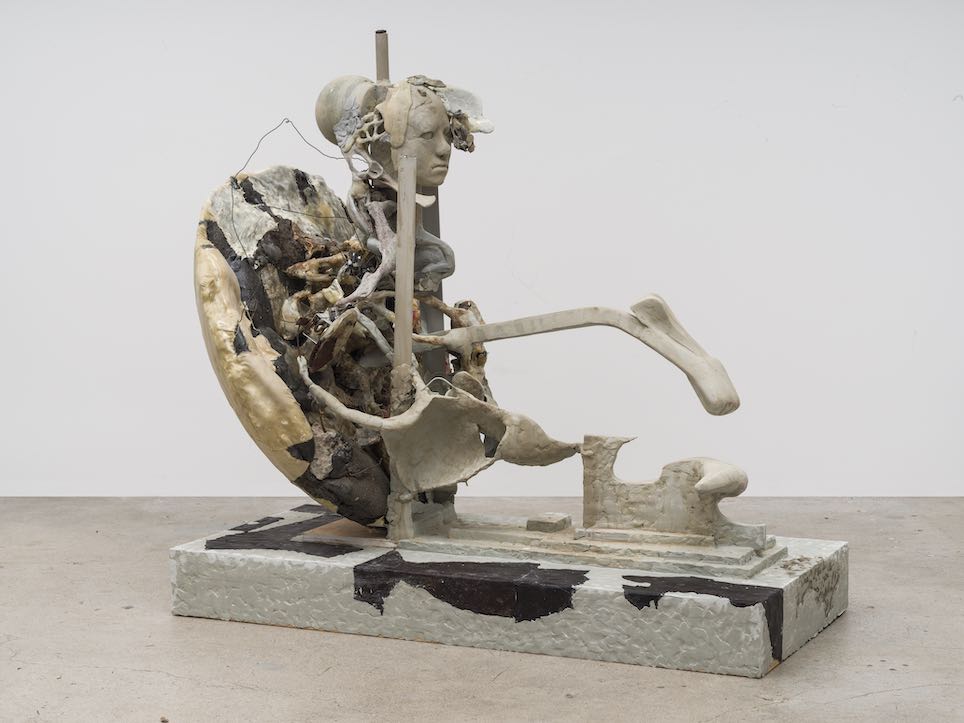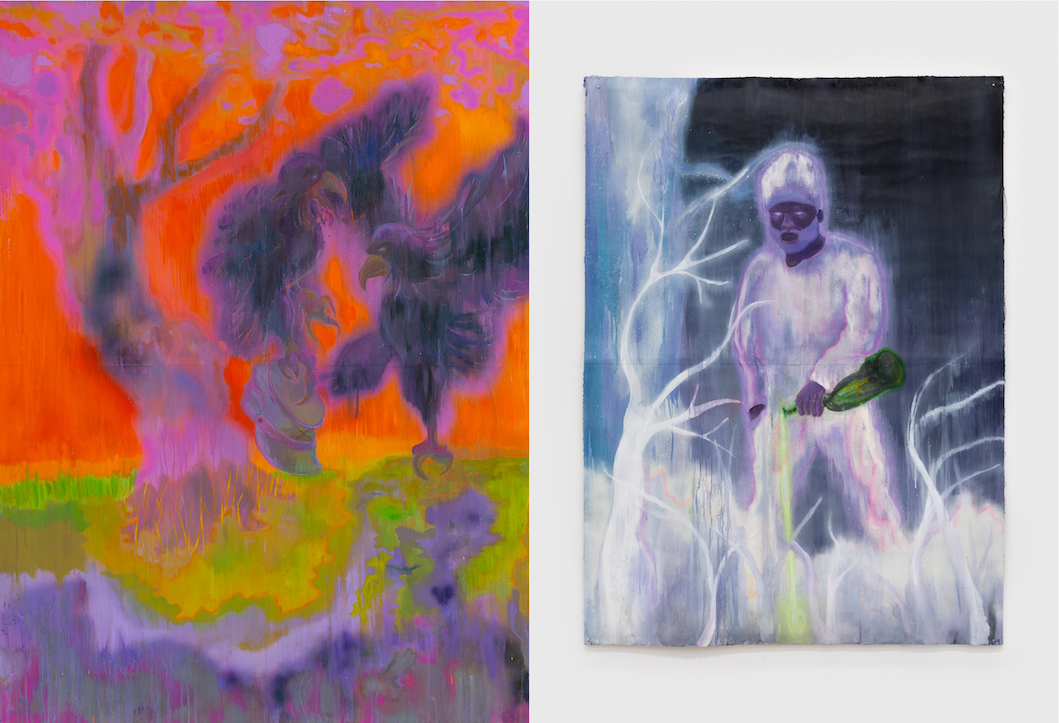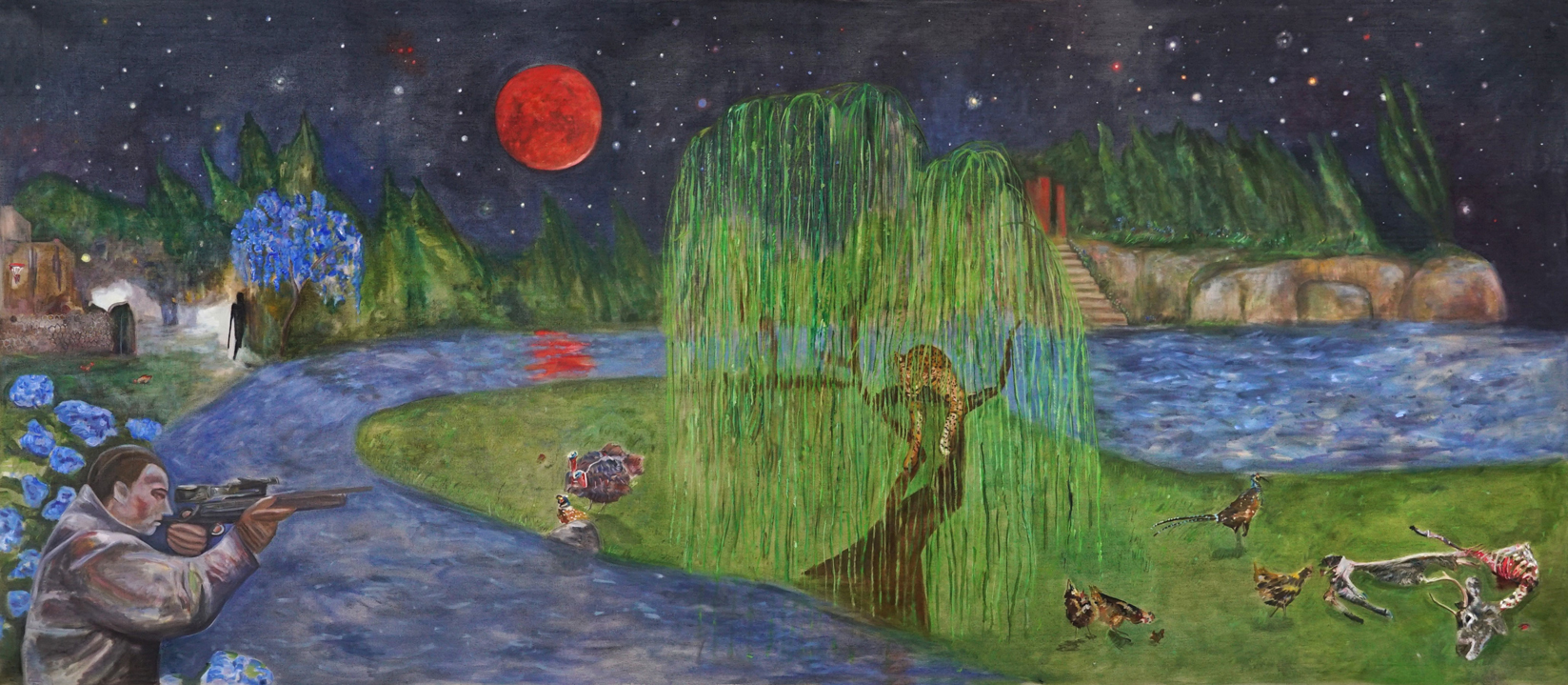 Marking a tendency toward spirituality, myth, and the supernatural among artists working today in the United States, Door to the Atmosphere includes artworks in a range of mediums by Sedrick Chisom, Harry Gould Harvey IV, Cindy Ji Hye Kim, Mimi Lauter, Jill Mulleady, Naudline Pierre, Eden Seifu, and TARWUK. Apocalyptic visions, celestial visitations, and mysterious rituals and manifestations appear across these artists' works, reflecting the wonder and the dread of living in the present as well as specters of unsettled pasts. The exhibition title, borrowed from a drawing by Harry Gould Harvey IV, suggests a threshold one might cross from earth to ether, from the specific to the speculative, from surfaces to essences, sensations, and mood.
Artists have sought such metaphorical portals in previous periods of existential crisis. Fin de siècle European culture, which peaked in the 1890s and culminated in World War I, for example, gave rise to the fraught mythic imagination of the Symbolists and the hallucinatory intensity of the Expressionists. Many of the artists included in Door to the Atmosphere cite the influence of these forebears—as well as that of earlier visionaries like Francisco de Goya (1746–1828) and William Blake (1757–1827). At the same time, while they incorporate themes from classical mythology, devotional imagery, and the occult, they draw just as often on newer traditions such as psychoanalysis and science fiction. Some include an element of social critique, alluding to legacies of exploitation and violence that haunt our present and can cloud future imaginings.
Ranging from visceral assemblages of scavenged "relics" to ecstatic landscapes and eerie dream tableaux, the works in the exhibition chart multiple routes into the liminal space between what is and what might be. Whether seeking transcendence or, in the words of TARWUK, "the emotionally charged undertow," they open doors to other realms and alternate realities.
Door to the Atmosphere is co-curated by Chief Curator Amanda Donnan and artist Srijon Chowdhury. Generous support is provided by the Frye Foundation and Frye Members. Media sponsorship is provided by The Stranger.
Installation view of Door to the Atmosphere, Frye Art Museum, Seattle, October 29, 2022–January 15, 2023. Photo: Jueqian Fang
Installation view of Door to the Atmosphere, Frye Art Museum, Seattle, October 29, 2022–January 15, 2023. Photo: Jueqian Fang
Installation view of Door to the Atmosphere, Frye Art Museum, Seattle, October 29, 2022–January 15, 2023. Photo: Jueqian Fang
Naudline Pierre. There, There (It Was Foretold), 2019. Oil on canvas. 96 x 156 in. overall. Courtesy of the artist and James Cohan, New York. © Naudline Pierre 2022. Photo: Paul Takeuchi
Harry Gould Harvey IV. A Monument To The Families That Have Nothing To Offer The State But Their Children, 2021. Partially stripped and charred church doors from Providence, casting wax, candles, lead organ pipes, job-site heaters from Fall River, scrap metal from Whole Foods, steel angel from New Bedford, cast white bronze and colored pencil on Xerox. Dimensions variable. Courtesy of the artist and Bureau, New York. Photo: Dario Lasagni
Cindy Ji Hye Kim. From left: I Heard Nothing but Laughter, 2017. Human Heart is a Factory of Idols, 2018. Pascal's Wager, 2021. Graphite, charcoal, pastel, and ink on paper. 12 x 9 in. each. Courtesy of the artist and François Ghebaly Gallery, Los Angeles. Photo: Cindy Ji Hye Kim Studio 
Mimi Lauter. Untitled, 2021. Oil on linen panel. 30 x 40 x 1 3/4 in. © Mimi Lauter, Courtesy of the artist and Blum & Poe, Los Angeles/New York/Tokyo. Photo: Jenalee Harmon
TARWUK. KLOSKLAS_ Tejivs_kejivu_Irog (semelion), 2021. Resin clay, polyurethane foam, leather, aluminum, steel, coffee, wax, horse bones, deer bones, human teeth, BQE relics. 47 x 49 x 37 in. Courtesy the artists and Matthew Brown. Photo: Ed Mumford
Sedrick Chisom. The Strife of Talons Over a Hat of the Southern Cross, 2020. Oil, acrylic, spray paint, and watercolor pencil on tiled sheets of paper glued to canvas. 59 1/4 x 44 1/4 in. © Sedrick Chisom. Courtesy of the artist and Pilar Corrias, London
Sedrick Chisom. ...Meanwhile a Young God Pours Life On The Planet Kemetopia, 2019. Acrylic on tiled sheets of paper glued to canvas. 59 1/3 x 43 1/3 in. Courtesy of the artist and Matthew Brown. Photo: Paul Salveson
Jill Mulleady. Predators, 2022. Oil on linen. 57 x 132 in. Courtesy of the artist and Gladstone Gallery
Related content