Frye Favorites is a series in which members of the Frye's staff and community share their perspectives on memorable exhibitions and works from the museum's collection. This post features Cory Gooch, who served as the Frye's Chief Registrar and Head of Collections for thirteen years until stepping down in spring of 2023, reflecting on First Snow (ca. 1914) by Pieter van Veen, a painting on view in THE THIRD, MEANING: ESTAR(SER) Installs the Frye Collection.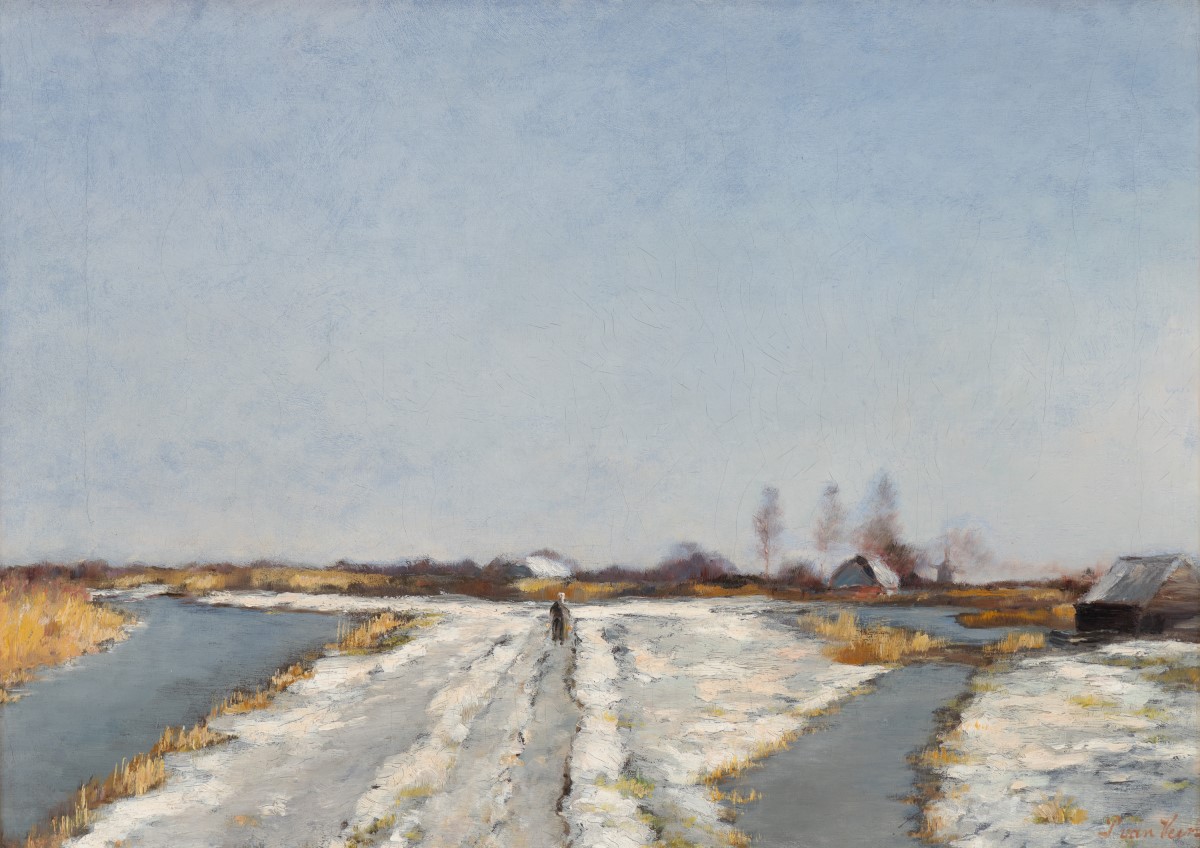 "There's something about First Snow by Pieter van Veen that always gives me a lift when I see it. It's small, but it contains so much volume and space, it makes me feel as though I'm entering a vast landscape. Even when I see just a tiny thumbnail image of this painting, it becomes a portal into a larger space; I feel almost like I'm flying into it.
I've always been drawn to the Netherlands—the country, its landscape, and Dutch painting in general. Van Veen was born in the Netherlands, trained there as a painter, and later took inspiration from some of the French Impressionists. He hung out with Renoir, and then he was influenced by Cezanne and Monet; he spent time in Barbizon for a while, too. And, he was a plein-air painter.
When van Veen immigrated to the United States in 1915, he apparently brought fewer than twenty paintings with him. First Snow is dated circa 1914, so it's somewhat rare, as one of his paintings from that early period. He had a solo show in Seattle in 1916, where Charles Frye saw this painting—the first of three by van Veen that Frye bought and ultimately donated to the museum's Founding Collection.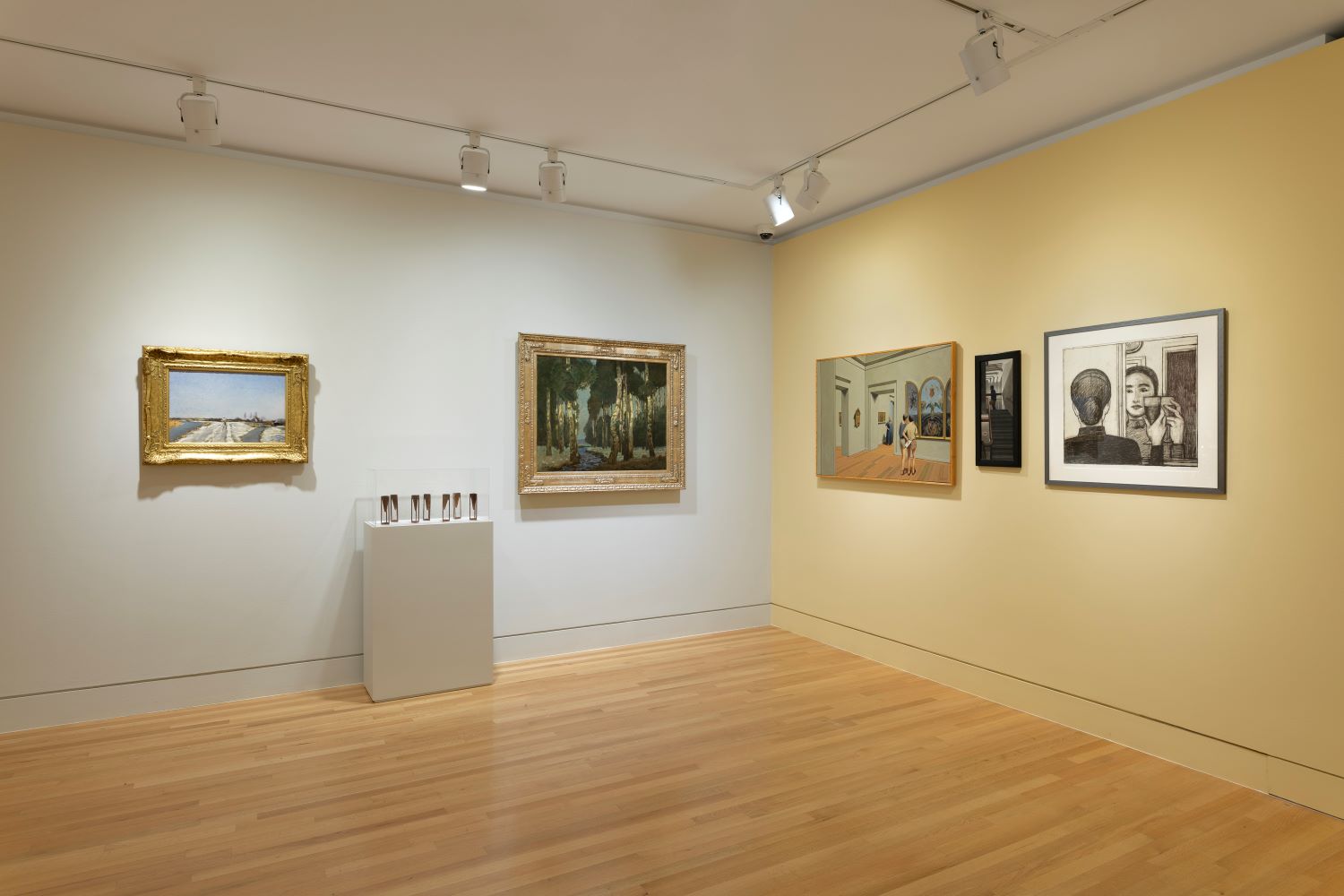 Van Veen experienced some elements of a typical immigrant experience in the US. He often felt isolated, but he made his way. As he found more success as an artist in the 1920s, he opened a studio in New York. But he also took weeklong excursions for plein-air painting, in places on the East Coast like Connecticut, and later in Southern California.
He had friends who lived in Tacoma, so he started coming out here in the 1930s, eventually settling in the area in the 1940s. He was a confidante and an advisor to Charles Frye and accompanied Emma and him to Europe in 1923. According to van Veen, he advised the Fryes on some of the purchases that ended up in the museum's collection, like paintings by Franz Seraph von Lenbach and others.
Van Veen was mostly just forgotten after he died in Tacoma in 1961. Richard West, an American art scholar, became director of the Frye in 1994, and he had an interest in van Veen's works. He found that most of the paintings had been divided up—one with a friend in Tacoma, another with a daughter-in-law, one with somebody in California. So Richard sought them out and put together a solo show of van Veen's work at the Frye in 1998.
First Snow has been shown quite a bit during my time at the Frye because it was included in a lot of the Frye Salon exhibitions over the years, including the first one, Tête-à-Tête, back in 2011. After that exhibition, it kept showing up, so it's been viewed by the public quite a bit. It was in Horizon, a show that Scott Lawrimore curated in 2013. And, the guest curators from ESTAR(SER) included it in our current show THE THIRD, MEANING. I never needed to advocate for it, or to suggest to anyone, Hey, what about this one? Curators have always found this painting on their own.
This piece doesn't, in my opinion, fall under the "quirky" category of the Frye's collection, but there are a lot of unusual or goofy paintings that I really like, too. I often think about a tiny little painting called Fowl by Otto Scheuerer. And I also love Albert Bierstadt's painting of people floating in the Great Salt Lake. Some of Heinrich von Zügel's paintings of cows and sheep are also favorites; I realize there's an Impressionist influence on his style, but I'm drawn to the subject matter and the soulfulness. The artworks that I personally have liked over the years have tended to be landscapes and sensitive portrayals of animals.
But, I realized when I was going through the collection to narrow down a favorite, I kept coming back to First Snow, thinking, I've always liked this one! It's a quiet little painting, it's only around fifteen by twenty inches. It's not a grand statement. It's just a very beautiful way of capturing a landscape and a feeling. As I move on from my time the Frye, maybe it was a subconscious pick to land on this open-ended artwork. It sounds a little corny, but maybe it's a little symbolic, because there's a little, solitary figure on a road, going off into the horizon."
---
–Cory Gooch, former Chief Registrar and Head of Collections
(as told to Erin Langner)