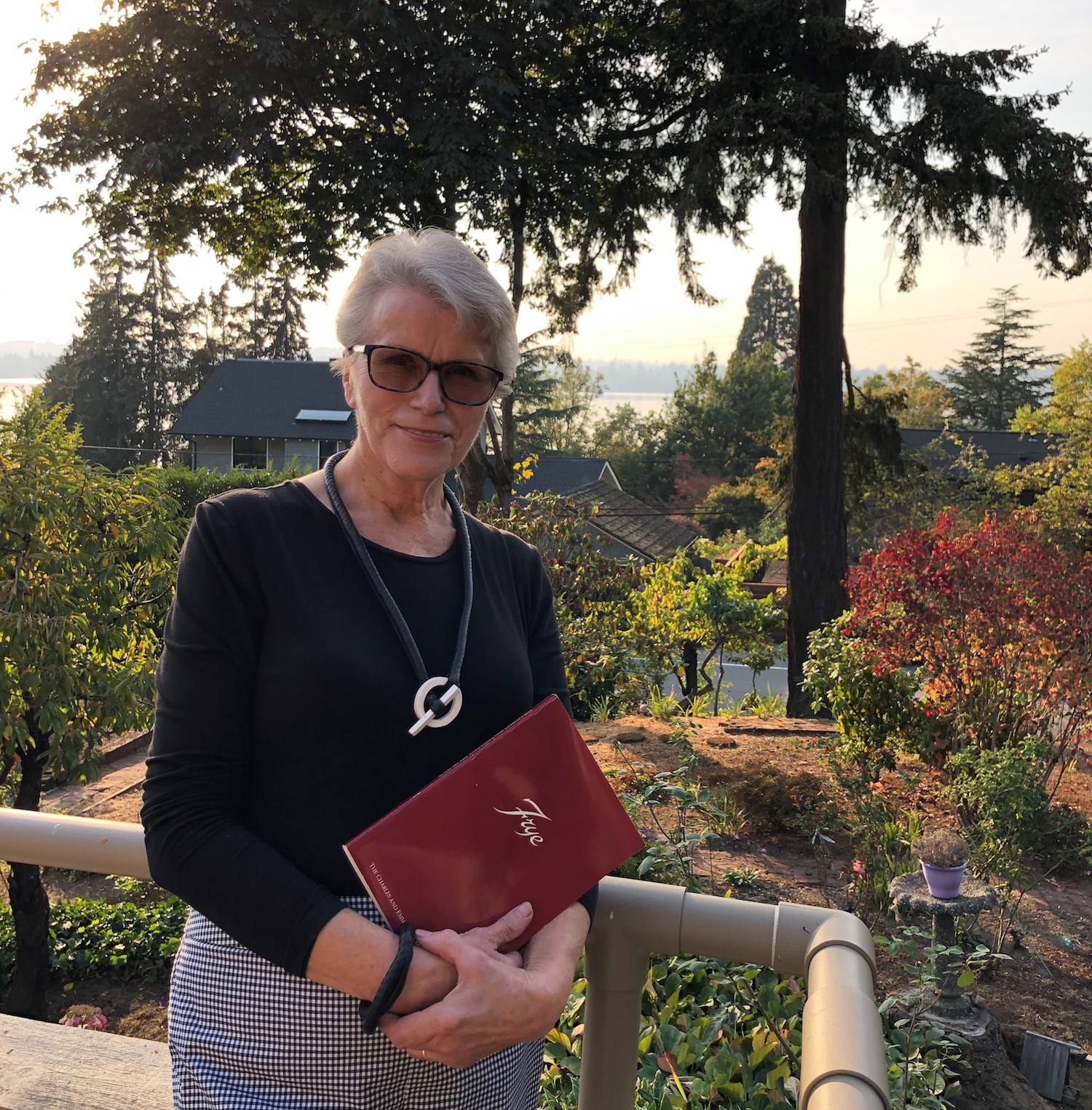 Supporter Spotlight is a feature where we shine a light on our members and donors to learn about their connections to the Frye and why they support the Museum.
---
A donor since the 1980s and a member since 1998, Petra Heussner-Walker expresses "I cannot imagine life without art," which is made evident by the beautiful paintings, prints, and posters that line the walls of her Mercer Island home. Born in Wuppertal, Germany, Petra moved to Seattle in 1986 to join her late husband, Don Walker. A frequent patron of the Frye, Don shared his appreciation of the museum with Petra, as he "loved the ambience and the art shown at the Frye." Petra feels the same, and goes on to say, "the community at the Frye is like a family. The staff is always friendly, and you get the feeling that everyone at the Frye is handpicked. You have artists and employees who think outside of the box." Regarding the art shown at the museum, Petra says, "What I love about the Frye is that it has the audacity to bring new and outstanding shows. The exhibitions that the Frye has, what it makes room for, is an eye opener." 
Through the years, Petra has enjoyed the varied offerings at the Frye–including concerts, lectures, performances, workshops, and exhibitions. As someone who "believes art brings people together," she has made a point to bring friends along, too. Petra shared a moving anecdote about bringing a friend living with dementia to the Alzheimer's Café, one of the museum's Creative Aging programs: 
"I took a friend to the Alzheimer's Café at the Frye. I knew he was afraid of people; a lot of people in one place scared him to death. We sat at the end of one of the rows in the gallery. When the class started, Mary Jane Knecht [the Frye's Manager of Creative Aging Programs] introduced the painting and asked what people saw. My friend whispered in my ear, and I encouraged him to speak a little bit louder. Mary Jane heard this, talked to him directly, and engaged him in conversation. I had never seen him that way. He connected in a way that had never happened before. When I told his wife afterwards, she couldn't believe it. What a great influence that was, and what a great experience." 
Thank you, Petra, for sharing your memories and for being an active member of the Frye community!