Supporter Spotlight is a feature where we shine a light on our members and donors to learn about their connections to the Frye and why they support the Museum.
---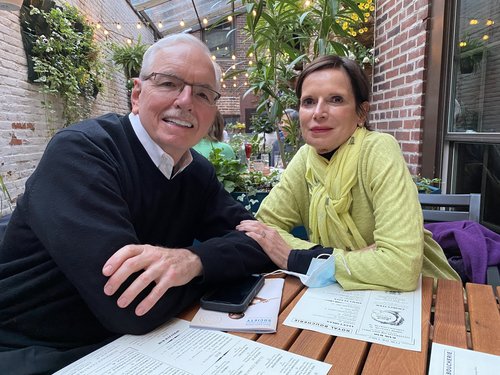 Since retiring from busy careers in corporate law and educational leadership, collectors and Frye Art Museum supporters Steven Alan Bennett and Dr. Elaine Melotti Schmidt have joyfully immersed themselves in art, collecting, and supporting what they love through targeted philanthropy.   
Based in San Antonio, Texas with frequent trips to Chicago, the couple began their collecting journey over a decade ago, focusing on contemporary women artists working in figurative realism—a genre they strongly felt was excluded from the academic art world and whose makers were underrepresented in both museums and private collections. They decided that by collecting art by female artists they could champion a group that has been underappreciated professionally and underpaid relative to their male peers.  
In 2009, Steven and Elaine established The Bennett Collection of Women Realists to celebrate the achievements of women artists on the cutting edge of figurative realism. The collection now includes over 200 works by contemporary female artists from around the country, and a number of works by historical women painters, from the 20th-century figurative expressionist Elaine de Kooning to the 17th-century Baroque painter Artemisia Gentileschi.   
Steven has noted a shift in attitudes since they began collecting: "We're now seeing a rising tide of support for women artists—it's gratifying to see how the contributions of women painters are increasingly recognized." Works by female artists are commanding higher fees across the market and, he quips, "maybe the highest compliment I can give to a painter we've collected or supported in the past is that we can't afford their work anymore!" 
Going beyond collecting became a priority for the couple too. "Since we were collecting women artists," shares Elaine, "we were hearing the stories and the unique challenges of the women painters whose work we collected."  They explored ways to provide a platform for artists to flourish personally and professionally. In 2018, Steven and Elaine worked with the Pittsburgh Foundation Center for Philanthropy to establish The Bennett Prize, a biennial juried competition that awards a generous two-year unrestricted grant and the opportunity for the winner to mount a solo exhibition at the end of the term. Finalists are also invited to exhibit in a group show. 
The Prize is open to early career or established women figurative painters who have not yet realized full professional recognition. Now beginning its third cycle, the Bennett Prize has seen an increase in applicants and Steven and Elaine recently added a second-place grant.   
Supporting public access to extraordinary artists and exhibitions has been a growing priority for Steven and Elaine. The couple became enthusiastic Frye supporters in 2020, deciding to become lead sponsors for the Christina Quarles exhibition. "When we first saw Quarles's work, we were both tremendously excited by it," enthuses Steven. "Her work is a blast of emotion—very erotic and powerful and going far beyond the intellectual. In addition to its figurative power—it has a visual magnetism that cannot be overstated—extraordinary—a knock out!!" The couple was also moved by the idea of a free museum and that the Frye's exhibition would be open to people from across the community to experience Quarles's paintings in person.  
Steven and Elaine continue to vigorously advocate for women figurative artists through their Prize, The Bennett Collection, and through their support of public institutions like the Frye.  
Thank you to Steven Alan Bennett and Dr. Elaine Melotti Schmidt for sharing your story!  
Learn more about The Bennett Collection of Woman Realists.
Learn more about The Bennett Prize.
---