La Velada: Music from LINEAJES
With Trío Guadalevín
A block of walk-in tickets will be available on site beginning 30 minutes before the performance on a first-come-first-served basis. Please take note of additional ticketing and registration policies at the bottom of the page.
Illuminate the start of winter with a musical vigil inspired by festivals of light from diverse cultures, including the feasts of La Virgen de Guadalupe, Christmas, and Sephardic Jewish traditions. Incorporating themes and instruments from the exhibition LINEAJES, this concert features artist Antonio M. Gómez with his Trío Guadalevín bandmates Abel Rocha and Gus Denhard, along with other special guests Guo Ke and Benjamin Hunter performing songs in Spanish, Ladino, and Indigenous Mexican dialects, accompanied by the harp, baroque guitar, oud, and various global percussion instruments.
Museum galleries and MariPili at Café Frieda will be open until 7 pm for special extended hours, so come by early and enjoy exhibitions on view or dinner and a drink before the show!

About the Performers

A unique collaboration between a folklorist from Mexico City, a lute/oud/guitar player specializing in the early music of Europe, and a globe-traveling percussionist and arts educator, Trío Guadalevín explores the musical dialogue between Indigenous, European, and African cultures that define Latin American identity. With memorable stories and an incredible array of instruments, the trio weaves together a tapestry of music, languages, culture, history, and geography. They move seamlessly between the past and present, employing a mix of contemporary, folkloric, and historic melodies sung in Spanish, Zapotec, and Ladino, which ride on rhythms from the Afro-Indigenous son jarocho to the Italian tarantella and Moroccan shabia.
Benjamin Hunter is an award-winning multi-instrumentalist, composer, community activist, social entrepreneur, and educator. He currently serves as the Artistic Director at Northwest Folklife. Benjamin's work explores the intersections of music and art, community, policy, and culture. In 2016, Benjamin's American Roots Duo with Joe Seamons took first place in the International Blues Competition. In 2018, he composed the music for the critically acclaimed production, Black Bois. With his primary instrument, the violin, he is as comfortable playing classical as he is blues and jazz. City Arts Magazine wrote, "The music he plays not only spans an array of genres but a huge swath of history."
Guo Ke (郭可) is a PhD candidate in music education and ethnomusicology at the University of Washington, and an adjunct professor at South Seattle College. She was born in Wuhan, China, and studied science and music in the U.S. Her music research includes East Asian music and Sephardic Jewish, which has taken her to field studies in China and around the Mediterranean Sea. As a vocalist and multi-instrumentalist in various musical styles, she has offered individual concerts as well as collaborative concerts with local and international artists.
Antonio M. Gómez: LINEAJES is organized by Amanda Donnan, Chief Curator and Director of Exhibitions, with Alexis L. Silva, Curatorial Assistant.
Lead support for this exhibition is provided by the Raynier Institute & Foundation through the Frye Art Museum | Artist Trust Consortium. Additional generous support is provided by the Frye Foundation and Frye Members. Media sponsorship provided by KEXP.
La Velada: Music from LINEAJES
With Trío Guadalevín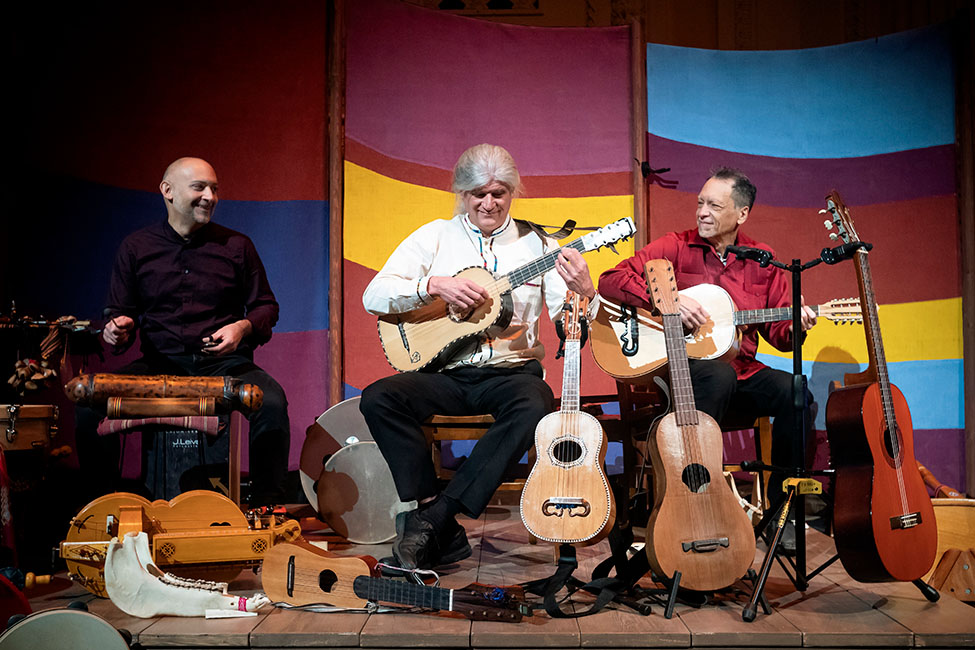 December 07, 2023
7:00 pm - 9:00 pm
Frye Art Museum
704 Terry Avenue
Seattle
,
WA
98104