Antonio M. Gómez: LINEAJES
November 11, 2023 - March 10, 2024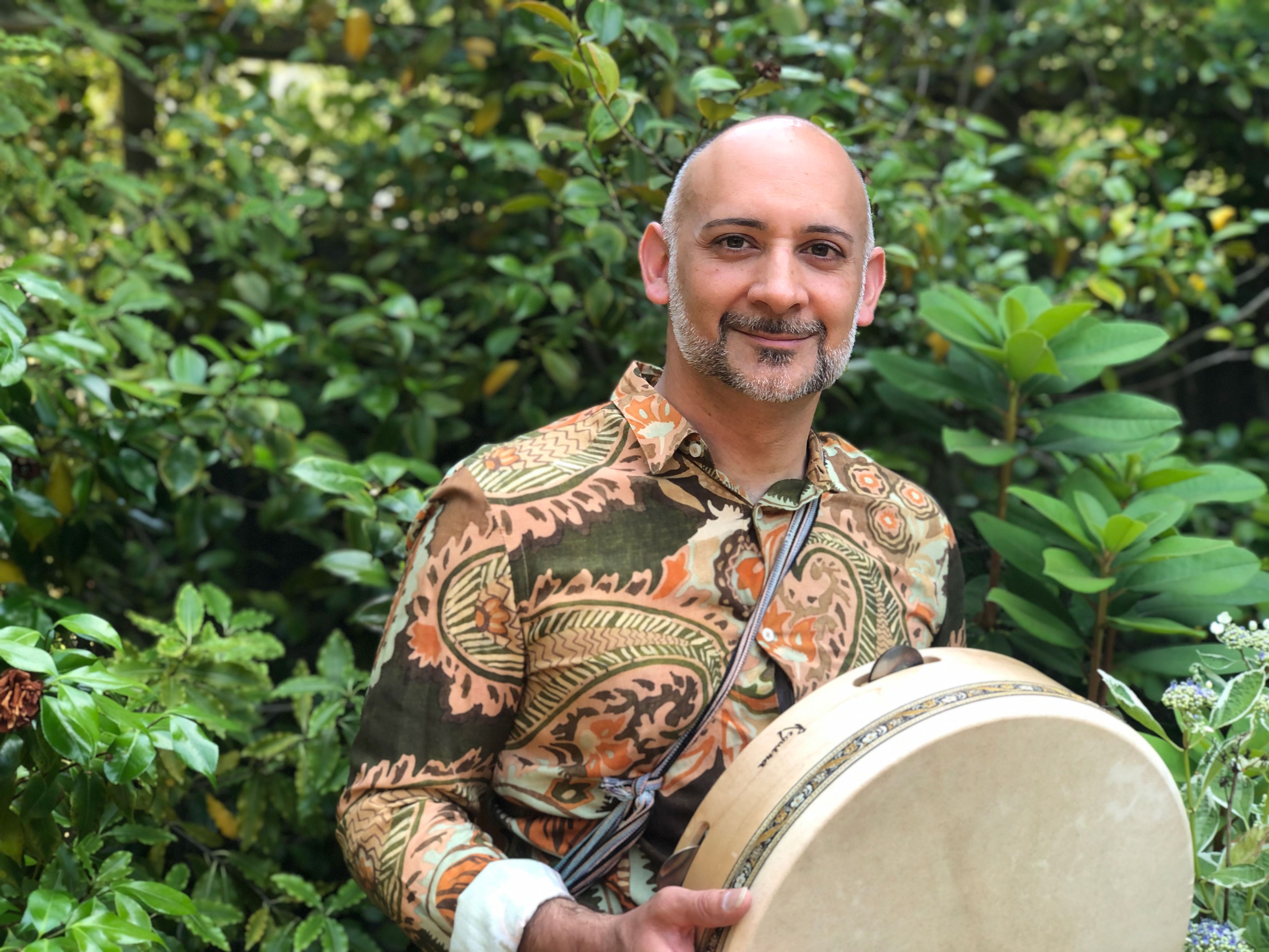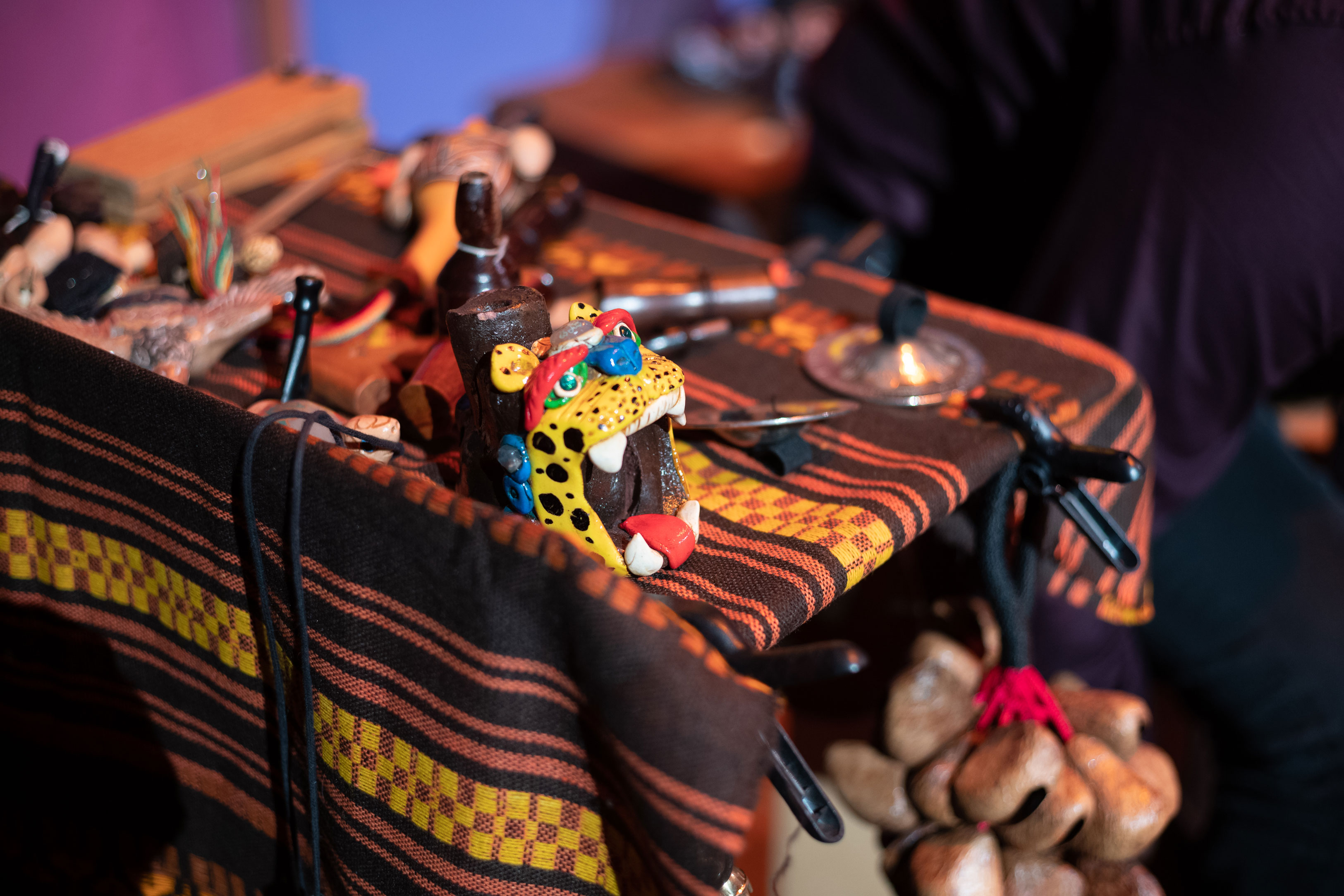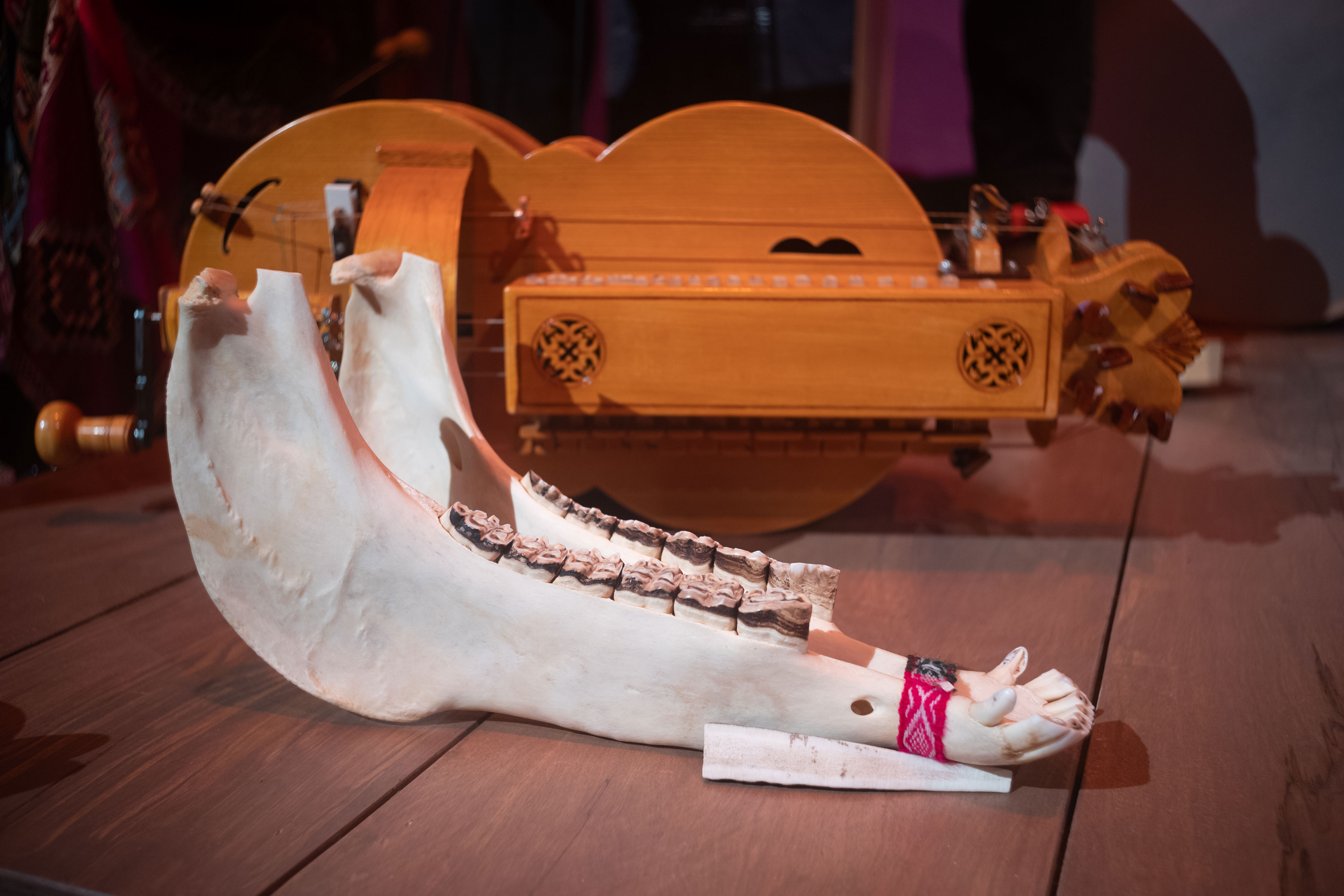 The work of Tacoma-based percussionist, producer, and educator Antonio M. Gómez (born 1971, Brownsville, Texas) pursues the interwoven histories of world music. Relating his practice to the experience of mestizaje—a mixed identity formed at the intersection of cultures—Gómez explores musical ties between the Americas, the Mediterranean, West Africa, and the Silk Road through his ensemble performances and teaching. LINEAJES interrupts the gilded display of oil paintings in the Frye Salon exhibition with a visual and sonic presentation of his work, foregrounding an intercultural artistic heritage long obscured by the Western canon.
The exhibition features a custom-built tarima—a traditional Mexican percussive platform that amplifies the sounds of dancers' feet—and a global array of instruments drawn from Gómez's extensive collection. Live performances by the artist's Trio Guadalevin and other invited ensembles supplement recorded soundscapes playing continuously within the exhibition space. Specially invited by Gómez, street artist Angelina "179" Villalobos creates a mural of vines twisting behind and beyond the paintings in Frye Salon, evoking the proliferation of the cultural lineages that crisscrossed the globe to give rise to modern art and music.
From the Middle Eastern ancestry of the modern guitar to the influence of the West African conga in the Americas, the history of music revealed in LINEAJES challenges simplified notions of Western Civilization and offers a beautifully complex narrative. 
Antonio M. Gómez received the 2018 James W. Ray Distinguished Artist Award, funded by the Raynier Institute & Foundation through the Frye Art Museum | Artist Trust Consortium. The award supports and advances the creative work of outstanding artists living and working in Washington State and is accompanied by a presentation at the Frye Art Museum.
Antonio M. Gómez: LINEAJES is organized by Amanda Donnan, Chief Curator and Director of Exhibitions, with Alexis L. Silva, Curatorial Assistant.  
Lead support for this exhibition provided by the Raynier Institute & Foundation through the Frye Art Museum | Artist Trust Consortium. Additional generous support provided by the Frye Foundation and Frye Members. 
Antonio Gómez with a Requena drum. Photo: Gabriela Davidson-Gómez
Bird calls, rattles, and finger cymbals played by Gómez. Photo: Gary Lappier
Zafona and quijada de burro played by Gómez. Photo: Gary Lappier
Related content