The Movement of Labor
Performance by MALACARNE, Alice Gosti and Laura Hart Newlon
Bodies expand, explode, arrive, and support in this piece by Seattle-based choreographer Alice Gosti, inspired by Laura Hart Newlon's composition for the Boren Banner series A prop, grip or hold. Newlon has described the act of looking as a fully embodied experience, a sensual, physical act that plays out both tenderly and forcefully upon a body. That idea is present in this excerpt from STAY WITH THE FEELING AND YOU WILL KNOW WHEN IT'S ENOUGH, a performance by Gosti where bodies tell the story of labor through their movements. The audience is invited to be a silent witness to the story or share their own interpretation with the artists.
Following the performance, join Gosti and Newlon for an intimate discussion examining the surprising similarities between the two artists and their process. How can the physicality of dance mimic photography's two-dimensionality, and how do two artists that work in strikingly different media approach similar subject matter?
STAY WITH THE FEELING AND YOU WILL KNOW WHEN IT'S ENOUGH was created in collaboration with MALACARNE performers Alyza DelPan-Monley, Kaitlin McCarthy, Aja Green, Madison Shorter, and Margaux Gex, and features music composed by ings.
Laura Hart Newlon has recently exhibited work at the Bellevue Arts Museum, Bellevue, WA; the Ogden Museum of Southern Art, New Orleans; the Rhode Island Center for Photographic Arts, Providence; SOIL, Seattle; ADDS DONNA, Chicago; Los Angeles Center for Digital Art; and LVL3, Chicago. Honors include the Claire Rosen and Samuel Edes Prize for Emerging Artists; the John Quincy Adams Fellowship; and residencies at the Vermont Studio Center, Johnson, VT; Centrum, Port Townsend, WA; the Wassaic Project, Wassaic, NY; and ACRE, Steuben, WI. Her work is included in collections such as the Museum of Contemporary Photography, Chicago; the Joan Flasch Artists' Book Collection, Chicago; and Photographic Center Northwest, Seattle. Newlon, who holds an MFA in Photography from the School of the Art Institute of Chicago and an MA in Cultural Anthropology from the University of Washington, is an Associate Professor of Art at Cornish College of the Arts and co-directs the artist-run gallery Specialist.
Alice Gosti is an Italian-American immigrant choreographer, hybrid performance artist, curator and architect of experiences, working between Seattle and Europe since 2008. Born and raised in Perugia, Italy, she trained at Associazione Culturale Dance Gallery with Valentina Romito and Rita Petrone. She received a B.A in Dance from the University of Washington with a focus in choreography and experimental film. Honors include the 2012 Vilcek Creative Promise in Dance Award, 2012 ImPulsTanz danceWEB scholarship, the inaugural Intiman Theatre's Emerging Artist Program in 2015, and the 2016 National Dance Project from the New England Foundation for her project Material Deviance in Contemporary American Culture. Gosti's work has been commissioned and presented nationally, by On the Boards, Velocity Dance Center, Seattle Art Museum, Intiman Theatre, Vilcek Foundation at the Joyce (NY), ODC Theater (SF) as part of the SCUBA national touring network, Risk/Rewards Festival (PDX), and Performance Works Northwest (PDX). She is the founder of Yellow Fish // Epic Durational Performance Festival, the world's only festival dedicated exclusively to durational performance.
MALACARNE is an all women and nonbinary, interdisciplinary dance and performance ensemble with the mission to co-author transformative performance rituals that fight reductive ideas regarding class, sexuality, gender, ability, and ethnicity. Guided by a creative vision innovative in form and content, they architect public art rituals that expose erased/invisible histories. Their transformative work is remembered for its site-responsiveness, scale, versatility, holistic community engagement and sustained resonance. All their projects include permanent sculptures, wearable art, or video art installation, and they're keen on expanding this facet of their creative placemaking practice.
The Movement of Labor
Performance by MALACARNE, Alice Gosti and Laura Hart Newlon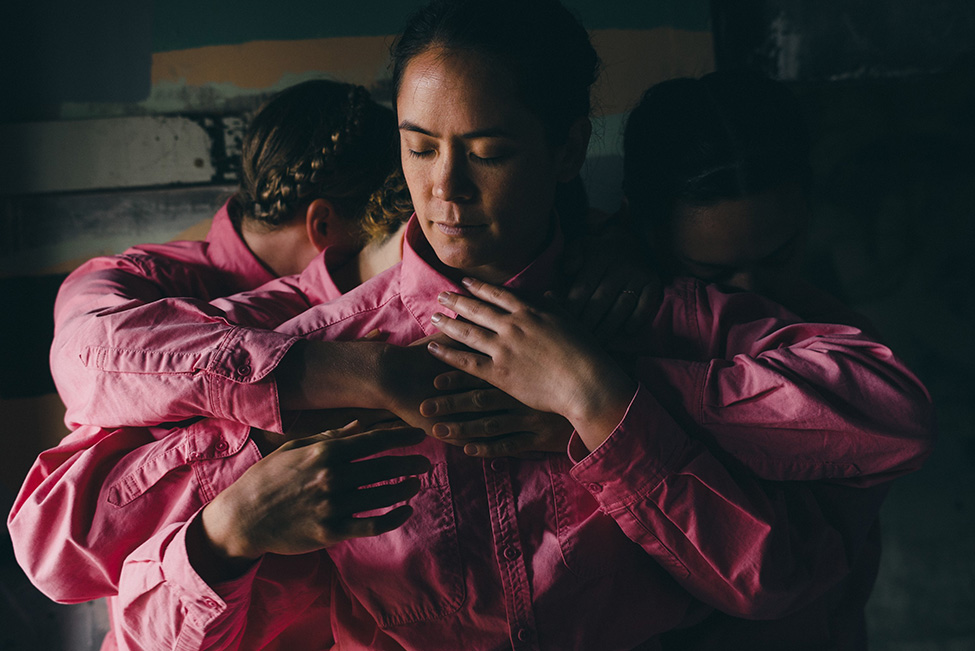 September 29, 2023
6:00 pm - 7:00 pm