Flying Woman: The Paintings of Katherine Bradford
February 04 – May 14, 2023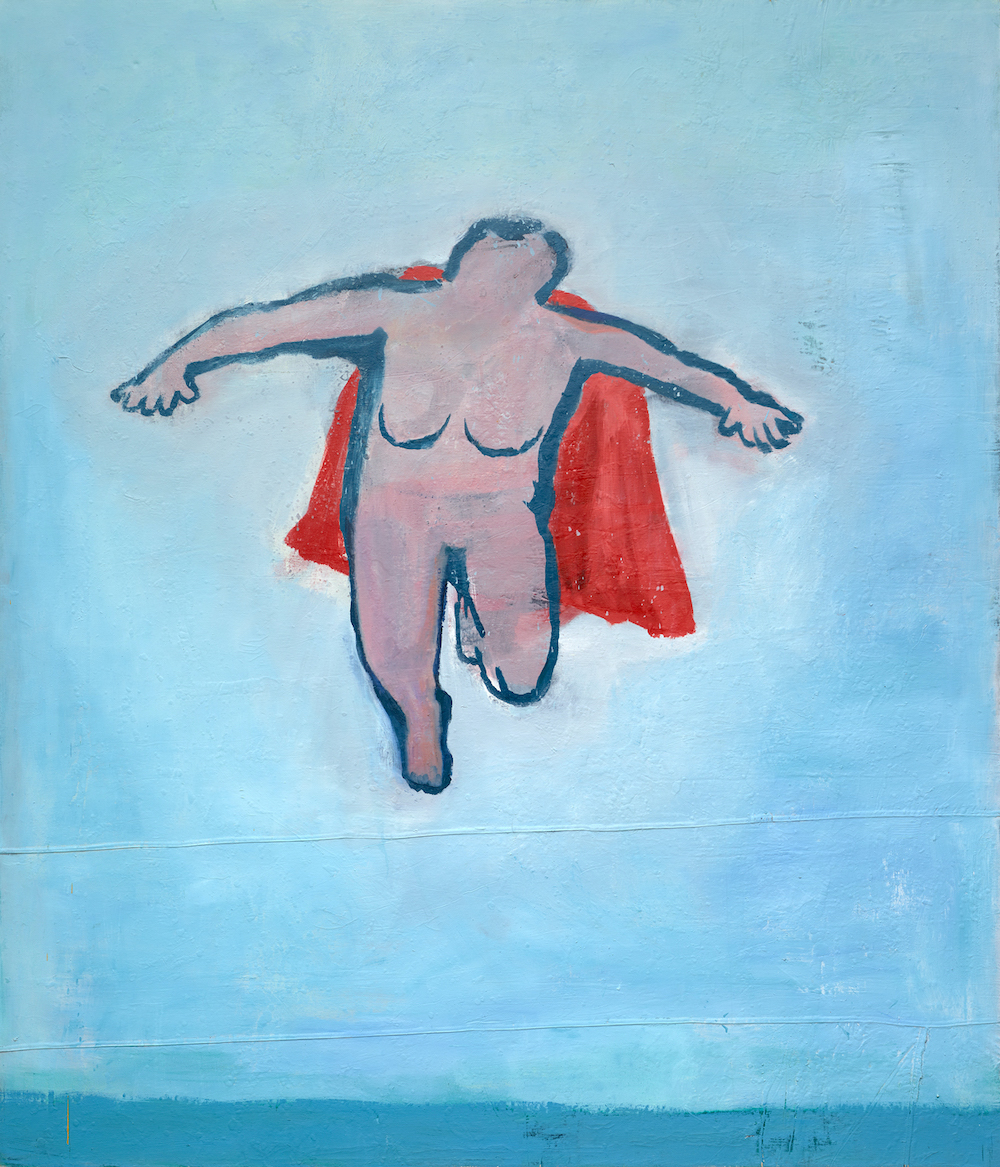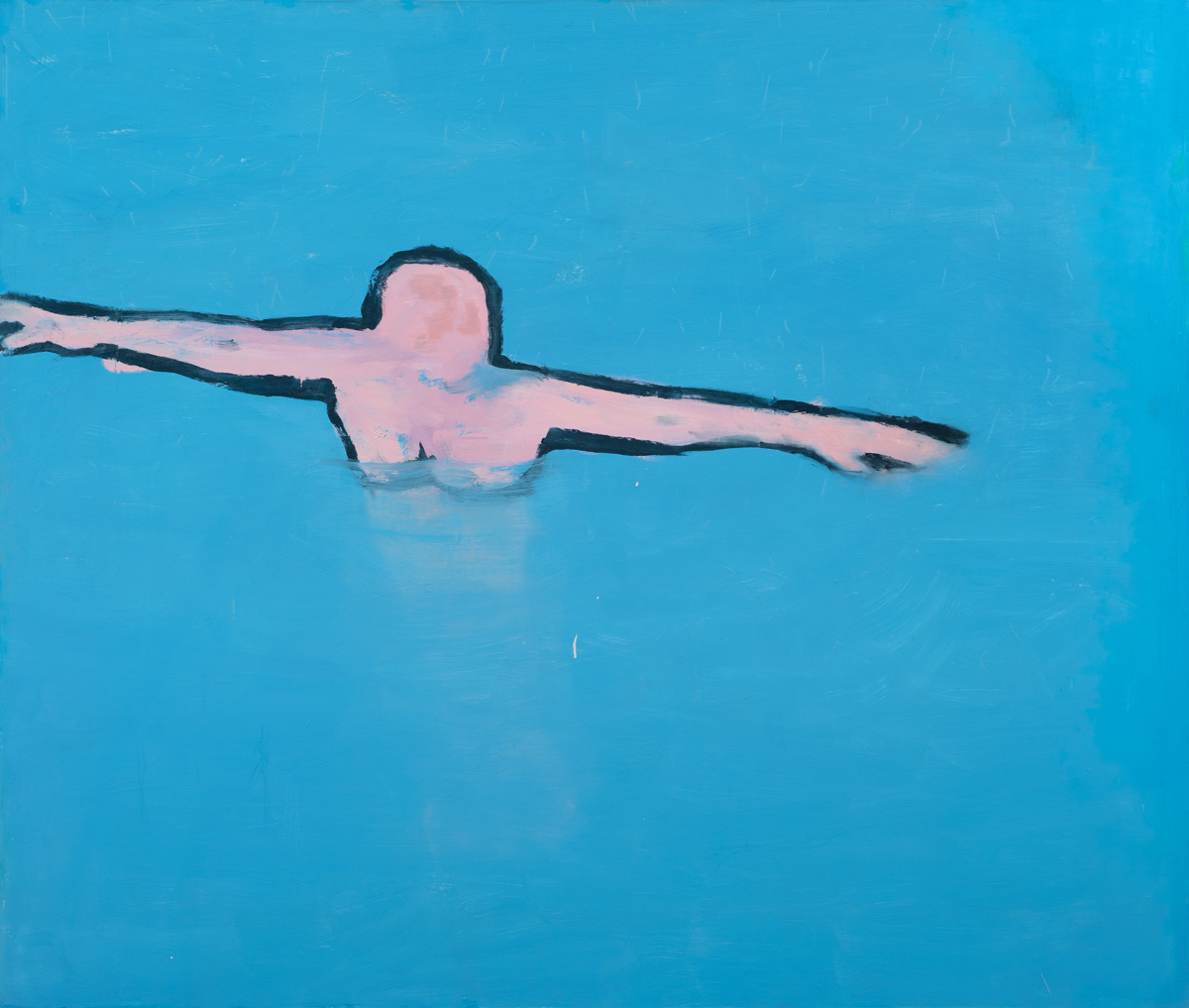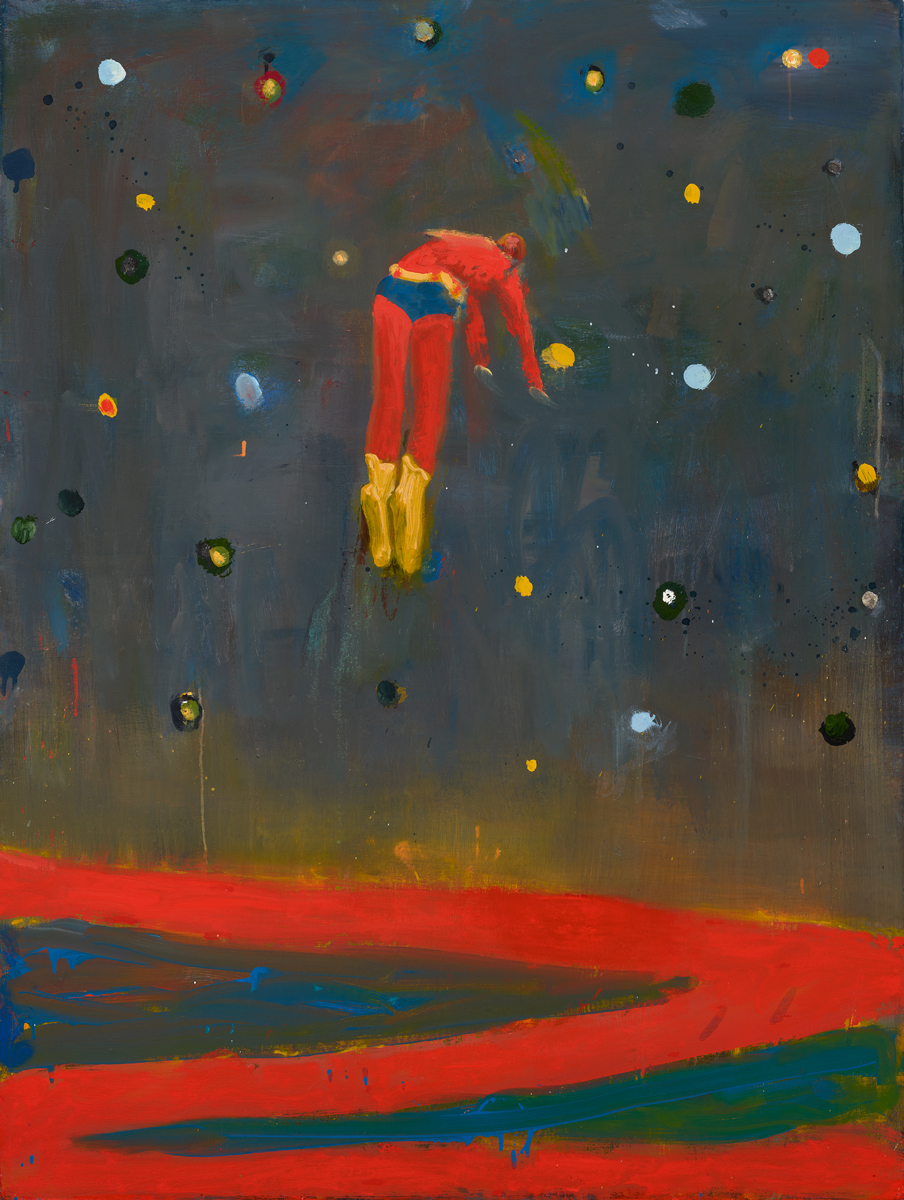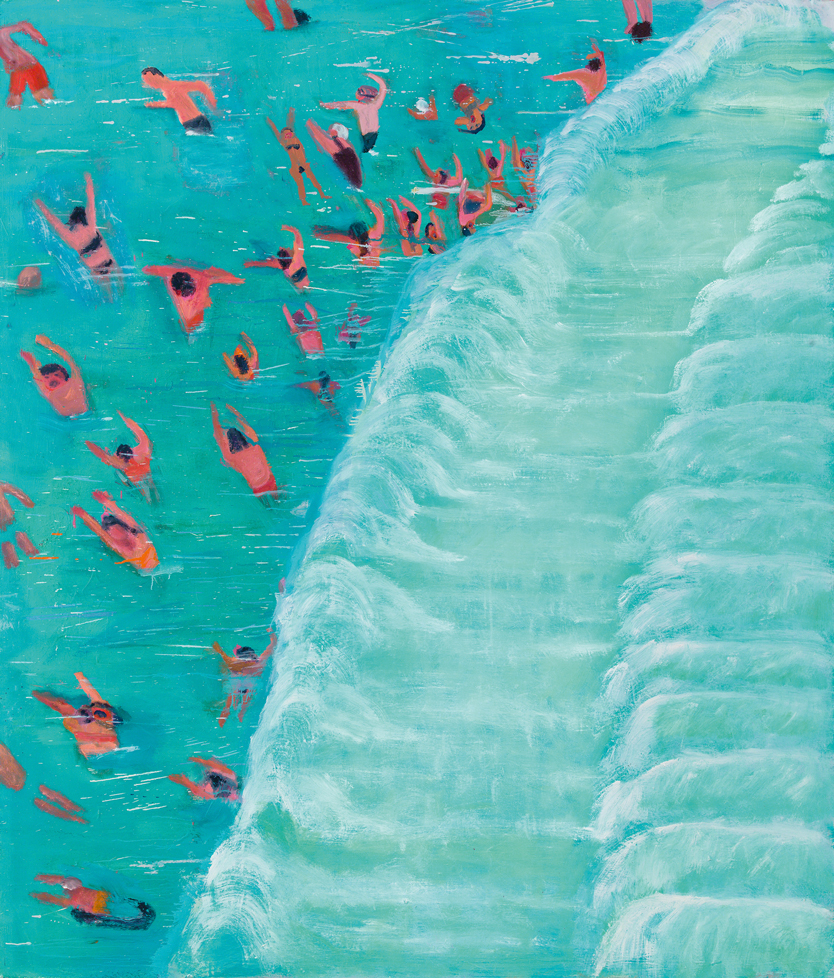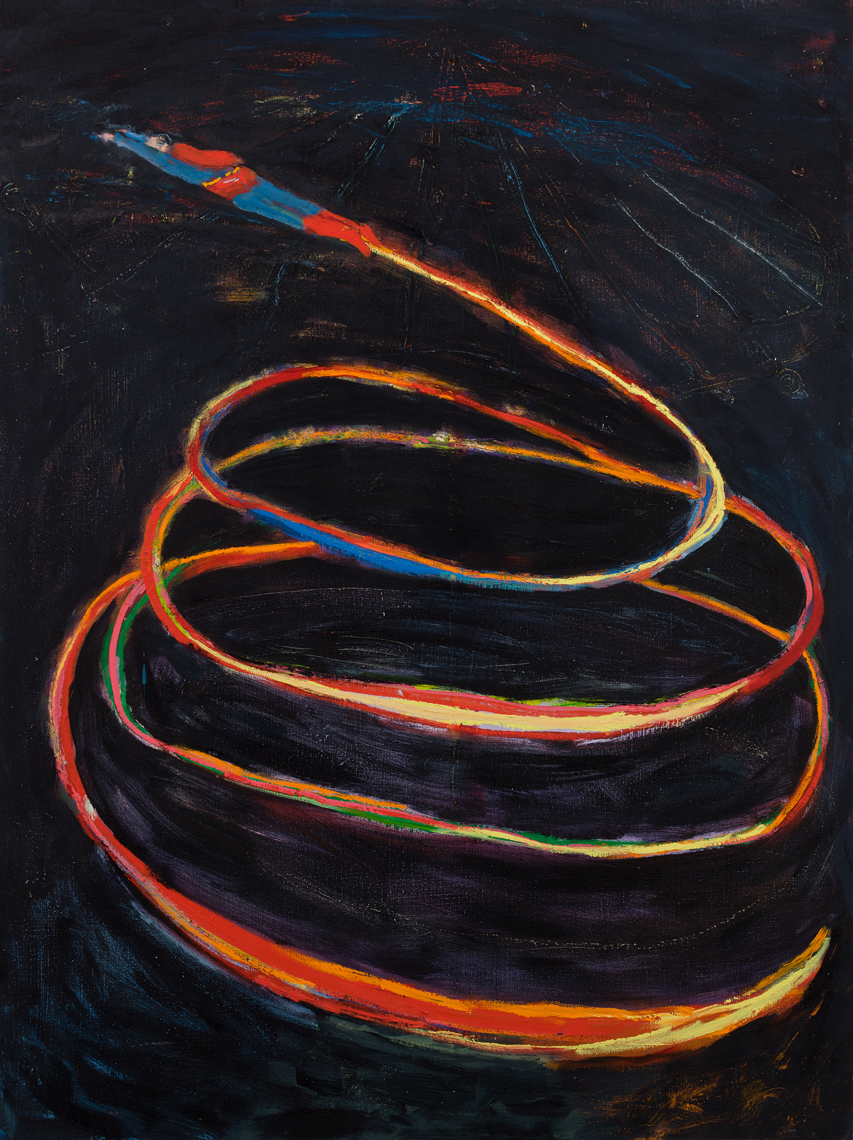 Flying Woman: The Paintings of Katherine Bradford is the first museum survey of the East Coast painter known for her vibrant palette, eccentric compositions, and personal, unpredictable approach to figurative painting. Organized by the Portland Museum of Art in Maine, this presentation features Bradford's semitransparent figures, which often defy society's expectations of women and all genders and serve as surrogates for a mother, painter, and lesbian coming of age at the turn of the twenty-first century.
Organized chronologically from 1999 to 2021, the exhibition highlights the artist's ongoing commitment to abstraction, figuration, and color, through the bathers, swimmers, superheroes, friends, and strangers that collectively chronicle Bradford's life. The presentation begins with oil paintings of single figures and androgynous characters who occupy monochromatic color fields and read as self-portraits early in her career. A critical shift from painting in oil to acrylic in the mid-2000s provided new possibilities to render the effects of water and sky, as well as a renewed formal inventiveness for portraying groups of figures. Yet Bradford's distinctive approach to her medium consistently activates her characters, who present universal themes of humanity as they float, swim, dive, and commune in neon cosmos of ethereal abstraction and terrestrial routines of daily life.
The artist, who splits her time between New York and Maine, has unapologetically blazed her own path in the art world, painting daily, and building a community of like-minded artists. She started painting at the age of thirty while living in Maine year-round in the 1970s and was later among a group of artists who moved to Williamsburg, Brooklyn, in the 1980s. The artist, now eighty, is at a pivotal moment in her career, creating some of her most thought-provoking paintings. Charting Bradford's artistic development throughout her career, Flying Woman offers an intimate view of the artist's oeuvre and properly positions her as a key figure within the canon of American painting today.
Katherine Bradford (born 1942, New York City) has received a Guggenheim Award (2011) and a Joan Mitchell Foundation grant (2012), as well as two awards from the American Academy of Arts and Letters (2005, 2011). Her work was presented in a solo exhibition at the Modern Museum of Fort Worth, Texas (2017), and has been featured in group shows at the Frances Young Tang Teaching Museum, Skidmore College, Saratoga Springs, New York (2020); Crystal Bridges Museum of American Art, Bentonville, Arkansas (2019); the Nerman Museum of Contemporary Art, Overland Park, Kansas (2019); the fourth Prospect New Orleans Triennial (2017); MoMA P.S.1, New York (2007); and the Brooklyn Museum (1997). In 2017–2018 she was Senior Critic on the faculty of the Yale School of Art. Her work is included in collections such as the Metropolitan Museum of Art, New York; the Brooklyn Museum; the Dallas Museum of Art; the Frye Art Museum; the Menil Collection, Houston; the Nerman Museum of Contemporary Art; and the Portland Art Museum, Oregon.
Flying Woman: The Paintings of Katherine Bradford is organized by the Portland Museum of Art, Maine. The exhibition was curated by Jaime DeSimone, former Robert and Elizabeth Nanovic Curator of Contemporary Art, Portland Museum of Art, Maine. The presentation at the Frye Art Museum is organized by Amanda Donnan, Chief Curator.  
Generous support for the Frye's installation is provided by ArtsFund, the Frye Foundation, and Frye Members. Media sponsorship is provided by KCTS 9.
Katherine Bradford. Woman Flying, 1999. Oil on canvas dropcloth. 84 x 72 in. Portland Museum of Art, Maine. Museum purchase with support from the Friends of the Collection, 2012.14 © Katherine Bradford. Image courtesy Luc Demers

Katherine Bradford. Woman in Water, 1999. Oil on canvas. 68 x 80 in. Collection of the artist. © Katherine Bradford

Katherine Bradford. Superman Responds, Night, 2013. Oil on canvas. 48 x 36 in. Private collection. © Katherine Bradford. Image courtesy Julia Featheringill Photography

Katherine Bradford. Fear of Waves, 2015. Oil on canvas. 84 x 72 in. Collection of Peggy and Danny Comden, Los Angeles. © Katherine Bradford. Image courtesy Jason Mandella

Katherine Bradford. Super Flyer, 2013. Oil on canvas. 48 x 36 in. Erica J. Hickey. © Katherine Bradford. Image courtesy Wes Magner
Related content