We're excited to launch a new series of blog posts on the Frye's Creative Aging Advisory Committee, a volunteer group of professionals and community members who advocate for the arts, healthcare, and people living with dementia, and bring a wide range of expertise and life experiences into the design and implementation of the museum's Creative Aging programs. 
This initial blog post features founding advisory member Keri Pollock. Keri talked with Samantha Sanders, Creative Aging Coordinator, on December 7, 2022, about her passion for Creative Aging and her connection with the Frye.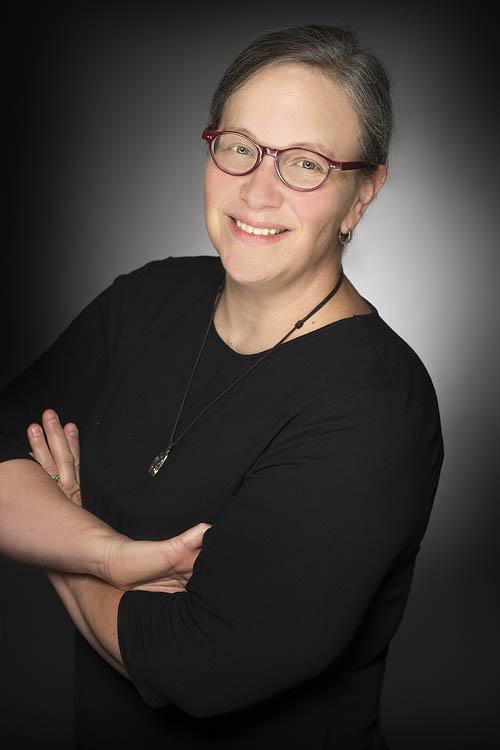 Hi, Keri! You've had a rich career working in education, architecture, and now in aging. You are currently the Director of Marketing and Communications at Aging Wisdom. Can you please share how your personal and professional life experiences intersect with your interest in the field of Creative Aging?  
There is a history of Alzheimer's and other dementias in my family. I have a vivid memory from fourth grade, visiting a nursing home where my great aunt was a resident. What I experienced of the medical, institutionalized model of care was troubling and has stayed with me to this day.  
I studied English as an undergraduate, taught high school, and later pursued education in Design, Marketing, and Gerontology. I spent twelve years working in marketing at two different architecture firms, where I was mentored by architects who specialize in and deeply care about designing long-term care residential environments that enhance the quality of life for older adults and staff. They introduced me to the Eden Alternative, the Pioneer Network, and the Culture Change movement. From there I went to work for the Alzheimer's Association and the UW School of Nursing before joining Aging Wisdom as Director of Marketing and Communications. Aging Wisdom is an Aging Life Care (a.k.a. care management) practice that helps individuals and families navigate options for aging, caring, and living well.  
What does Creative Aging mean to you personally?  
We all possess creativity. We are all aging. I grew up with an appreciation of art for art's sake, getting your hands dirty; the arts are of value throughout the lifespan. Creative Aging is about resilience, enjoyment, imagination, problem solving, social connection—the arts are an essential element.  
My father was a designer and an artist. Later in life, he had Parkinson's and Alzheimer's disease. He would regularly participate in a drum circle hosted by the Muhammad Ali Project, and it brought him so much enjoyment. He could just focus on the music and the rhythm of drumming in community—even the tremors in his hands would stop for a while. 
In our work at Aging Wisdom, we're always thinking about clients and asking, "How might we enhance their quality of life?" The arts are often part of the answer once health concerns are addressed. The arts and Creative Aging are wonderful companions and provide an abundance of opportunities for joy, healing, purpose, connection, and community.  
As a founding member of the Frye Art Museum's Creative Aging Advisory Committee, your long-term involvement dates to the development of the first Creative Aging program. What led you to partner with the Frye in the first place?  
I was working at the Washington State Chapter of the Alzheimer's Association at that time and witnessing an incredible transformation take place through the chapter's Early-Stage Memory Loss programs facilitated by Anita Souza (who is now on faculty at the UW School of Nursing). This was about more than what happens in a person's brain when someone is living with Alzheimer's or another dementia. This was about the whole person.  
When Mary Jane Knecht, Manager of the Frye's Creative Aging Programs, approached the chapter about a creative alliance, then-Executive Director Nancy Dapper was excited about the idea and asked me to be the chapter representative. A couple of participants in the early-stage programs at the chapter and their care partners become 'beta testers' of the Frye's here:now arts engagement program. Amazing discoveries were made. It reinforced that art has power. People who never saw themselves as artists now felt differently about themselves. There was a lot of joy and pride. There was healing within relationships too. It was quite stunning and beautiful. 
It's also important to think about how people see themselves represented (or not) in museums and how best to make art accessible. I've been working with Mary Jane and the Frye now for over twelve years. As one of the founding members of the Creative Aging Advisory Committee, it's been a privilege working with amazingly talented community-allied professionals and museum staff, and continuing to find ways to open doors. Mary Jane has done an incredible job of evolving the Creative Aging programs and building connections with other organizations. 
Can you share what you love about the Frye?   
When I first moved to Seattle from Wisconsin over twenty years ago, I purchased a guidebook: Frommer's Irreverent Guide to Seattle & Portland. This is where I first learned about the Frye, and I've been a fangirl ever since! I thought, "A free art museum? Wow!" My daughter, who is also an artist, and I became regulars after our first visit. The Frye became an essential part of our life here. In addition to the exhibits and serving on the Creative Aging Advisory Committee, I've regularly participated in art workshops, lectures, and education programs. I've loved all the studio classes I attended, including quick sketch with Peter Millet, watercolor with Cathe Gill, fiber arts with Marita Dingus, and print-making classes in linocut and drypoint etching. 
You're deeply involved in supporting older adults. What would you like to share about your involvement with the aging community in Seattle?  
There have always been great things happening in the area and it's fun to be part of it! I've served on several nonprofit boards (Full Life Care, WA Adult Day Services Association, and Elderwise) as well as on several conference planning committees. I am also active in professional education. Currently, I'm part of the Age Friendly Seattle Coalition, whose role is to ensure that the needs of older adults are recognized and prioritized.  
I've been a strong supporter of the Momentia movement (of which the Frye is a part), a grassroots movement empowering persons with memory loss and their care partners to remain connected and active. Organizations like SilverKite Community Arts (founded by Dr. Jen Kulik, who also serves on the Creative Aging Advisory Committee) create and facilitate the most incredible intergenerational arts engagement experiences. I also love seeing the newly opened Memory Hub on the Frye's campus as a place for dementia-friendly community, collaboration, and impact.  
What more do you hope to see in the field of Aging, and Creative Aging in particular, in the future?  
During the pandemic, we saw the negative consequences of social isolation on overall health and wellbeing. That coupled with existing societal issues, like ageism, made it extremely difficult for older adults. I believe in seeing everyone as an individual, not as a diagnosis. It's important to have a mutual understanding of resilience and for people to know that others are walking the same path.  
When people are exposed to Creative Aging, it's a way to adapt to their situations. Technology like Zoom has been a wonderful tool to help people socialize in uncertain times. I'm excited that things are opening again, and we can take precautions to be with one another in person. I hope to always be a conduit of connection, celebration, and relevant information. 
This series is facilitated and written by Samantha C. Sanders, Creative Aging Coordinator.  
To learn more about Creative Aging, including how to register, visit our programs page.