Supporter Spotlight is a feature where we shine a light on our members and donors to learn about their connections to the Frye and why they support the Museum.
---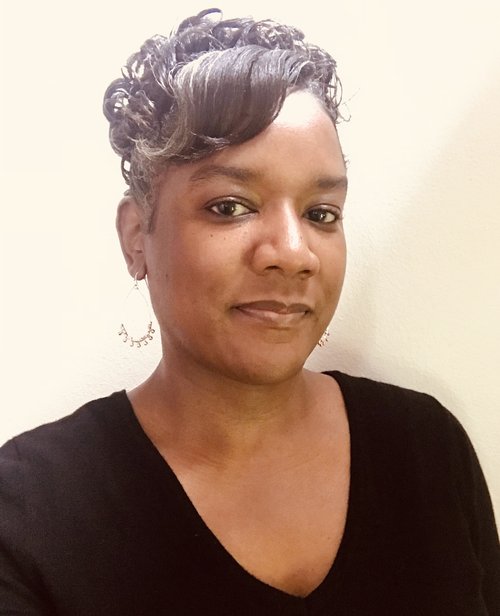 Valencia Carroll is a classically trained fine artist, Creative Aging teaching artist, mother, and Frye member. She discovered her passion for art at an early age and since that time, museums, including the Frye, have played a significant role in her development as an artist. At the Frye, she had the opportunity to hone her oil painting skills as a participant in the Re-Mastered program and now she uses her talent to enhance the lives of older adults as a Creative Aging teaching artist.
"As a child I had encouraging art teachers, always traveled with a sketchbook and would lose myself for hours when in creative mode. I've consistently enjoyed creating with my hands using different mediums but at the end of the day, painting with oil paints is my passion!" In addition to her supportive art teachers, museums have long served as places of inspiration and artistic development for Valencia. She recalls, "For my first high school mentorship, I worked as an assistant painting a great white shark mural in my hometown marine museum in Maryland. I enjoyed the experience of getting up close to the paintings to see the individual brushstrokes and colors and then standing way back to see all the brushstrokes merge together to create a grand portrait, landscape or still life."
Her relationship with the Frye began when she visited as an art student almost a decade ago. She recalls being struck by the Frye Salon exhibition: "I remember being at once overwhelmed and impressed and not wanting to leave as I was surrounded by a most remarkable floor-to-ceiling display of wonderful oil paintings. Some would say it was too much! But for me it was like an artist's dream!" Since that first visit, Valencia has been a frequent visitor. "I've attended so many events, exhibitions, and opening receptions over the years and each interaction has become memorable in its own way. From the incredible paintings of Nicolai Fechin to the enormous structures of Rodrigo Valenzuela to the fantastic layout of The Studio Museum in Harlem's traveling exhibition of Black Refractions, I've enjoyed them all!"
In 2019, years after that first impressionable experience of the Frye Salon, Valencia had the special opportunity to engage with the Founding Collection on an even more intimate level as a participant in Re-Mastered—a program in partnership with the Gage Academy of Art where advanced artists could develop their skill and technique by creating master copies of works shown in the Frye Salon. "It was such fun interacting with both the museum patrons and the wonderfully accommodating museum staff who were always so kind and helpful throughout my painting term", she says of her experience.
Valencia's belief that art should be accessible and inclusive is a driving force for her support of the Frye as a member. "I think the Frye Art Museum is a true gem. The fact that it's free and open to all makes it that much more special. I enjoy the Frye's inclusiveness and programming designed to accommodate everyone from the children who attend Small Frye programs to the adults attending the Creative Aging programs. I support the Frye because I love the principles on which the museum was built because I also believe that we all should have access to art and that it should be made available for anyone and everyone."
Valencia further supports accessibility and inclusiveness in the arts as a Creative Aging teaching artist at the Frye. In this role, she uses all her years of experience in the arts to enhance the lives of older adults through creative and community-building experiences. "I love encouraging others to lose themselves in the process of observing, exploring, and experimenting with art," she says.
Thank you, Valencia, for sharing your story and for all that you do as a supporter and Creative Aging teaching artist!
You can follow Valencia on Instagram and check out her art on her website.
---
To learn more about supporting the Frye by becoming a member, visit our Membership page or contact membership@fryemuseum.org.