November 11, 2023 - January 28, 2024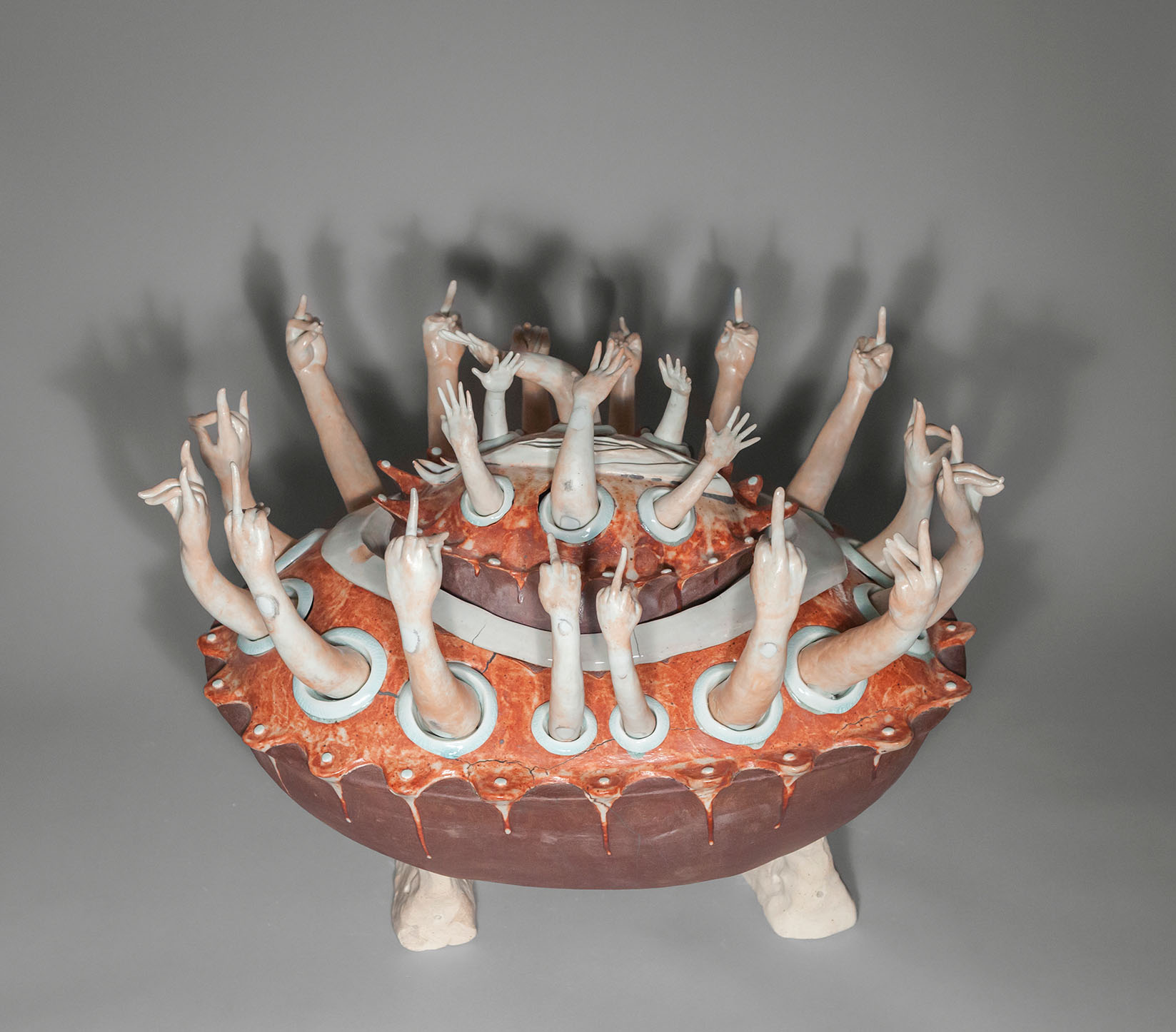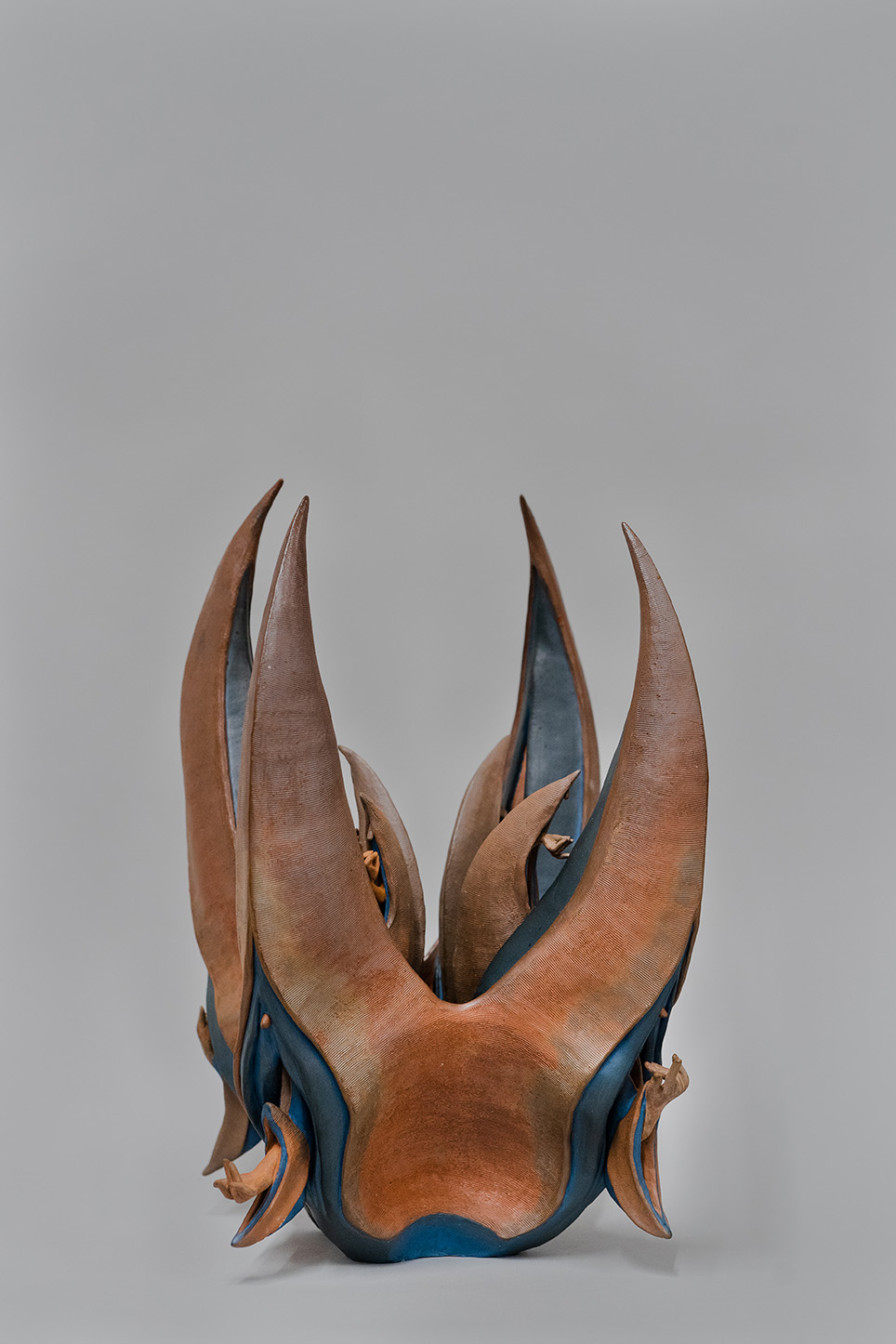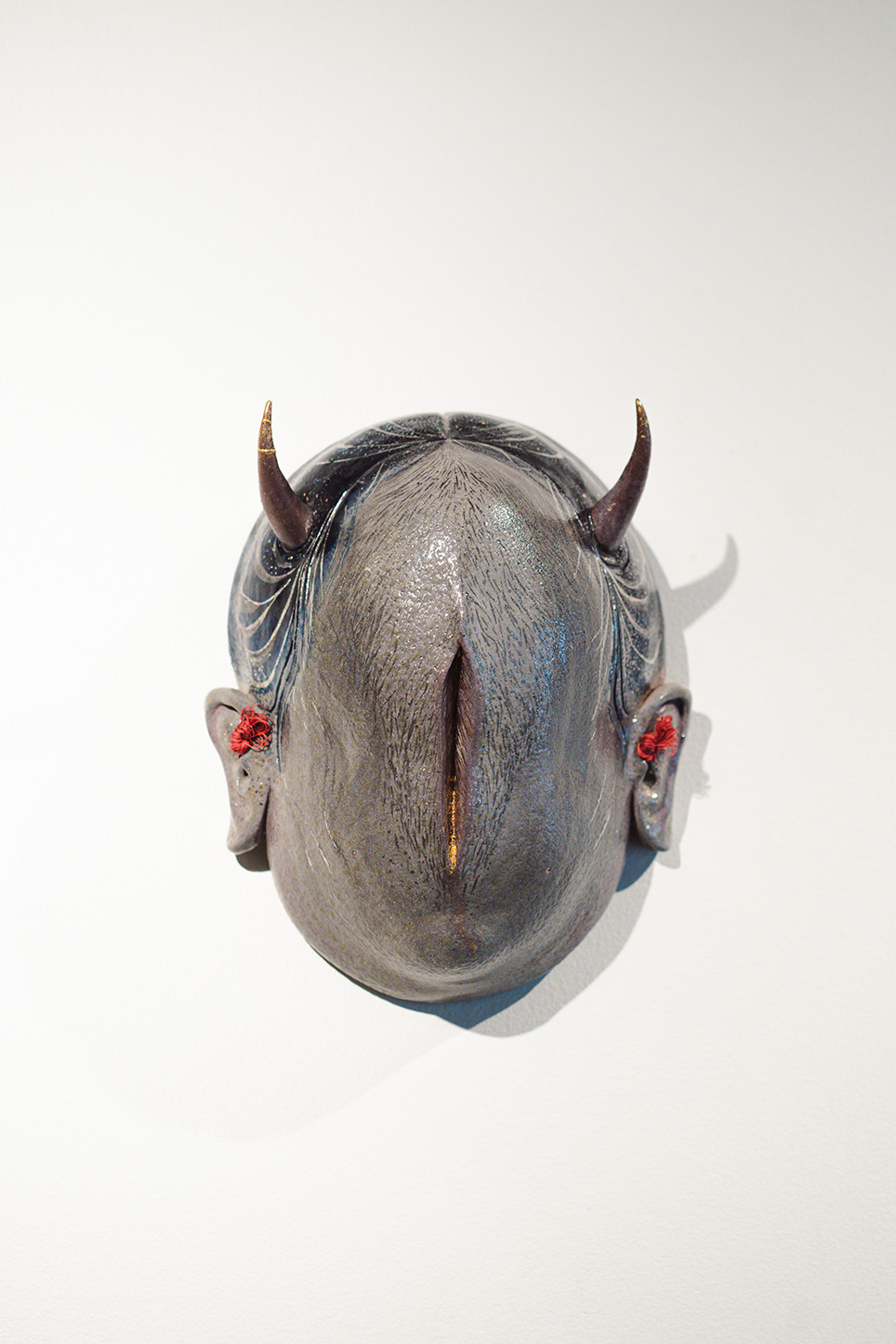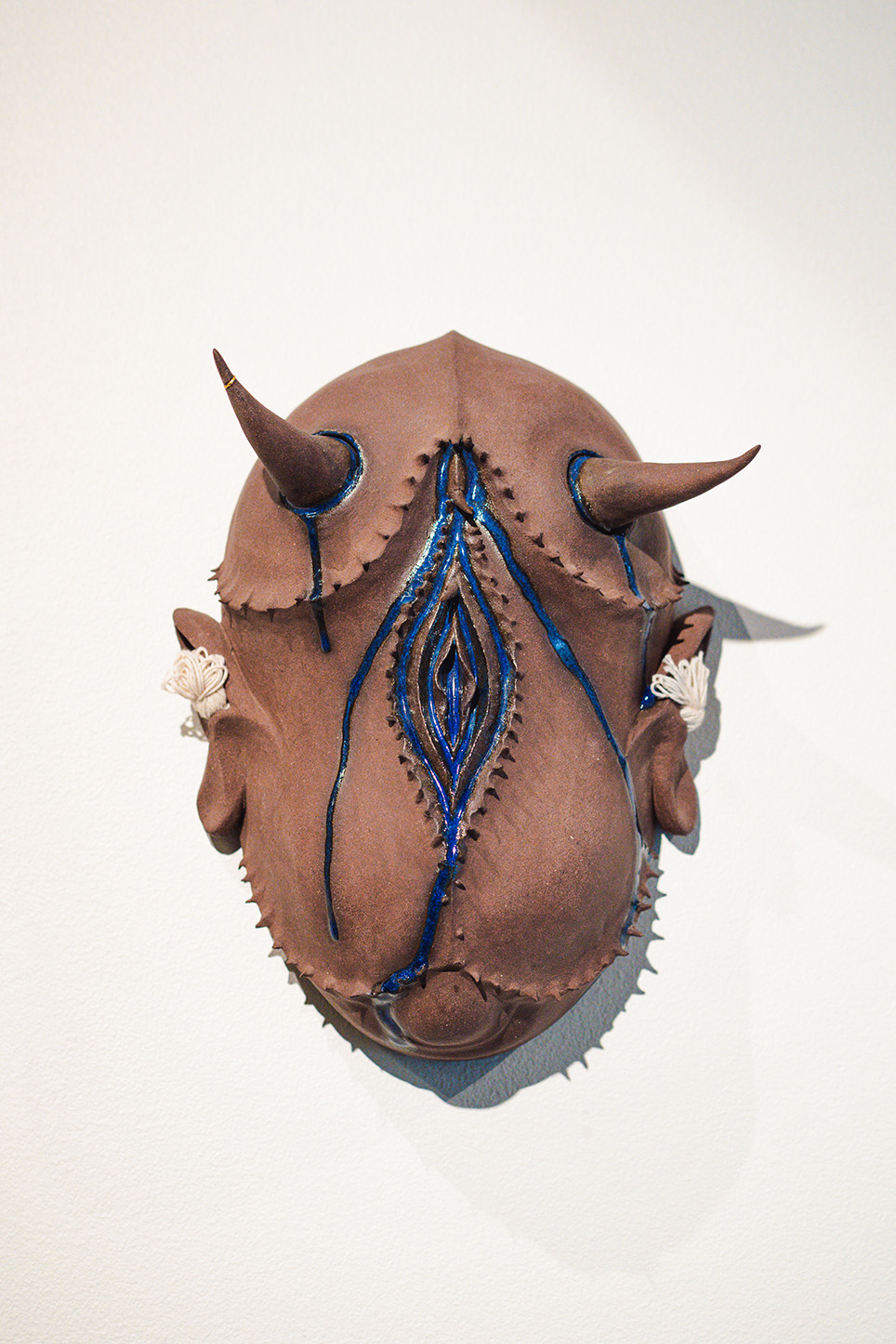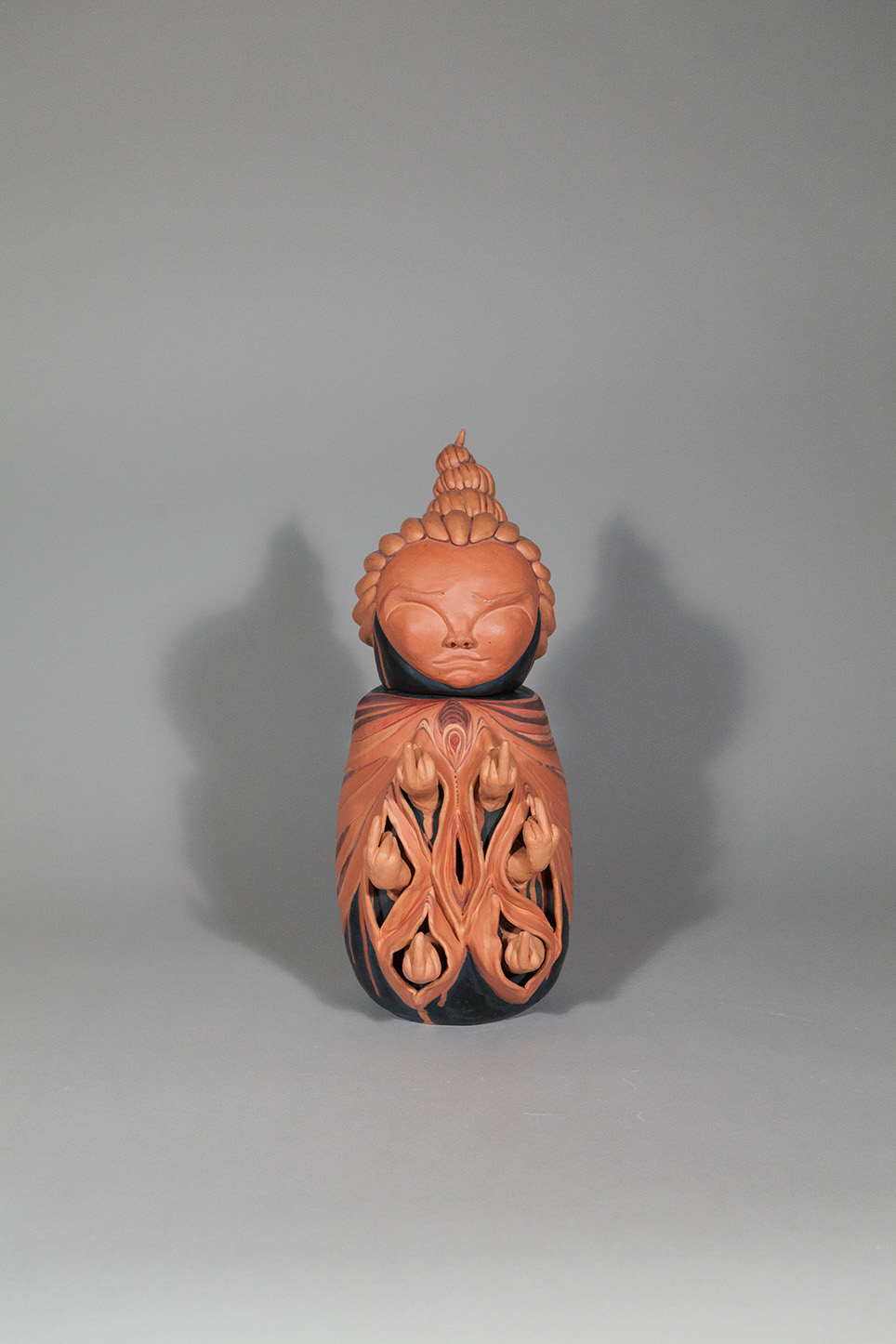 Seattle artist Hanako O'Leary's ceramic objects embrace visual storytelling, interweaving Shinto mythology and contemporary feminist ideologies. Raised by her Japanese mother and American father in the Midwest, O'Leary traveled yearly to her maternal home, Japan's Setonaikai Islands. Influenced by these experiences, as well as folkloric Japanese imagery, the artist bridges her identities and matriarchal lineages to narrate her own "American story."
The first solo museum presentation of O'Leary's work, this exhibition marks the culmination of the artist's multiyear series of ceramic vessels and masks named for the Shinto goddess of creation and death, Izanami, meaning "she who invites." Izanami's story in the Shinto pantheon is short-lived: after giving birth to many goddesses and gods, she dies during childbirth and is trapped in the underworld for eternity. However, the artist revives and reinterprets Izanami's legacy, "embracing the mystical feminine realm in its entirety and celebrating the right to create or destroy what lies within our own underworld."
The series enacts a new mythos inspired by ancient relics and fertility icons, Noh theater traditions, and Eastern spirituality. Its vessels chronicle Izanami's descent through the underworld, and the masks provide protection as she rules over the gods and spirits of that realm. In her artwork, O'Leary mines the story's dualities—life and death and the triumphs and tragedies of femininity—to surface the ways the centuries-old myth resonates with her personal, contemporary narrative.
Hanako O'Leary (born 1988, Madison, WI) has exhibited at Center on Contemporary Art, ARTS at King Street Station, and Method Gallery in Seattle. In 2020, she was a Neddy Cornish Artist Award finalist and received a MAC Fellowship through the Robert B. McMillen Foundation. O'Leary holds a BFA from the University of Illinois, Urbana-Champaign, and an MFA from Seattle University.  
Hanako O'Leary: Izanami is organized by Georgia Erger, Associate Curator, and Alexis L. Silva, Curatorial Assistant.
Generous support provided by the Frye Foundation and Frye Members. Media sponsorship provided by Crosscut.
Hanako O'Leary. Venus Jar 2: I Accept, 2019. Clay, glaze, porcelain, casein paint. 24 x 15 x 20 in. Courtesy of the artist. Photo: Sarah D King
Hanako O'Leary. Venus Jar 9: My Love, 2021. Terracotta. 10 x 10 x 10 in. Courtesy of the artist. Photo: Jo Cosme
Hanako O'Leary. War Mask 8: The Mortician, 2021. Stoneware, glaze, gold and palladium luster, silk. 13 x 8 x 6 in. Courtesy of the artist and ArtX Contemporary. Photo: ArtX Contemporary
Hanako O'Leary. War Mask 5: The Healer, 2019. Red clay, glaze, cotton. 13 x 8 x 6 in. Courtesy of the artist and ArtX Contemporary. Photo: ArtX Contemporary
Hanako O'Leary. Venus Jar 1: I Am, 2018. Clay, casein paint. 13 x 10 x 8 in. Courtesy of the artist. Photo: Sarah D King
Related content