We're excited to continue a series of blog posts on the Frye's Creative Aging Advisory Committee, a volunteer group of professionals and community members who advocate for the arts, healthcare, and people living with dementia, and bring a wide range of expertise and life experiences into the design and implementation of the museum's Creative Aging programs. 
This quarterly blog post features advisory member Kris Rhoads. Kris talked with Samantha Sanders, Creative Aging Coordinator, on February 16, 2023, about his passion for Creative Aging and connection with the Frye. 
Image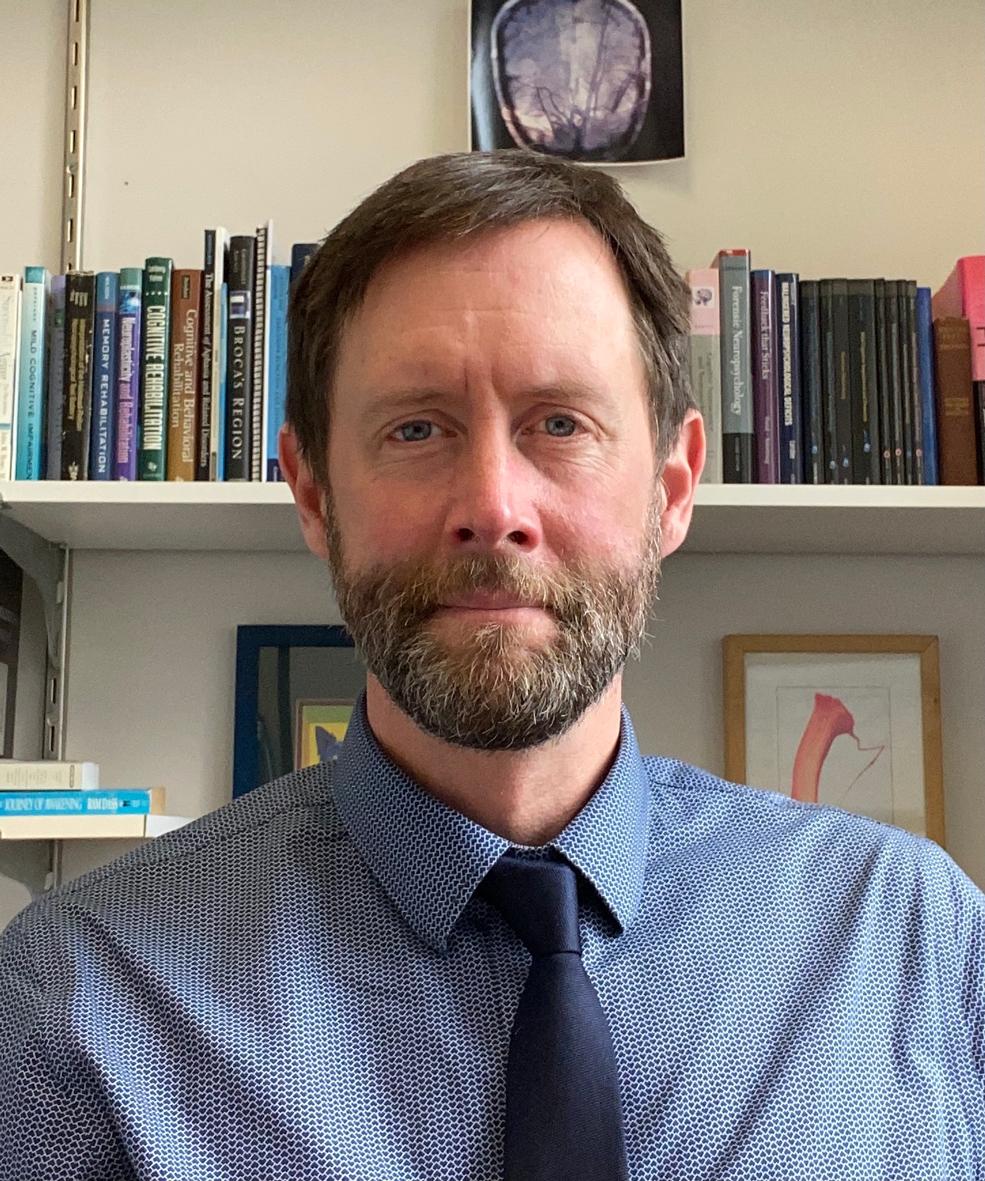 Hi, Kris! You're an Associate Professor of Neurology at the University of Washington School of Medicine and a clinical neuropsychologist at Harborview Medical Center specializing in evaluating and treating dementia and neurodegenerative disorders. Can you share how your personal and professional life experiences intersect with your interest in the field of Creative Aging? 
My maternal grandmother lived with us and I had close relationships with my dad's parents, so older adults were a constant presence from my earliest memory. Spending time with their friends and living in an intergenerational household gave me a personal connection to those older adults. My paternal grandmother and several of her siblings had vascular dementia and Alzheimer's disease and that family history became a key shaping factor. Professionally, I already knew what I wanted to do in high school and that was reinforced throughout college and graduate school at Western Washington University and Colorado State. My career has been a series of meeting the right people at the right time. I've had great mentors move some rocks around in the river for me, so to speak. In terms of landing here in Seattle, I did my internship and fellowship in neuropsychology here at the VA Puget Sound Health Care and University of Washington (UW) and have been here since 2002. I've been back at the UW/Harborview Medical Center for about seven years after spending eight at Virginia Mason Medical Center and throughout that time I've always had an interest in helping people and families living with memory loss to do so as well as possible. 
What does Creative Aging mean to you personally and, as a neuropsychologist, what do you see as the health benefits of creative engagement?  
Aging poses so many challenges that one must be creative to weather those changes. I believe the creative spirit and drive in older adulthood is a wonderful opportunity to engage with the "what is." That means, how are you right now – regardless of previous abilities – simply being present and connecting in that space, independent of cognitive functions or other capabilities. In the Frye's here:now program, I've heard comments about the class such as "It's just a chance to be with my mom." Resilience and retained strength are powerful. Creative pursuits don't necessarily diminish with cognitive function and sometimes that latent creative drive can emerge in the context of cognitive changes where it wouldn't otherwise be uncovered. 
As a member of the Frye Art Museum's Creative Aging Committee, you offer guidance on Creative Aging programs, including those for adults living with dementia and their care partners. What drew you to partnering with the Frye in the first place? 
The Frye is a great community example. It's a free, beautiful museum with incredible programs and amazing artwork. The Frye is also dedicated to older adults and those with memory loss. How cool is that? When my daughter was young, my wife would take her to Small Frye, a program at the museum for children ages two to five. Small Frye features interactive storytelling with Seattle Children's Theater and hands-on art-making led by the Frye. The program just celebrated its tenth anniversary. As someone working in the First Hill neighborhood, the proximity to the Frye also couldn't be beaten. My usual self-care activities at lunch include walking and exploring, so I would find myself at the Frye.  
In addition to being a Creative Aging advisor, you lead biweekly Mindfulness Meditation sessions at the Frye. Please share your thoughts about the program and your own practice. 
My connection with the Frye began over eight years ago. I would go to the museum to attend Mindfulness Meditation, then led by Carolyn McManus and Diane Hetrick, physical therapists at Swedish First Hill Campus. I attended that series for a long time, beginning around 2008-2009. It has been a huge honor that I have been leading the same program since January of 2019. 
As far as my own meditation practice is concerned, it began in earnest when I was ten years old through martial arts. We would spend ten to fifteen minutes meditating at the beginning and the end of each karate class. I did this exercise three to four times a week until about the age of fifteen. Meditation stuck as an interesting practice to quiet and focus the mind. Now in my work, I recognize the benefits of mindfulness-based interventions as a way to enhance resilience and improve compassion for the self and others. 
At Virginia Mason part of my work was in the pain clinic, and mindfulness was an important tool for dealing with the suffering aspect of chronic pain. There is good data for reducing care partner stress and benefits for those with dementia and cognitive impairment. So, I have a personal and professional interest in meditation. I will say it's definitely a practice, not a mastery event, and maintaining that practice is a challenge. So, leading Mindfulness Meditation twice monthly is so good for me in keeping that practice going.  
You are a key collaborator with The Memory Hub, spearheaded by UW Medicine Memory and Brain Wellness Center with the Frye as a founding partner. Can you please share with us more about your work there and how you envision the Memory Hub helping people explore living well with dementia? 
As a founding member of the Memory Hub, my favorite part of my work includes co-leading the Applied Daily Activities to Promote Thinking (ADAPT) program with my colleague Marigrace Becker, MSW and Cecilia Matta, a fantastic volunteer. The ADAPT program is a two-week brain and body wellness bootcamp where people come together to reinforce strategies for living well with memory loss. ADAPT combines mindfulness meditation, exercise, rehabilitation-oriented strategies, wellness education, and support for people living with early-stage dementia and a care partner. We've offered this since 2018 as a service of the Memory and Brain Wellness Clinic and are excited to be able to be back in-person at the Memory Hub. It has been important for us to try to take things out of the hospital setting when appropriate and possible and the Memory Hub is such a great home for this. 
My work at the Memory Hub also includes the Project ECHO Dementia program which I co-lead with my colleague Dr. Nancy Isenberg at the Center for Healthy Aging at Providence-Swedish. ECHO-Dementia is a state-funded initiative to help primary care providers in rural or under-resourced settings detect, diagnose and treat cognitive impairment and dementia. The project aims to demonopolize expertise through tele-mentoring for front-line care providers around the state, with an aim to better address health disparities across Washington. This is a great model for getting vital information to providers that need it most as they typically know their patients best and are the first point of contact. I'm also proud to say that ECHO is a result of the Dementia Action Collaborative and while administrated through the UW, it's a cross-institutional program and our "expert hub" consists of providers representing the UW, Providence-Swedish, Overlake, and Virginia Mason Franciscan.  
Overall, I see the Memory Hub as a dissemination point for best practices and programs, not just in terms of medical care, but also around dementia-friendly communities, decreasing stigma, arts engagement, and other programs and services to help people and families living with dementia to do so as well as possible. It's a physical place where you can go but is intended to have a larger impact outside the walls of the building.  
You serve as chair of the Health and Medical Subcommittee of the Dementia Action Collaborative, tasked with developing and implementing the first Washington state plan for Alzheimer's disease. Can you please share a bit about your role and the plan? 
This ongoing work started back in 2013 for me at Governor Jay Inslee's Aging Summit. Then in 2014-2015, a group of public and private stakeholders for Washington state convened to discuss how to deal with dementia with the plan signed into law in early 2016. I was honored to serve as the chair for the Health and Medical Subcommittee and work with so many amazing partners. I've stayed in that role as we've transitioned into the implementation work over the last several years and now as we undertake a revision of the plan. I get to work with incredibly smart and motivated people who are volunteering their time, expertise, and experience for the greater good. The Dementia Action Collaborative is an amazing partnership with an eye toward creating a plan that is actionable and focuses on what will improve lives including work on medical care, research, public awareness, long term supports and services, and advocacy.  
What is something you'd like others to know about you? 
A couple quasi-random things would be: 
I have a tremendously dry sense of humor that can get mistaken for sarcasm at times – it can be difficult for folks to tell when I'm joking. I attribute that to growing up in Maine. However, as someone who has now lived on the West Coast for a long time, I'd likely be considered "from away" by Mainers.  
I'd also say that community, family, and friends are paramount for me. I have deep appreciation for the good fortune and privilege of living in a beautiful area with excellent access to nature. I'm lucky to have a wonderful family, including my wife, Jennie, my daughter, Jesse, and our chocolate lab, Mango. I also have amazing parents and in-law family in addition to a great group of middle-aged climbing buddies. We live in a great neighborhood with great neighbors and friends – lots of gratitude and appreciation for all those things being the case. 
I don't make resolutions for the new year. However, a couple guiding principles for 2023 are kindness and presuming good intentions. 
Looking toward the future, what do you hope to see in your field to support people to live healthy, happy, and meaningful lives?  
It's lovely to see more folks continuing to chip away at the stigma and fear that accompanies the terms "dementia" and "Alzheimer's disease." This is not to dismiss how difficult the journey is – however, fear is one of the barriers to early detection, diagnosis, and care. Also, I have had amazing partnerships with other passionate individuals, like getting to work with Keri Pollock and Lisa Mayfield of Aging Wisdom among other members of the Creative Aging Advisory Committee. I'm looking forward to seeing who you interview next! (Read the blog post about Keri here.) 
Is there anything else you'd like to share that we haven't touched on in this interview? 
Go Kraken!  
This series is facilitated and written by Samantha C. Sanders, Creative Aging Coordinator.  
To learn more about Creative Aging, including how to register, visit our programs page.