Supporter Spotlight is a feature where we shine a light on our members and donors to learn about their connections to the Frye and why they support the Museum.
---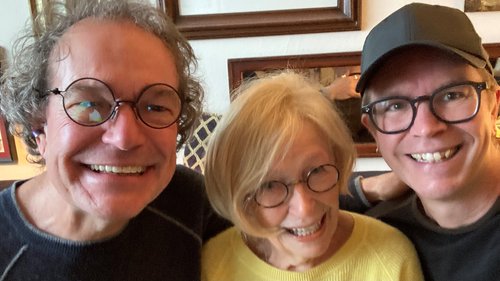 ---
Kent Johnson, Cody Blomberg, and Mary Jane Johnson are members whose visits to the Frye have become a family affair. "The three of us have made attending every exhibition opening reception and every Rebecca Albiani art history lecture a family ritual," they say. 
Kent and Cody are life partners who first visited the Frye many years ago.  "Almost 25 years ago, our neighbors encouraged us to visit the Frye, and we have been visiting regularly ever since. We are drawn by the art as well as the educational focus that accompanies each new exhibit, from the speakers during exhibition openings, to Rebecca Albiani's lectures, to tours of the exhibits, to the collection of exhibition catalogues." Kent introduced his mother Mary Jane to the Frye more recently. She says, "When I moved to Seattle three years ago, I made the Frye my go-to place a couple of times per week. I was drawn by the diversity of art on display, which continues to broaden my experience and knowledge about art."  
All three find creative expression central to their life and work. Kent surrounds himself with paintings, sculptures, and music in his home; "Art provides a wonderful compliment to my life as an elementary and middle school director, and inspires creative expression and vision for my work with children." Cody is a working artist. "I'm a painter who makes my living creating Impressionist-style decorative art as well as portraiture. Art is how I contribute to society and get a sense of belonging," he says. As for Mary Jane, she explains, "My sister was an artist who brought attention to art in my life at a very young age. As a clothing designer and merchant, art was my gift to family members, friends, and clients. My home is my canvas, filled with art. I wake up and go to sleep with art surrounding me." 
Remembering some of their favorite memories at the Frye, Kent says, "I vividly remember Jo-Anne Birnie Danzker's exhibits, lectures, and books about artists such as Franz von Stuck and Albert von Keller. These exhibits were so remarkably comprehensive in their scope." Cody recalls, "Kolya Rice's class on post-war German art stands out. I learned so much from Kolya." Mary Jane fondly remembers the exhibition, Donald Byrd: The America That Is To Be: "I will never forget stopping by the Frye one hot summer afternoon a couple of years ago. A modern dance performance was occurring with two to three dancers moving their bodies on a platform in the center of one of the Frye's galleries, in harmony with jazz music. People of all ages were sitting on the floor watching the series. It was a spontaneous delight." 
Kent and Cody have supported the Frye as Contributor-level members for over 15 years, and Mary Jane Johnson added to their support by becoming a Senior Dual member. Kent and Cody say, "We make donations to help keep the Frye free to anyone who would like to visit. Also, the Museum Store Manager and Buyer, Rachael Lang, curates a unique and remarkable selection, a cut above the typical museum fare.  Her selections keep all three of us buying gifts for friends and family members. And we eagerly await returning to Café Frieda for meals and drinks!" 
If you visit the Frye for an exhibition opening, you will likely see these three in lively discussion over the works on display. 
Thank you Kent, Cody, and Mary Jane for sharing your story! We are thrilled that you have made the Frye a space to learn, find inspiration, and deepen your ties with one another.