Boren Banner Series: Rafael Soldi
October 07, 2023 - April 07, 2024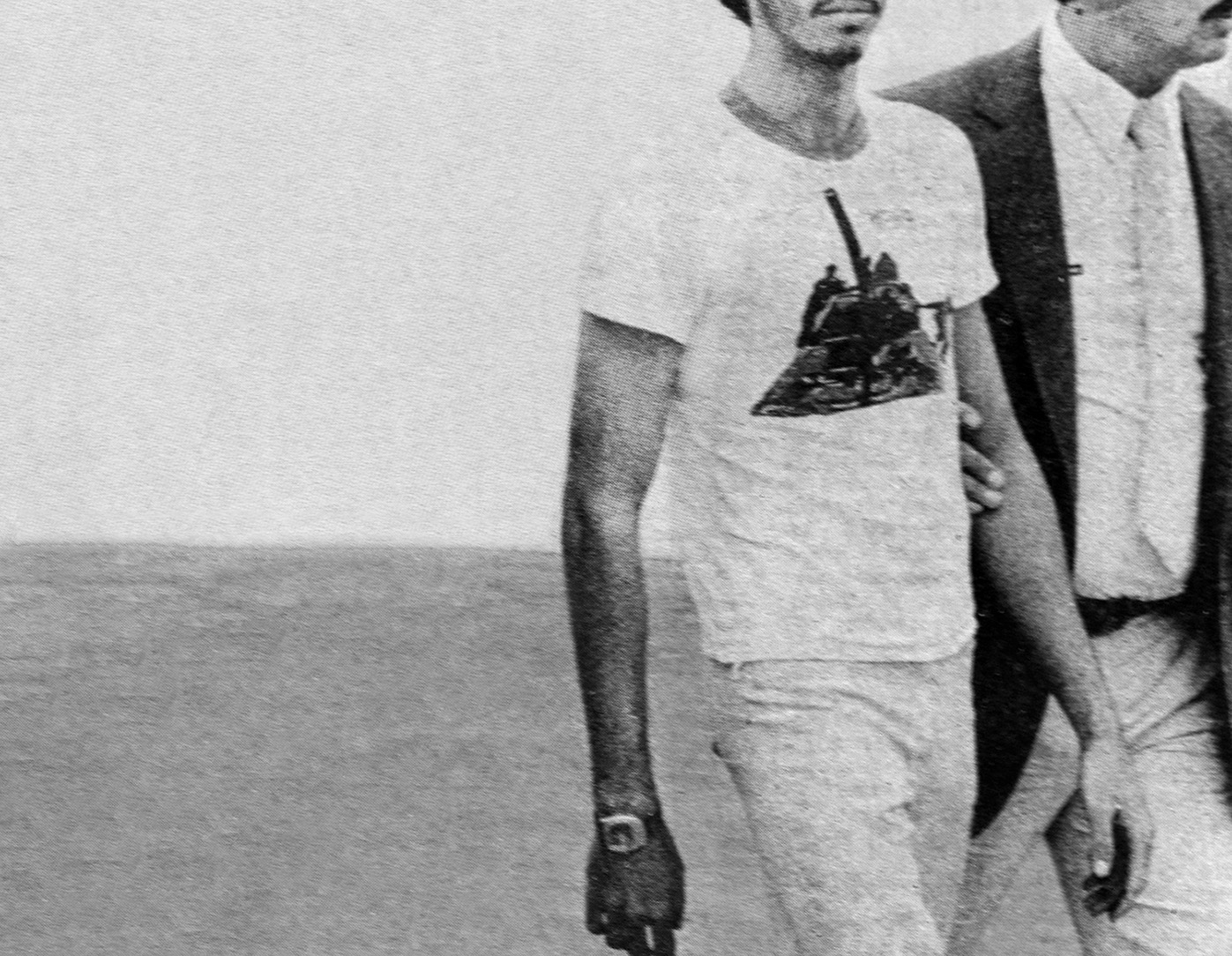 Presented in conjunction with the exhibition Rafael Soldi: Soft Boy, this iteration of the Boren Banner Series features an image from the artist's new body of work, Mientras el cielo gire (As long as the sky whirls). The project is based on Soldi's research into the Peruvian Havana Embassy Crisis of 1980 and the ensuing Mariel Boatlift, a massive flotilla of private vessels that brought 125,000 Cuban refugees to the United States and a thousand to the artist's native Peru. At the time, homosexuality was criminalized in Cuba, punishable by imprisonment and hard labor. An estimated 20,000 of those who fled the country in 1980 were gay.
Soldi's interest in the historic event developed out of the inadvertent role his homeland played, he says, "as a gateway to queer liberation, despite its long history with homophobia." The banner image is drawn from one of many photographs taken by the artist at newspaper archives in Lima. By abstracting his subject through cropping and enlargement, Soldi aims to "transform an ostensibly neutral journalistic account into one laden with suggestion and desire, with a gaze toward a queer body veiled in the chaos of mass exile."
The series title comes from a poem Reinaldo Arenas (1943–1990) wrote to his lover in New York City, after he escaped Cuba and shortly before he contracted HIV. For Soldi, the project centers on personal queer narratives like Areanas's that stream below the surface of public accounts: the real people for whom, as Areanas writes in his memoir, "there's just one place to live—the impossible."
ABOUT THE BOREN BANNER SERIES
The Boren Banner Series is a public art initiative by the Frye Art Museum that reflects the museum's commitment to showcasing work by Pacific Northwest artists. Presented biannually, the series gives regional artists the opportunity to create new site-specific work or show a previously unexhibited piece as a monumental, 16 x 20 ft. vinyl banner. The billboard-size work is prominently sited facing Boren Avenue, the Frye's most visible and accessible physical interface.
Boren Banner Series: Rafael Soldi is organized by Amanda Donnan, Chief Curator and Director of Exhibitions.
Generous support provided by 4Culture/King County Lodging Tax, the Frye Foundation, and Frye Members.
Rafael Soldi. Mientras el cielo gire (As long as the sky whirls), 2023. Digital photograph. 16 x 20 ft. Courtesy of the artist
Related content